Featured

News

By Harvey Kubernik Larry "The Mole" Taylor, known primarily for his bass playing in Canned Heat passed way from cancer on August 19, 2019 in the Lake Balboa area of California's San

Featured

Articles

By Harvey Kubernik John Mayall OBE has been indefatigable in his commitment to the blues: virtually every musician who went through his Bluesbreakers academy went beyond their wildest ima
(Jegrfa Productions/Moiras, Hungary) LP
Omega was one of Hungary's most successful groups in the '60s and '70s. In fact, they're still together, celebrating their 50th anniversary this year. This limited edition LP rounds up some of the very best obscure tracks from what is now considered Omega's 'classic' period, 1968-70. Their progressive beat sound has a dark, epic feel, characterized by dramatic vocals, keyboard-dominated arrangements, and the type of cerebral, poetic lyrics that could only derive from living in an oppressed Eastern European country. "One day the sun / too tired to shine / Slept in the deep, green somber lake / And in the darkness the world did ail"—that sort of thing.
Several of the tracks here are superior English language versions of songs from their second (and best) album, 10,000 Lepes, including the superb "Petroleum Lantern" with its bouncy, upbeat groove and bluesy harmonica fills, the powerfully-charged ballad "Pearls in Her Hair," and the title track, "Ten Thousand Paces," a tense, drama-laden epic full of moaning Gregorian voices, and some manic, panicked guitar scribbling. Even better is "The Prodigal Son" (not the Beggars Banquet song), a thumping rocker with a killer fuzz guitar riff, blaring gladiator trumpets, and an uber-anguished banshee vocal.
The 1970 single "Dead Are the Flowers" has an attractive pop-psych arrangement, while the previously unreleased "Varakozni Jo" (one of the few Hungarian-sung numbers) is highlighted by some lovely, bendy guitar work. Meanwhile, "Vigyazz, Vigyazz ram" is a previously unreleased vocal version of a song from their '68 debut album, Omega Red Star, its wailing Hammond and slightly hysterical vocal bringing to mind the Crazy World of Arthur Brown.
The set comes in a colorful psychedelic gatefold sleeve and includes a large foldout poster with photos, liner notes and all the lyrics (in English). It's a splendid way to make the acquaintance of one of Eastern Europe's most inventive and fascinating bands. (MS)
More info: http://moiras.somoskiado.hu/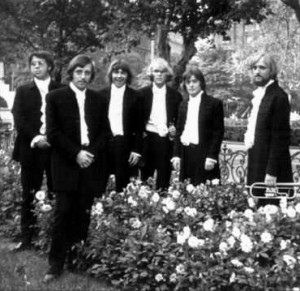 ---
This article was the cover story of Issue #11 of UGLY THINGS in the spring of 1992. At this point in time, only two of the original Monks had been located. In the years that followed there would be a book (Eddie Shaw's Black Monk Time), reunion concerts, an award-winning documentary (Transatlantic Feedback, directed by Dietmar Post and Lucia Palacios), tribute albums, and numerous reissues. But UGLY THINGS got there first.
I'd like to dedicate this article to the memories of Dave Day Havlicek and Roger Johnston.
MONKS STORY by Mike Stax / INTERVIEWS by Keith Patterson and Mike Stax
The music of the Monks is the stuff of true greatness: huge chunks of reverberating bass and drum rhythms, beaten into further frenzied overdrive by the atonal gash of an electrified banjo; this overlaid with the rapid-fire piercing squeals of delirious organ wailings and the hum and howl of fuzz and feedback as some maniac jaggedly assaults an electric guitar; this all pushing forward the angst-driven, aggressive voices shouting: "I hate you baby with a passion…" "People go to their deaths for you…" "Boys are boys and girls are joys…" "Pussy galore is coming down and we like it… we don't like the atomic bomb…" "Shut up! Don't cry!" and "Higgle-Dy Piggle-Dy—let's do it!"
---
By Mike Stax (with Gary Rachac)
AUTHOR'S NOTE: This story was written back in 1996. At the time there had been very little written about the life of Lester Bangs, and, being a San Diego native, I was particularly intrigued by his early years growing up in El Cajon (in San Diego's East County) so began digging up what I could on the period of Lester's life. My friend Gary Rachac had been close to Lester back then, and through him I was able to contact many of Lester's other San Diego area friends and associates like Roger Anderson, Milton Wyatt, Jack Butler, and Jerry Raney. I also spoke to Richard Meltzer, who gave me his perspective on Lester and his work.
The story was originally intended for publication in the San Diego Reader, but when that didn't pan out, I shelved it. When Jim DeRogatis began work on his Lester Bangs biography, Let It Blurt (published in 2000), I gave him permission to use the unpublished manuscript for his research. Much of it though appears here for the first time.
"WELL, I GUESS I'LL JUST GO BACK AND SELL SHOES IN SAN DIEGO!!!"
It's early 1981 in New York City and Lester Bangs —writer, rock critic, ex-shoe salesman, and, for now at least, musician —is blasted out of his mind and far from pleased with the way his writer friends Richard Meltzer and Nick Tosches are responding to the advance tape of his new musical work, Jook Savages on the Brazos.
---