Featured

News

By Bill Furbee WHEN I LAST SPOKE TO DAMO SUZUKI – the influential performer perhaps best known for his years spent as the singer of Krautrock godfathers Can – the world was in a diffe

Featured

Articles

By Doug Sheppard FIVE MONTHS BEFORE there were four dead in O-Hi-O, four were dead at a forlorn, neglected racetrack roughly 50 miles east of Oakland, California: one drowned, one stabbed
WILD ABOUT YOU! The Sixties Beat Explosion in Australia and New Zealand by Ian D Marks and Ian McIntyre (Verse Chorus Press, US; 2010; 352 pages)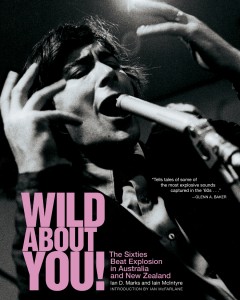 For decades I was fascinated by, but short on information about, the ephemeral Australian band the Black Diamonds, ever since I somehow snagged a copy of their mind-boggling, double-sided classic 45, "See the Way"/"I Want, Need, Love You" in an auction. Then last year I stumbled on a bootleg DVD containing actual videos of both songs, set amid crashing waves. And now there's an entire chapter on the small-town New South Wales band in this gem of a book. (Now if I could get hold of the Diamonds' second single…)
The book's subtitle pinpoints its subject matter, which it surveys in 35 chapters on 35 bands. First-hand recollections from band members are the rule, with expert authorial interjections to provide context, so you get not only a musical chronicle but a cultural immersion—even more valuable for readers who didn't grow up in '60s Oz or NZ and know little about the youth cults, official harassment, and showbiz exploitation that challenged the bands.
Not every antipodean '60s band of note is covered; omissions, such as Larry's Rebels or MPD Ltd, lean a little toward the pop side. A few of the acts in the book achieved homeland pop success—the Easybeats, the Twilights, the Masters Apprentices, Ray Columbus. But most of the others—the Throb, the Bitter Lemons, the Mystrys, and the Others themselves—struggled briefly, left a record or two, and dissolved.
This handsome paperback, replete with terrific photos, discographies, and listings for anthologies containing the records discussed, makes a fitting memorial for these undersung heroes and is indispensable for anyone with an interest in one of the planet's most exciting '60s scenes. (Ken Barnes)
From UGLY THINGS #32 (Fall/Winter 2011)
---
---
(Jegrfa Productions/Moiras, Hungary) LP
Omega was one of Hungary's most successful groups in the '60s and '70s. In fact, they're still together, celebrating their 50th anniversary this year. This limited edition LP rounds up some of the very best obscure tracks from what is now considered Omega's 'classic' period, 1968-70. Their progressive beat sound has a dark, epic feel, characterized by dramatic vocals, keyboard-dominated arrangements, and the type of cerebral, poetic lyrics that could only derive from living in an oppressed Eastern European country. "One day the sun / too tired to shine / Slept in the deep, green somber lake / And in the darkness the world did ail"—that sort of thing.
Several of the tracks here are superior English language versions of songs from their second (and best) album, 10,000 Lepes, including the superb "Petroleum Lantern" with its bouncy, upbeat groove and bluesy harmonica fills, the powerfully-charged ballad "Pearls in Her Hair," and the title track, "Ten Thousand Paces," a tense, drama-laden epic full of moaning Gregorian voices, and some manic, panicked guitar scribbling. Even better is "The Prodigal Son" (not the Beggars Banquet song), a thumping rocker with a killer fuzz guitar riff, blaring gladiator trumpets, and an uber-anguished banshee vocal.
The 1970 single "Dead Are the Flowers" has an attractive pop-psych arrangement, while the previously unreleased "Varakozni Jo" (one of the few Hungarian-sung numbers) is highlighted by some lovely, bendy guitar work. Meanwhile, "Vigyazz, Vigyazz ram" is a previously unreleased vocal version of a song from their '68 debut album, Omega Red Star, its wailing Hammond and slightly hysterical vocal bringing to mind the Crazy World of Arthur Brown.
The set comes in a colorful psychedelic gatefold sleeve and includes a large foldout poster with photos, liner notes and all the lyrics (in English). It's a splendid way to make the acquaintance of one of Eastern Europe's most inventive and fascinating bands. (MS)
More info: http://moiras.somoskiado.hu/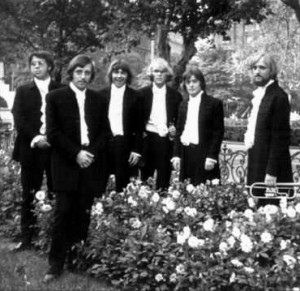 ---