Featured

News

On Sunday, August 21, 2022 there will be an afternoon tribute concert to the late great Don Craine at the Half Moon in Putney. The show begins at 1:00pm and features the Downliners Sect, the Masonics,

Featured

Articles

By Harvey Kubernik Keith Moon, the drummer of the Who and I in 1975 did an interview for the now defunct Melody Maker at the Laurel Canyon home of his manager, Skip Taylor, the record pro
Robin Gibb 1949-2012
By Collin Makamson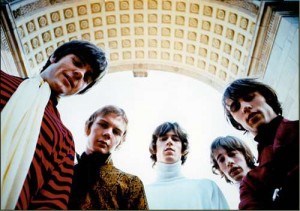 By the general populace the Bee Gees are known as little more than disco fadsters, but all good boys know the brothers Gibb carried much more weight than all that. In mid-'60s Australia they racked up hits as an Everly Brothers-styled singing group and made the leap to England in the midst of all its technicolor glory, there creating some of the most monumental album-sized statements of the period. As group member and solo artist Robin made grand moves in his late teens many grown men never aspire to, with a catalogue of pathos-drenched, near-strained, soulful vocals that laced hits and deep album cuts alike. He was the wit, dry humor and heart of the Bee Gees; akin to the Monkees' Nesmith or Beatles' Lennon. Recently cancer that was long-battled shuffled him off to join his two passed brothers (fraternal twin Maurice and younger brother Andy), aged 62, but like the man said himself:
"Art is about forever, beauty and immortality. I don't think of death. That's for other people."
Below Collin Makamson ruminates on the importance of Robin and sermonizes on the mathematics of artistic repeat-returns…
(jeremy nobody, esq.)
In my opinion, the success of any work of art is not measured by the amount of pretty words and blue ribbons which one can neatly hang upon it, but rather upon the number of return trips it inspires 'to the sources.' That's what good art does: that's its function. That's what good music does as well. It inspires a missionary zeal compounded with a cartographer's hate of blank spaces on a map. It invites obsession inside as a guest and sets an empty plate, sustaining itself solely on the deep resonance of the initial aesthetic shockwave. That's what Robin Gibb's music does and continues to do in me and thousands of others and, as such, this is not an obituary, a eulogy, a bike or a pipebomb. It's a signpost and a sermon.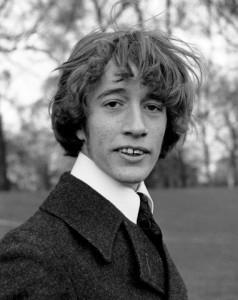 Other things this is not. NOT an ephemeral by-the-numbers bio-piece. NOT a condescending blow-by-blow discographical romp or even an anatomical celebration of Robin's heartbreaking voice: the most benign throat-lump inducer this side of Roy Orbison.
Rather, it is a sticking to my original thesis and guns. Fine if you forgot it already. The best art and the best music compels one to track down and follow its influences, wind its tributaries, know its hidden places, swallow its bread-crumbs, know its markings. Like Lewis & Clarke or Columbus in reverse. However, the Beaux-arts also teach one to remain mindful of similar ripples, dispersions and fellow traveling waves dominoeing outward that, in turn, may carry new influences and sediment to add to the original.
Perhaps the best piece of news of all for pilgrims set out upon these trails is that despite rumors of the frontier's closure or hints that the promontory-peak of the sublime melting glacier of humanity's divine input might already have been summited, take comfort in the fact that there always remains more to digest and explore.
And don't take my word for it; take the words of another great artist whose works are still moving.
"It is not down in any map. True places never are."
Robin Gibb will be missed. Here are some places that his music took me, both new and old.
Roots, fruits and CM's self-designated finest vocal by Robin follow. Use the arrow button on the lower-right portion of the YouTube box to scroll through the selections, or listen to them continuously by pressing play.
Also find below an Ugly Things exclusive of Skooshny covering Robin's "Saved by the Bell" which at this time goes unreleased.
---