Featured

News

By Bill Furbee WHEN I LAST SPOKE TO DAMO SUZUKI – the influential performer perhaps best known for his years spent as the singer of Krautrock godfathers Can – the world was in a diffe

Featured

Articles

By Doug Sheppard FIVE MONTHS BEFORE there were four dead in O-Hi-O, four were dead at a forlorn, neglected racetrack roughly 50 miles east of Oakland, California: one drowned, one stabbed
By James Porter
"We had a band powerful enuff to turn goat piss into gasoline."
That was one of Duck Dunn's speaking roles in the movie The Blues Brothers. He was talking about the latter-day band that he played in with Steve Cropper, the Bar-Kays' Willie Hall, Memphis Slim's guitarist Matt "Guitar" Murphy, and, among others, singing actors John Belushi and Dan Aykroyd. But he could have been talking about the band that made him famous—Booker T & the MGs—and made twice as much sense.
Donald "Duck" Dunn, the lynchpin of numerous sessions during the first decade of Stax Records, died May 13, 2012 in his sleep in a hotel in Tokyo, aged 70.
Dunn wasn't with Booker T & the MGs from the beginning—that's Lewie Steinberg's bass you hear on 1962's "Green Onions"—but, with all due respect to Steinberg, Dunn was in the classic lineup from 1964-71 (and all reunions thereafter). During this period, not only did you hear Dunn providing serious bottom for "Hip-Hug-Her," "Time Is Tight," "Hang 'Em High" and "Melting Pot," but when the Stax hit machine really started to take off, you could hear him in full force on hits by Otis Redding, Carla Thomas, Eddie Floyd, Sam & Dave, Albert King, and various other luminaries at Soulsville USA (as the marquee outside Stax read). After 1969, the MGs started doing less and less sessions at the label as a younger crew called the Bar-Kays slowly took over. Dunn's bass skills were legendary enough that he had no trouble picking up outside work, with Muddy Waters, Bob Dylan, Elvis Presley, Jerry Lee Lewis and others. While he didn't quite have the high profile that his bandmates Booker T Jones and Steve Cropper did (both of whom also had reputations as producers, as well as issuing the occasional solo record), Dunn was still clearly in the mix.
---
By Mike Stax
The Pretty Things may not have been the most commercially successful band of the '60s, but at street level, around the world, they had more influence and credibility than many of their more popular contemporaries. One band who formed in homage to the Pretties is Valiant Little Tailor, a short-lived outfit from Wuppertal, in the North Rhine-Westphalia region of Germany, a band so obscure they don't even rate a mention in Hans-Jurgen Klitch's definitive German Beat book, Shakin' All Over.
---
FLYING SAUCERS ROCK'N'ROLL: Conversations with Unjustly Obscure Rock'n'Soul Eccentrics edited by Jake Austen (Duke University Press, US; 2011; 282 pages)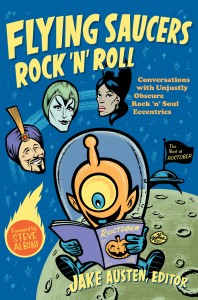 For the past couple of decades, Jake Austen and his ragtag team at Roctober have been engaged in some truly outstanding work in the field of rock'n'roll writing and research. If for some reason you've missed one—or any—of the almost 50 issues they've put out in that time, you could do a lot worse than pick up this book which compiles some of their most memorable interviews.
Roctober's coverage has always been all over the map, taking in '50s rockabilly, country, vintage soul, R&B, blues and funk, '60s garage rock, '70s and '80s punk rock and new wave, heavy metal, and a range of unclassifiable species that might be loosely defined as novelty acts. A cross section of those styles are represented in the ten meaty interviews selected here, which include career-spanning conversations with Sam the Sham, David Allan Coe, Sugar Pie DeSanto, Oscar Brown Jr, the Fast, and the Good Rats.
Among the highlights are Ken Burke's lengthy and absorbing chat with Sun rockabilly giant Billy Lee Riley, Jonathan Polettia's disturbing voyage into the dark world of Hollywood glam weirdoes Zolar X, and a wonderful chat with the late, great Claude Trenier by a team of Roctoberists headed up by John Battles.
Each chapter is headed up by artwork by King Merinuk, illustrated with rare photos, and features a brief update on each artist. In several cases, the update turns out to be an obituary, a stark, poignant reminder of just how important it is to document the personal stories of these rock'n'soul innovators and eccentrics. (Mike Stax)
From UGLY THINGS #32 (Fall/Winter 2011)
---