Featured

News

By Harvey Kubernik Larry "The Mole" Taylor, known primarily for his bass playing in Canned Heat passed way from cancer on August 19, 2019 in the Lake Balboa area of California's San

Featured

Articles

By Harvey Kubernik John Mayall OBE has been indefatigable in his commitment to the blues: virtually every musician who went through his Bluesbreakers academy went beyond their wildest ima
The release of his first new album for fifteen years presents Alan Clayson with the opportunity to write some interval notes
Despite the global atmosphere of worsening financial anxiety, ONE DOVER SOUL, a new Clayson long-playing gramophone record has been cast adrift on the discographical oceans. Since my debut as a recording artist in 1978—with Clayson & the Argonauts' disinclined revival of Wild Man Fischer's "The Taster" as a one-shot 45—my output has been, well, sporadic, particularly after a career as an author left the runway with Call Up The Groups!: The Golden Age Of British Beat 1962-67 in 1984.
Soon I'd be scratching a living from my pen at an alarming pace. Output ranged from supermarket potboilers (some under pseudonyms) to the only English language life of Jacques Brel—which, when updated last year prompted Clayson Sings Chanson, a presentation that has been on the road ever since. Most conspicuously, there's been the Backbeat film tie-in, Beat Merchants (a more extensive history of the British beat boom), authorised histories of the Yardbirds and the Troggs, and Death Discs, also the subject of a programme I scripted and presented on national radio. Moreover, I not so much dipped a toe as plunged headfirst into many other—often unexpected—musical waters, such as a 2002 tome about Edgard Varèse, Frank Zappa's boyhood hero, and the missing link between Stravinsky and John Cage.
---
Ritchie Teeter, man of magnificent meter, held down the pound for the mighty Dictators during their most ferocious and fevered period, displaying a dexterity not common in most straight-ahead rock'n'roll. He also saddled the stool as touring member of Twisted Sister for a time, and did a spell with Tom Verlaine (Television), among others. Most prominently, he continually fostered the efforts of many aspiring noise-makers throughout his years, giving them the necessary tools to realize infamy. Luckily, he also contributed to a migh-tee radical catalog that'll rattle our mortal brains for years to come. Below, Dictators guitarist Scott Kempner delivers a moving tribute to his long-time friend and bandmate. Following the article is a link to another Dictator-penned remembrance by Andy (Adny) Shernoff, info on Ritchie's memorial fund, and a 'Ritchie's Golden Moments' YouTube playlist as chosen by Scott. (jeremy nobody, esq.)
This morning, April 10th, 2012, Ritchie Teeter passed away from complications stemming from his battle with esophageal cancer. The news came down hard and unforgiving. Ritchie was our drummer from 1975–1978. Four years of tour, record, tour, record, etc. These were the peak years of the original band's existence. Although Rich's tenure as a Dictator officially came to an end in 1978, he had come back to do a bunch of "reunion" shows in the '80s. It was again a joy to share a stage with him, and relive his own unmistakable approach to the Big Beat. After that, though, we all seemed to lose touch with Rich, although I would occasionally run into him, the last time being at a Del-Lords show in the late '80s. Then, it was no contact until about eight months ago, when I learned of his illness, I knew enough was enough, and the long estrangement needed to end. I wrote him a letter at the last email address I had for him, and that began a series of great correspondence, rekindled friendship, and a final acknowledgment of the eternal bond we created by our extraordinary shared experiences. I only wish I had reached out earlier. Now this…
This is a dark and terrible day, the first such hit the Dictators family has taken. Forty years after the creation of our little band the first casualty is recorded. And dear God, it hurts. The cold glass of mortality thrown our way is a stark reminder of the inevitability of our fate and time here on God's Golf Ball. What follows are some immediate memories and feelings about our fallen brother. Make no mistake, the Dictators are like the Mob, once you're in, you're in. Forever. DFFD.
---
(Munster, Spain) 7" single boxset/CD
The Cramps may have swept to attention in the wake of the '70s punk rock wave, but they were of a different species entirely. This otherness is what makes the Cramps so special. By accident, design or mutated genetic disposition they were able to tap directly into the deep India-ink-black essence that lies at the core of all primal rock'n'roll. What they created with their best music and their live performances—that otherness—was something that existed out-of-time with the rest of the world—and certainly the rest of the music scene. The Cramps' unique vision spawned hundreds of imitators, hopping blindly, stupidly like so many fleas on the back of a big hairy dog. The wanna-fleas may have grokked the mad rockabilly pulse or the voodoo mystique, but the vital essence of it was beyond their understanding. Only the Cramps themselves fully grokked that secret, sacred magic.
If you'd forgotten or, god forbid, never knew just how great the Cramps were, this 10-single vinyl boxset (also available in the more boring CD format) will set you straight in a hurry. Some of the very best of their earliest primal goo-goo muck is here: "The Way I Walk," "Human Fly," "Mystery Plane," "Garbage Man," "TV Set," "Goo Goo Muck," "New Kind of Kick"—the list goes on. Six of these 10 discs are splendid repros of the original 1978-81 singles; four are new pairings with specially-designed cover art in keeping with the all-important original aesthetic. The vinyl box also includes a nifty envelope stuffed with picture postcards.
Liner notes by original Legion of the Cramped fanclub prez Lindsay Hutton seal the deal for this box of Uranium-infused rock'n'roll juice that'll provide thrills and chills for a million years to come. Sacred. (Mike Stax)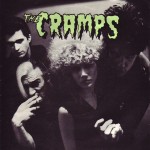 Review originally published in Ugly Things #33.
---