Featured

News

By Jay Dobis Nejat Toksoy, the lead singer of one of the top rock bands in Turkey in the '60s, Mavi Işiklar (1966-70), died on Tuesday, July 9, 2019, after a lengthy stay in hospital d

Featured

Articles

By Harvey Kubernik February 3, 2019 is the 60th anniversary of tragic airplane crash that subsequently became known as "The Day the Music Died," sadly referenced in Don McLean's so
(Get On Down) LP/CD
The Wolf said, "These electric guitars, they got them queer sounds," and the full name of this funky, fuzz-filled fantastic footlong is This is Howlin' Wolf's new album. He doesn't like it. He didn't like his electric guitar at first either. This LP's the famous financial folly (along with Muddy's Electric Mud) by Marshall Chess on his Cadet imprint, trying the youth turn-on via throwin' the roots in the sketch, with fruits like Hendrix in the foreground. The blues purists slagged it, but like much of producer Charles Stepney's work, was later embraced by hip-hop producers and diggers of all stripes.
BUT, when speakin' on this mess-terpiece the cast of cats adept in jazz, blues and soul that form the group is generally left outta the equation. This psychedelic solid-sender carries no less than four guitarists (Phil Upchurch, Pete Cosey, Roland Faulkner), including long-time sideman and geetar goliath Hubert Sumlin. The funky, frisky and free rhythm section, Louis Satterfield (bass) and Morris Jennings (drums), along with Upchurch carried backup duties for many Chess, Cadet and outside artists including Terry Callier, Jimmy Reed, Donny Hathaway's debut, Shel Silverstein, Curtis Mayfield and the Rotary Connection; while Cosey did time in the wild mid-'70s with Miles Davis amongst others. The fevered flights are handled with finesse by this fab group and never descend into overwrought jamminess, while not kid-glovin' the Wolf classics but bringin' a new light to 'em. The "Back Door Man" hisself also shines migh-tee brightly on the insistent-grooved, reverb-drenched track this sentence began with; the plaintive, slinky "Little Red Rooster" and the wah-wah'ed stutter funk of "Down in the Bottom."
The fave-rave of the platter is the haunting, backwoods electric burn take of "Moanin' at Midnight," where you could hear crickets off in the distance if the amps were turned down a notch or two, but this whole disc begs repeated listens. So, if you've got an appetite for the wild, untamed and raucous, pick up this platter that matters! (jeremy nobody, esq)
(Originally published in Ugly Things #33, Spring/Summer 2012)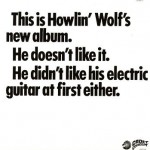 ---
By Eric Colin Reidelberger
Few guitarists are more underappreciated than the big man, Pete Cosey. An incomparable aural trailblazer and avid woodshedder who blew the doors off every entrance he made. As a wide-open player who employed many musical "systems" (as he called them) he preferred bridges to barriers and played with jazz, country, frat rock and blues bands alike, when that practice was purely unheard. He was a session man, manipulator of chord progressions and such a wild experimentalist that Miles Davis once told him that he "…wrote differently than anyone he'd heard." It's with hope that there are more extant sides to arrive from this mountain of a man, both physically and as an institution. Below Sir Eric Colin gives lip service to the man's history and prowess, plus I've included a playlist of some of Cosey's contributions. What's your fave-rave? (jeremy nobody, esq.)
Pete Cosey's name might not have been at the tip of everyone's tongue, but if you owned any records on the Chess label from the late '60s or dug your heels into any of Miles Davis' grand wigouts, then chances are you are probably familiar with his handiwork. A sonic adventurer that boldly went where only a few dare tread, finding the continuity between Jazz, Funk and Psychedelic Rock and trailblazing his own pathway to the nether regions.
Born in Chicago, Illinois, in 1943 and after living his teenage years in Phoenix, Arizona, Pete cut his teeth as a session player in the '60s/early '70s back in Chicago for Chess Records. He played on numerous sessions (often uncredited) by artists such as Etta James, Chuck Berry, Gene Ammons, Sonny Stitt, Rotary Connection and the polarized electric periods of both Howlin' Wolf and Muddy Waters. Adding a surfeit of effects, including a wonderful preponderance of wah-wah/fuzz acrobatics, Pete managed to completely horrify blues purists in one fell swoop, and gather quite an audience of heads who would go on to champion his bold explorations in the years to come.
Cosey was a truly inventive and original player who was obviously influenced by Hendrix's stylings, but taking the proceedings into an almost unhinged free jazz territory akin to similar giant steps taken by fellow traveler Sonny Sharrock. He was an embryonic member of Chicago Afro Funk behemoths The Pharoahs who later became the seeds of Earth, Wind & Fire, as well as exploring some spiritual journeys with Philip Cohran. Pete is best remembered for the four albums he played on under Miles Davis' solid-band leading hand: Get Up With It, Pangea, Agharta and Dark Magus.
It is here and in such stellar company that his creative being was given the proper chance to flourish; often pushing the music (and perhaps) the musicians into fever pitch territory.
After the breakup of the Miles band in 1975, Pete kept a relatively low profile, only rearing his head here and there in the years afterwards, most notably playing on the title track to Herbie Hancock's Future Shock. On May 30, 2012 in Chicago, after complications with surgery, the world lost yet another major musical talent who really wasn't given the proper credit of the true sonic pioneer he was.

From our current issue, Ugly Things #33,  jeremy nobody, esq. reviews one of the grand experiments Cosey contributed to: This Is Howlin' Wolf's New Album: http://ugly-things.com/reviews/albums/
---
(Future Days) CD
Recorded and released in 1970, The Black Gladiator was Bo Diddley's first album of all new material since 1965's 500% More Man. In the intervening half-decade the music scene had been through some pretty radical changes, and the astute and forward-thinking Diddley wasn't about to be left behind. "I just decided to do somethin' different," he told biographer George R White. "Everybody was wearin' funny lookin' crap—Isaac Hayes had come out with chains an' stuff on, an' it was kinda flowin' in that area at that particular time—so I got me some belts an' stuff, an' said I was The Black Gladiator."
The resultant album is one of the overlooked gems in the Diddley catalog, showcasing a freakier, funkier sound that was in step with the times, while retaining the raunch and swagger that defined his earlier work. Bo goes balls-out on the very first track, "Elephant Man," whipping up a torrid, wall-shaking guitar riff over which he hollers some of his craziest rhymes yet, about how he constructed this bizarre animal, called the elephant (maybe you've heard of it?), piece by piece, naming its various body parts, then letting out a blood-curdling scream every time he gets around to not quite mentioning its ass. Such profundity was in short supply at the time.
The album never quite scales the elephantine heights of its monster opening number, but there's still much to enjoy. The backing band cooks throughout—plenty of wailing organ, rattling tambourines and crisp, funky drumming—and Bo is clearly having a ball with this new, different sound. "Black Soul," "I've Got a Feeling" and "Funky Fly" all boast tough, memorable grooves as well as plenty of muscular guitar work. "You, Bo Diddley" is one of Bo's archetypal self-tributes, as is "Power House," a virile boast built around his trusty "I'm a Man" riff, while the strange but wonderful "I Don't Like You" is one of Bo's trademark signifying pieces in the tradition of "Say Man," with Bo trading insults with backing singer Cornelia Redmond (a.k.a. Cookie Vee) and also showing off his abilities as an opera singer—was there no end to this man's talents?
There's been a vinyl boot doing the rounds, but this digipak CD with liners by Scott Schindler is a legit, from the masters, reissue on Light in the Attic's new Future Days imprint. (MS)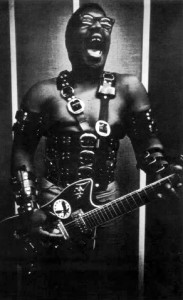 (Originally published in Ugly Things #33, Spring/Summer 2012)
---