Featured

News

By Jay Dobis     Erkin Koray, aka Erkin Baba, the father of Turkish Rock 'n Roll (he put together the first Turkish rock band (Erkin Koray ve Ritmcileri) in 1957 when he was a high school student

Featured

Articles

By Harvey Kubernik   To celebrate the 50th anniversary of The Roxy and its enduring relevance, the Grammy Museum announced a new exhibit, The Roxy: 50 Years On The Sunset Strip, which explores the
By Mike Stax (with Gary Rachac)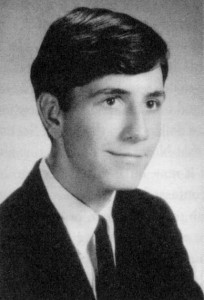 AUTHOR'S NOTE: This story was written back in 1996. At the time there had been very little written about the life of Lester Bangs, and, being a San Diego native, I was particularly intrigued by his early years growing up in El Cajon (in San Diego's East County) so began digging up what I could on the period of Lester's life. I've found plenty of reference to him in census data online, but I wanted to know more detail. My friend Gary Rachac had been close to Lester back then, and through him I was able to contact many of Lester's other San Diego area friends and associates like Roger Anderson, Milton Wyatt, Jack Butler, and Jerry Raney. I also spoke to Richard Meltzer, who gave me his perspective on Lester and his work.
The story was originally intended for publication in the San Diego Reader, but when that didn't pan out, I shelved it. When Jim DeRogatis began work on his Lester Bangs biography, Let It Blurt (published in 2000), I gave him permission to use the unpublished manuscript for his research. Much of it though appears here for the first time.
"WELL, I GUESS I'LL JUST GO BACK AND SELL SHOES IN SAN DIEGO!!!"
It's early 1981 in New York City and Lester Bangs -writer, rock critic, ex-shoe salesman, and, for now at least, musician -is blasted out of his mind and far from pleased with the way his writer friends Richard Meltzer and Nick Tosches are responding to the advance tape of his new musical work, Jook Savages on the Brazos.
---
by Alan Bisbort
"The Death of Bert Jansch" sounds like the name of a traditional folk song that Jansch himself might have resurrected on one of his early solo albums. Sadly, this imaginary song came true on October 5, 2011, when the legendary musician—whom Neil Young likened to "Jimi Hendrix on the acoustic guitar" and whose cross-generational influence is admitted by the likes of Keith Richards, Jimmy Page, Donovan, Johnny Marr, Joanna Newsom, Beth Orton and Devendra Banhart—died at age 67 after a battle with cancer. (more…)
---
An Interview with Olgerd Wokock by Mike Stax, with Anja Dixson
(This article was originally published in UGLY THINGS #24) 
In my personal Sixties rock'n'roll pantheon Germany's Phantom Brothers occupy a special place near the very top of the heap. I actually became a fan of the group before I'd even heard a note of their music, my enthusiasm based entirely on a set of photos in the German pictorial book, The Beat Age. Surly and stone-faced, decked out in leather and stripes, and with a lead singer with hair down past his shoulders—in early 1965!—they exuded style and attitude. And the live shots, with that singer shaking maracas and tambourine together, and a guitar player windmilling his arm Townshend-style, suggested a sound that couldn't be anything less than flat-out WILD, man.
---