Featured

News

By Harvey Kubernik Keith Moon, the drummer of the Who and I in 1975 did an interview for the now defunct Melody Maker at the Laurel Canyon home of his manager, Skip Taylor, the record pro

Featured

Articles

By Harvey Kubernik Keith Moon, the drummer of the Who and I in 1975 did an interview for the now defunct Melody Maker at the Laurel Canyon home of his manager, Skip Taylor, the record pro
THE COLOR OF NOISE (MVD Visual/Robellion Films) Blu-ray/DVD combo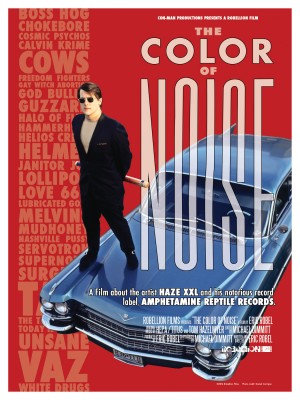 By Doug Sheppard
The combination of an unbearable mainstream and inadequate underground made the '80s the worst decade of the rock 'n' roll era. Hardcore, postpunk and thrash metal played out quickly as MTV, radio and major labels spattered the manure of crass, overproduced corporate music awash in synthesizers and obnoxious loud drums. Worse, conformity that rejected the '60s counterculture pervaded throughout society, giving rise to religious fanatics and other ignoramuses (e.g., the PMRC) who sought to censor what little truly alternative sounds were out there.
If you didn't fancy derivative, wimpy college rock that rocked only slightly more than Peter, Paul and Mary, there wasn't much — and by the late '80s, there was virtually nothing. Punk and metal were mostly clichés, the garage revival was going nowhere, and rock 'n' roll in general lay dormant. Into this late '80s void came a louder, noisier underground as heard on new labels like Sub Pop and Amphetamine Reptile.
The story of Sub Pop is well known, but Amphetamine Reptile went undocumented — until now. The Color of Noise tells the story of a label that was essentially Sub Pop's evil twin: rawer, ruder, darker and more provocative — yet almost as influential in making the 1990s better than the 1980s and helping lay the groundwork for the future.
Amphetamine Reptile (named after a slight mishearing of Motörhead's "Love Me Like a Reptile") reflected the ambitions of its owner, Tom Hazelmyer, a guitarist and veteran of such Minneapolis bands as Todlachen and Otto's Chemical Lounge — not to mention the US Marines — who founded the label to put out records by his noise rock combo, Halo of Flies.
Like Sub Pop after its humble beginnings, Hazelmyer soon found an audience of dissatisfied youth ready to embrace his iconoclasm. His label signed more likeminded noise rockers like the Cows, God Bullies, Unsane, Boss Hog and the band that put AmRep on the map, Helmet. As the releases and European tours for AmRep acts mushroomed, so did the imprint's rep for provocative artwork (by renowned artists like Frank Kozik, Coop and Derek Hess) and uncompromising DIY ethos. If the ugliness and outrage of AmRep bands reflected distaste for the '80s itself, who could blame them?
Hazelmyer himself and every AmRep band of significance is interviewed, as are sleeve artists, label employees and outside observers like Jello Biafra. The Color of Noise serves as much as a bio of Hazelmyer — also a restaurateur and print artist — as it does the story of his label, but that makes sense, as the two are inextricably linked. The cinematography is first-rate, interspersing quality old clips of AmRep bands in various clubs worldwide with colorful presentations of flyers and sleeves and, of course, interviews with the provocateurs who shared Hazelmyer's vision.
The parallels to Sub Pop are striking. Both hailed from cities — Seattle and Minneapolis — that produced some of the greatest local rock scenes of the '60s. The labels not only did joint releases, but saw overlap in bands that recorded for both. And just as Sub Pop went big with the rise of Nirvana, Helmet's ascent to platinum status with Meantime in 1992 ensured that AmRep (which then sold Interscope Helmet's debut, Strap It On) would be a viable business proposition for years to come.
Or at least until 1998, when Amphetamine Reptile went dormant — with only sporadic releases since. But even if it didn't last as long as Sub Pop, which continues to this day, its influence is almost as significant. The 1991 revolution that turned many heads in the direction of alternative sounds was mostly spurred by Nirvana, but Helmet — and therefore AmRep — was also part of the mix. Doom metal, stoner metal, garage rock and the psychedelic revival all existed before then, but undoubtedly got a boost when, yes, the alternative briefly became the mainstream and told impressionable teens that there was something else out there.
Today's mainstream might be worse than ever, but the underground is healthy. We owe Amphetamine Reptile and other vintage indie labels gratitude for laying — or at least strengthening — the groundwork when bands didn't have the reach and immediacy of the Internet. And we have The Color of Noise to thank for preserving an interesting piece of rock 'n' roll history in this fine documentary.
---