Featured

News

By Harvey Kubernik I am so deeply saddened by the death of Gary Stewart, a veteran music and recording executive who had a lifelong devotion of service to the music in any capacity he hel

Featured

Articles

By Harvey Kubernik I am so deeply saddened by the death of Gary Stewart, a veteran music and recording executive who had a lifelong devotion of service to the music in any capacity he hel
Reaching for the Sky — Ace Reissues Roll Out the Red Carpet for the Seeds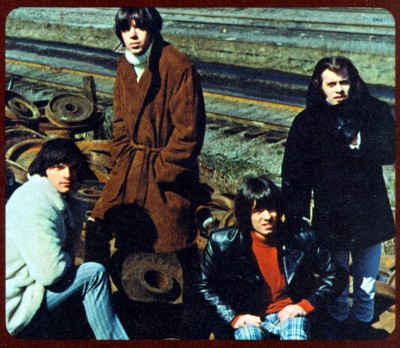 By Doug Sheppard
It's fitting that the Seeds have been retrospectively described as punk — as their history is nothing if not punk before punk. Their wildly contrasting attire of cowboys 'n' Indians 'n' Beethoven confounded audiences, their (for 1965 and 1966) outrageously long hair literally turned heads, and their primitive music made the most of members' limitations. A decade before Johnny Rotten's snarl set the tone for modern punk, Sky Saxon's snide snorting added a distinction that obliterated his previous teen idol failures.
But where the Seeds depart from their punk descendants is that they were reaching for the (pardon the expression) sky. Minimalistic as their sound may have been, they were serious artists doing their part to add brushstrokes to a rock 'n' roll canvas with plenty of unpainted room left. They were a popular band in their native LA, and proud of it – proud of the adulation, proud of their tight musicianship and proud that they scored a major hit with "Pushin' Too Hard" in '66. By practicing rigorously and mostly ignoring contemporaries, the Seeds forged their own sound.
Though they couldn't have known it at the time, they also chose a great record label to keep their legacy alive: GNP Crescendo. As the big fish in GNP's pond, they ensured themselves immortality. As albums by fellow '60s punks like Question Mark and the Mysterians, the Sonics, the Shadows of Knight and countless others became pricey and difficult to obtain through the dark pre-reissue days of the '70s and '80s, the Seeds catalog was always available — making them one of the first '60s garage bands that many fans discovered. Heck, long before outtakes albums became the norm, GNP even did one of those with Fallin' Off the Edge in 1977.
Ironically, in spite of their perpetual availability, Seeds albums never got the deluxe treatment that their once out-of-print colleagues received in the reissue era. All reissues of the first Seeds album used the inferior stereo mix, pressings of A Web of Sound from the 1970s and beyond used an awful alternate stereo mix that wasn't even on original stereo pressings, and the packaging left a lot to be desired. But all is forgiven now that the vaults have been opened to Ace Records and its garage archivist Alec Palao – resulting in proper mixes, remastered sound, bonus tracks, and extensive booklets with detailed liners, sessionography and many cool photos.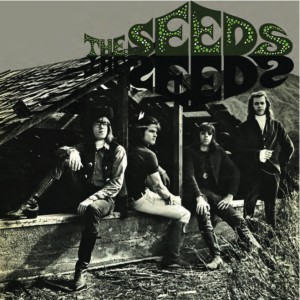 Availability alone doesn't account for why the Seeds are one of the most renowned '60s punk bands. They're also one of the best – and their debut album is as good a place as any to start a '60s garage education. With Sky's frustrated vocals, Rick Andridge's insistent ride-cymbal beat, a killer fuzz riff and tersely great solos by organist Darryl Hooper and guitarist Jan Savage, "Pushin' Too Hard" remains a crowning achievement in rock history – and it's not the only standout on the album. "No Escape," "Girl I Want You," "Nobody Spoil My Fun" and "Excuse, Excuse" sum up the band's burgeoning hedonism and Sky's affinity for the opposite sex, and the five-minute "Evil Hoodoo" dips their feet into the experimentalism of the extended groove.
"Evil Hoodoo" was in fact much longer in its original unedited form, and this reissue treats us to a 16-minute version (with an intercut section) that loses nothing in translation and is a highlight of the 10 bonus tracks (eight of which are previously unreleased). The two alternates of "Out of the Question," "Pushin' Too Hard" with an extra verse and "It's a Hard Life" with more of Savage's guitar savagery also make nice addenda. Best of all, the album's original — and far superior — mono mix is reissued for the first time ever here.
A Web of Sound gets similar treatment from Big Beat – expanding to two CDs to restore the album's original stereo and punchy mono mixes, adding seven previously unreleased bonus tracks and the complete A Full Spoon of Seedy Blues album (released as the Sky Saxon Blues Band). While Web has nothing on the level of "Pushin' Too Hard," it's nonetheless a step forward for the band's creativity with bottleneck guitar by Cooker providing counterpoint to Savage throughout — not to mention the brilliant "Mr. Farmer,' where Hooper overlays oboe-like Farfisa sounds over his trademark Wurlitzer piano. Punk like "Tripmaker" and "Just Let Go" provide further highlights on album culminating with one of the first extended jams on a rock album: the simple yet hypnotic "Up in Her Room." The latter reflects the album and the Seeds in general: repetitive and same-y sounding, yet effective because they deployed their sound so well.
An early take on "The Wind Blows Your Hair" is the best of the bonus tracks, while alternates of five album tracks also make for interesting (albeit not essential) listening. Though the original stereo mix is much better than the alternate stereo that afflicted 40 years worth of Web of Sound reissues (in all formats), the mono version (another first-ever reissue) is the keeper.
A Full Spoon of Seedy Blues is also represented in mono – but the mix is beside the point. Much as the members seem to take pride in their attempt at blues, the results are lackluster – and even guest spots from members of Muddy Waters' band and a new song written by Muddy himself for the Seeds (Did he give them one of his best? Let me guess …) can't rescue this mess. Tellingly, it's the only '60s Seeds album that Big Beat has no plans to reissue individually.
But with A Web of Sound finally reissued the way it was meant to be heard, it doesn't matter. Even better — Big Beat isn't finished with the Seeds yet, as an expanded remaster of Future just came out (it will be reviewed in UT#36), with Raw & Alive and a singles collection – not to mention a documentary film spearheaded by Palao and GNP's Neil Norman – soon to follow.
---