Featured

News

AN APPRECIATION BY TIM STEGALL The current issue of Ugly Things contains a heartfelt tribute from Tim Stegall to New York Dolls guitarist Syl Sylvain, written in January after his passi

Featured

Articles

By Harvey Kubernik   John Van Hamersveld's pop culture expedition began over 50 years ago with the landmark Endless Summer movie poster. 300 album covers followed, including designs for the
Here Come the Nice: A Large Box of Small Faces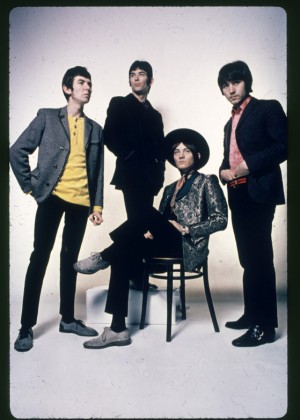 Mike Stax talks to Ian McLagan about the new Small Faces box set
"Here come the nice / Looking so good / He makes me feel like no one else could…"
Here Come the Nice is the latest and largest installment in Charly's re-excavation of the Small Faces' back catalog. The bulky box—eleven and a half inches square by two-and-a-half inches deep—is adorned with a simple but stylish graphic based on Kenney Jones' familiar bass drum head and contains a veritable trove of niceties: a large format 72-page glossy hardcover book of essays, rare photos, and recording and recording session minutiae; a second, softcover book of lyrics, full-size reproductions of two huge posters, a foldout Immediate press-release for Ogdens' Nut Gone Flake, two large pictures from the "Itchycoo Park" photo shoot, five promotional postcards; a card autographed by Ian McLagan and Kenney Jones; four seven-inch vinyl records; and four CDs. It's a limited edition of just 3,000 copies.
Nice! But what about the music? Surely we've heard all of it before? After years of buying the Small Faces' material over and over again in different packages, why should Small Faces fans shell out big cash for this new box set?
That's the first question I ask Ian McLagan when I interview him by phone on January 20, 2014.
"Well," he explains, "a: there's stuff on there they've never heard, and b: there's also stuff on there I've never heard since the day we recorded it. There are intros and bits and pieces and early versions. Plus the fact is the remastering has been done from really good quality stereo [and mono] masters. In the past whenever anyone's ever put any stuff of ours out—usually without our permission and often without paying us—they've done it from vinyl or from really bad copies. So the quality has never been as good as this. This is like listening to it in the studio when we finished it."
And the sound quality is indeed what strikes me first when I put on Disc 1 of this lavish 4-CD box. There's a depth and clarity to tracks like "Here Come the Nice," "Talk to You," "Itchycoo Park" and "Tin Soldier" that's never been heard before outside the original UK 45rpm pressings—and in some cases not even then. The bass and drums in particular are exceptionally vibrant and dynamic. Why? Because this is the first time some of these tracks have been sourced for reissue from the original master tapes. Locating those tapes is a story in itself, which is detailed by reissue producer Rob Caiger in the box's liner notes. Allegedly, a number of Small Faces multitrack reels were actually rescued from a dumpster outside of Olympic Studios in the late 1980s. These tapes yielded numerous alternate takes, false starts and unfinished backing tracks, which appear here for the first time, mostly on Discs 2 and 3. More session tapes had been stored away untouched by Kenny Jones, and still more were located in various record company archives.
"Rob Caiger has worked extremely diligently and over a long period of time," explains Mac. "He has just put his head down and gone for it. Some of the stereo masters were in Sony's vault here in America somewhere. We'd never have found them. They'd been there for years and years, since we made the records, and they've never been used. All the reissues that have come out [in the past] have used copies of copies of copies, and they're all crap. So I'm indebted to Rob for going to such lengths. It's made a big difference. This stuff has never sounded as good."
That's the truth. But let's get down to the nitty-gritty of what's actually on the discs. While such a large box might suggest a massive, career-spanning anthology, that's not the case here. None of the band's earliest work from when they were on Decca is included—so no "Whatcha Gonna Do About It," "Sha La La La Lee," "All or Nothing," et al—only tracks from their 1967-69 tenure on Immediate Records. And it's not a complete set of their Immediate tracks either. Their self-titled '67 Immediate album and 1968's Ogdens' Nut Gone Flake were already the subject of their own deluxe, from-the-masters, Caiger-produced reissues in 2012, and The Autumn Stone is scheduled for later this year, so you'll need to buy those separately, if you haven't already. What Here Come the Nice does, is wrap up pretty much everything else from the Immediate years: all the worldwide singles (A's and B's) and EPs in the original mono mixes, an assortment of alternate mixes and mono/stereo variations, and a deep swath of sounds from those previously unissued session tapes.
Disc 1 presents the original mono mixes of all of the band's Immediate singles in chronological order, and demonstrates in fifty-four minutes why the Small Faces are one of the most revered band of their era. "Here Come the Nice," "Talk to You," "(Tell Me) Have You Ever Seen Me," "Get Yourself Together," "Itchycoo Park," "Tin Soldier," "Lazy Sunday," "Rollin' Over," "Afterglow of Your Love," "Wham Bam Thank You Mam"—track after track of brilliant, soulful Marriott-Lane songs, each delivered with an uncontainable exuberance and passion. With the exception of the early Beatles, I can't think of another group that communicated with such clarity and intensity the pure joy of just playing together as one in a truly great band. That joy is palpable and infectious, and invariably plasters a smile across your face whenever you hear these songs. That's some powerful magic.
The group's early records for Decca were mostly recorded at IBC Studios in a bit of a mad dash in the small pockets of free time they had between a whirlwind schedule of live gigs, TV shows, and publicity appearances. Once the Small Faces signed to Immediate Records, though, operations shifted from IBC to Olympic where they were afforded as much time as they needed. The band also became their own producers, under the watchful eye and experienced hands of studio engineer Glyn Johns.
"Glyn had been on 90% of the sessions at IBC anyway as an engineer," says Mac, "and so he continued at Olympic. I think it was probably because he was recording there, that's where we went, and it was the best thing for us because Glyn was fantastic. He actually mixed my last two albums—my new album, which won't be out until June and the last one—and it was just such a delight to be with him again. He's so fucking brilliant."
Working at Olympic with almost unlimited studio time offered the band all kinds of new possibilities. "Well, the thing is it's a big room," says Mac. "IBC was quite a small studio. I think there was a grand piano there; there was certainly an upright. At Olympic there was a Steinway grand piano, an upright, there were tubular bells, there were timpani, 'cause they did a lot of film music there so that stuff was on hand, y'know? And a harpsichord, all kinds of stuff. That was a real studio. So we got to play these instruments. It was fucking amazing really."
Asked to describe how their sessions were structured, Mac remembers: "We basically went in about 6:00 at night. Glyn would be at a session from 9:00 in the morning. So he was doing 9:00 to 5:00—whether he was at Olympic or somewhere else, I don't know. He'd grab something to eat, and then we would start. We would go till midnight and then he'd quit, and it always struck us as annoying that he would quit at midnight—we didn't know he was doing sessions all day! Completely oblivious and quite brutal. He'd say, 'Alright, you guys, I'm going home,' and he'd get in his E-Type Jaguar and off he'd go. We'd carry on till 3:00 or 4:00, maybe 5:00, and then—on an easy day—go to sleep, have something to eat, get in at 6:00, start again. We had no idea he was working twice as hard. We thought it was rude that he would leave at midnight. He never did any drugs and we were smoking dope, occasionally taking pills, having a drink. He knew we would carry on and get stuff done but be less and less productive as the hours went by. We'd just, like, work it. It was a thrill to be in the studio.
"We knew what we had to do," he continues. "We'd light another joint and go, 'Alright, let's get those backing vocals done on that song' or 'There's an organ solo needed here' and I'd just go straight through it. There was no big discussion, just 'Right! Let's go! Boom!' And if it was Eddie Kramer or Andy Johns or Phill Brown or George Chiantz [working as studio engineer]—they'd just carry on. We would be producing."
The atmosphere of those late night sessions, and the kind of hard work the band was putting into their songs, can be heard on Disc 2 of the box, which features numerous alternate takes, tracking sessions, false starts, breakdowns, and studio chatter as they work on songs like "Green Circles," "I Can't Make It" (working title: "Wit Art Yer"), "Call it Something Nice," "Donkey Rides, A Penny A Glass" (originally "Wide Eyed Girl on the Wall"), "Red Balloon," and "Tin Soldier."
It's a thrill to listen in on "Tin Soldier" (titled "Anything" in its early instrumental form) as a work in progress, unfurling incrementally into the monster track we all know and love. On the early takes, after Mac's distinctive electric piano intro, Marriott attempts a fiddly acoustic guitar part, an idea which was eventually abandoned. "Steve came in with a 'Dang, danga, dowacka, doodle acka…'" chuckles Mac, attempting to imitate Marriott's finger-tangling guitar lick. "He tried it a bunch of times but it was just too busy. But it's fantastic for me to listen to that again, to hear us working it in the studio. You get an idea of how busy we were."
Another Disc Two highlight is the cryptically titled "Saiede Mamoon," which had started out as "Me You and Us Too" and would soon become "Wham Bam Thank You Mam." "There are several versions of that," says Mac. "I actually quit the band because we were recording it and Steve was pretty much telling me what to play and I'd had enough. I just said, 'Fuck that, I quit.' And our tour manager came to my house and said, 'Look, you've got to come back.' I went back in the studio the next day or two days later and Steve apologized and said, 'I'm sorry, I didn't realize I was getting on you.' He could be really dominating with everyone. Then he said, 'Here! Let me play you the track.' And he'd called Nicky Hopkins immediately and he had a track with Nicky Hopkins playing piano, and I thought, 'Oh, that's nice!' A nice way to say 'fuck you!'" He laughs. "'You quit the band and you're already replaced.' We didn't release that version, but it's on the box set."
The availability of the original multitracks allowed the reissue producers to create some new "stripped down" mixes of several songs, the most striking of which is a goosebump-raising version of "Wham Bam…" featuring only Marriott's isolated lead vocal track. (It's included as a 'hidden' bonus on Disc 2.)
The studio sessions continue on Disc 3, which includes a variety of stripped down and/or alternate mixes of songs like "I Can't Make It," "Talk to You," "Donkey Rides, A Penny A Glass," and "Lazy Sunday"—all previously unreleased. As is "Mind the Doors Please," an extended Jones drum solo (with some brief bass interjections from Ronnie Lane). Among the more interesting inclusions are a sublime alternate take of "Jenny's Song" (a.k.a. "The Autumn Stone"), "This Feeling of Spring," which is an early version of "Just Passing" with McLagan playing celeste, harpsichord and piano, and a soul-stirring new mix of "Collibosher," with Mac's Hammond center-stage for once, supported by a tasty horn section. As McLagan explains, his keyboards more typically were in a supporting role, finding the spaces that worked best for each particular song. "My job really was to find the place that no one else was playing and not to be too noticeable really," he explains. "I always figured 'I'm in a guitar band.' The guitar is playing the chords, that's covered, or if he's playing a lick then I can play a chord right there. It's just feel really. I find my way around whatever everyone else is playing or I come up with an idea and everyone else finds their way around it."
Disc Four wraps up a selection of outtakes and alternate mixes, including such curiosities as the Italian version of "Green Circles," stereo mixes of "Itchycoo Park" and "Here Come the Nice," a stonking mono mix of "Don't Burst My Bubble" and a previously unreleased version of "(Tell Me) Have You Ever Seen Me" with a completely different lead vocal, a Mellotron, and no backing vocals. Another highly enjoyable track is the alternate take (and mix) of "Eddie's Dreaming," which turns out to be a personal favorite of Mac's. "'Eddie's Dreaming' is Ronnie's tribute to Eddie 'Tan Tan' Thornton, who was the trumpet player with Georgie Fame," he explains. "He played on a couple of tracks of ours with the rest of the horn section and Speedy Acquaye who was a conga player. We used to score dope from Speedy. Eddie used to get a little high and he'd stutter: 'I got to… I got to… I got to tell ya…' He could never get the words out, and we'd laugh. Anyway, Ronnie wrote that song about him and it was a loving tribute—just a little laugh with him—and we got him and the guys to play horns on the track.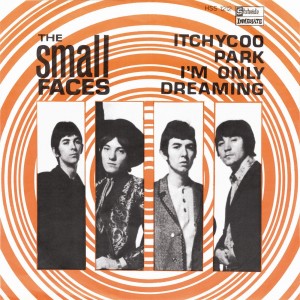 "When it originally came out we faded the track down to just the horns, and then the horns stopped and we left it going because Eddie said, 'Ah! I got to tell ya.. I got to tell ya…' and he couldn't say it. It was just him being high, y'know?" he laughs "It was just perfect, but invariably as it's been rereleased over the years it fades out. An engineer in a studio—unknown to us, in another country sometimes, but someone who doesn't know us, doesn't give a damn—fades it out. That's where they stop the track—and nobody hears Eddie's dreaming. So when Rob Caiger sent me all the tracks, I listened to every single track diligently and 'Eddie's Dreaming' stopped right there, so I called him and said, 'For fuck's sake. The whole point of the song is the end, which keeps getting taken out. It's not right, you've gotta put it in!' So there are two versions of 'Eddie's Dreaming' [on the box set]. One of them is the complete one."
Another favorite of Mac's is "Afterglow of Your Love," which appears on the box set twice: on Disc One in its original mono single mix, which was slightly sped up, and on Disc Four where the mono mix has been slowed down to the original speed. Mac's organ sound on this track is especially full and powerful and I quizzed him on how he got that sound. "Well, I've asked Glyn, and I've asked a lot of other people," he confesses. "There's organ but there's also another instrument I play. It was in Olympic and it was something that was sitting there and for years I thought it was the Theremin because I'd read about a Theremin. But I played a Theremin in a studio in LA recently and realized it wasn't the Theremin, but it was some other instrument that was left there from a movie session. But the organ, the sound of it, is pretty great—thank you, Glyn—and it's one of my favorite Small Faces tracks. I've tried to do that and 'Tin Soldier' with the band"—referring to his band today—"but they're too high for me to sing, and also there's too many instruments. Especially 'Tin Soldier'—I mean, there's three keyboards for a start, two guitars and Steve's fantastic voice and PP Arnold's voice so it's a difficult one. There's a Steinway, Wurlitzer and Hammond on that."
Disc Four also includes six live tracks taped at Newcastle City Hall on November 18, 1968 and originally released on the Autumn Stone album. Here they've been pitch-corrected and some overdubbed crowd hysteria has been removed—leaving only the real hysteria, which is still quite considerable. "Always little girls would jump onstage," remembers Mac. "It's amazing the strength of pubescent girls. I've seen guard railings just bent out of shape by girls. It's unbelievable. They'd jump onstage and we'd have to run straight to the car from the stage. I mean, we were only supposed to play two twenty minute spots, but some nights we'd only play ten minutes because then we'd have to run—which was a drag because we wanted to play! We were a soul band for fuck's sake!"
Less than four months after those live tracks were recorded, the Small Faces were no more. "Steve got pissed off," Mac recalls." He didn't want to be in the band and all this shit. He wanted to become heavy. He needed Pete Frampton to join the band, but we didn't want Pete Frampton to join the band, there was no point. We had our guitarist.
"The times had changed," he reflects. "The whole mod period was only a couple of years really. It all changed and we weren't relevant really. We became irrelevant, and we didn't have the sense to be like the Who and maintain our relevance."
Be that as it may, but while they lasted the Small Faces were up there with the very best of them, as this box makes abundantly clear.
That abundance extends to the four seven-inch vinyl records included in the box, the prize of which is a replica of an acetate the band gave to Andrew Loog Oldham in early 1967. The handwritten title on the label reads "Mystery…" but it's actually an early version of "Something I Want to Tell You" with an alternate Ronnie Lane lead vocal. There are also reproductions of two French EPs, "Here Come the Nice" and "Itchycoo Park," each featuring four prime cuts, and the rare-as-duck-eyebrows promotional single for the first Immediate Small Faces album, which featured excerpts from that album introduced by DJ Tommy Vance.
Some words of praise are also in order for the hardcover book, which features 72 pages of photos, detailed track by track annotation, and an assortment of writing, including an insightful career retrospective by Mark Paytress, and a foreword by Pete Townshend, who calls them his favorite band of all time – high praise indeed.
But it's Kenney Jones who sums it up best: "Simply the best band I have ever been in or ever likely to be in," he writes. "As a teenager, just being with my mates and making the best music was the greatest feeling of all time. When I think or listen to the Small Faces I am forever young. It is a timeless musical paradise."
Nice one.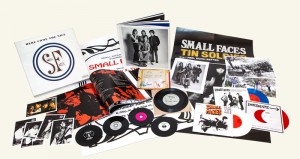 My full interview with Ian McLagan will appear in Issue #37 of UGLY THINGS. Out May 2014.
Charly has also just issued Small Faces Greatest Hits: The Immediate Years 1967-1969, featuring 20 of the band's best known tracks (17 on the vinyl edition) remastered from the original tapes. We have copies of the CD to give away to the first two people to email the correct answer to this question:
When asked about Bert's lumbago, what is Mrs Jones' response?
Email your answers to uglythingsmag@gmail.com
Competition ends February 22, 2014.
---