Featured

News

By Harvey Kubernik Keith Moon, the drummer of the Who and I in 1975 did an interview for the now defunct Melody Maker at the Laurel Canyon home of his manager, Skip Taylor, the record pro

Featured

Articles

By Harvey Kubernik Keith Moon, the drummer of the Who and I in 1975 did an interview for the now defunct Melody Maker at the Laurel Canyon home of his manager, Skip Taylor, the record pro
FLYING SAUCERS ROCK'N'ROLL
FLYING SAUCERS ROCK'N'ROLL: Conversations with Unjustly Obscure Rock'n'Soul Eccentrics edited by Jake Austen (Duke University Press, US; 2011; 282 pages)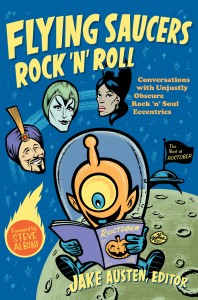 For the past couple of decades, Jake Austen and his ragtag team at Roctober have been engaged in some truly outstanding work in the field of rock'n'roll writing and research. If for some reason you've missed one—or any—of the almost 50 issues they've put out in that time, you could do a lot worse than pick up this book which compiles some of their most memorable interviews.
Roctober's coverage has always been all over the map, taking in '50s rockabilly, country, vintage soul, R&B, blues and funk, '60s garage rock, '70s and '80s punk rock and new wave, heavy metal, and a range of unclassifiable species that might be loosely defined as novelty acts. A cross section of those styles are represented in the ten meaty interviews selected here, which include career-spanning conversations with Sam the Sham, David Allan Coe, Sugar Pie DeSanto, Oscar Brown Jr, the Fast, and the Good Rats.
Among the highlights are Ken Burke's lengthy and absorbing chat with Sun rockabilly giant Billy Lee Riley, Jonathan Polettia's disturbing voyage into the dark world of Hollywood glam weirdoes Zolar X, and a wonderful chat with the late, great Claude Trenier by a team of Roctoberists headed up by John Battles.
Each chapter is headed up by artwork by King Merinuk, illustrated with rare photos, and features a brief update on each artist. In several cases, the update turns out to be an obituary, a stark, poignant reminder of just how important it is to document the personal stories of these rock'n'soul innovators and eccentrics. (Mike Stax)
From UGLY THINGS #32 (Fall/Winter 2011)
---