Featured

News

By Mark St John As I write this, the snow is banked up across roads all over the country, the military are air-dropping supplies to rural areas and power is off across half the country. R

Featured

Articles

By Hunter Bennett   The article below is an online-only sidebar to "SNAKE WRAP: The Definitive (and, Thus Far, Only) Account of Washington, DC's Funniest HarDCore Band," which appears in
By Doug Sheppard
Like the authorities catching up to the protagonist in a biker exploitation film, time had caught up to Sky Saxon in 1970. Between Altamont, harder drugs and the frowning faces of war protestation, there was no room for the Seeds' idealism and – if analogies are in order – the times had indeed spoiled Sky's fun. Rock was now serious, like really serious, man — discovering all kinds of wimpy folk, phony roots, long solos and (thanks to Woodstock) corporate influences. Sky was Davy Crockett at the Alamo – or rather, a rocker past him prime getting laid a lot at his Malibu home. But it didn't mean he didn't have one last charge in him.
Calling on old keyboard sidekick Darryl Hooper, plus three new members, the re-sprouted Seeds departed GNP Crescendo for MGM and recorded two killer singles that sadly never made it past the promo stage, falling into permanent rarity status and never getting a legit reissue – until now, thanks to Sundazed and Record Store Day.
The Seeds' first MGM offering, "Bad Part of Town" b/w "Wish Me Up," paired a biting fuzz rocker with a more flowery, keyboard-dominated number that harked back to the band's later GNP material. It was the heavy influence of "Bad Part of Town" that would propel the even better followup, "Love in a Summer Basket" b/w "Did He Die."
In spite of its title, "Love In a Summer Basket" isn't so much a floral excursion as it is a tidal wave of loud fuzz guitar squalls crashing the shores of idealism as keyboards and flute weave in and out. Perfection. And if that trip isn't bad enough, then the war-torn flip of "Did He Die" – rumbling bass, screeching guitar distortion and all — blurs visions even more, as Sky lets the Vietnam anxiety out by screaming "He shot him in the head! He killed his bro-ther-ah-ah-ah-ah" without fear of pushing too hard.
But when MGM President Mike Curb purged his label of acts with drug influences (like the Seeds) just two days before its release, he denied the world what would undoubtedly have been the finest Seeds album yet. (The Seeds would go on to make one more great indie single the next year, "Shuckin' and Jiving" b/w "You Took Me By Surprise," two barnstorming rockers that up the heavy ante even more.)
This Sundazed gatefold double-single set not only replicates the sound of the originals thanks to use of master tapes, but also offers a great essay by Seeds scholar Jeff Jarema that finally reveals the names of the other musicians (outside of Saxon and Hooper) on the MGM sessions, plus some really cool vintage photos. File under "must have."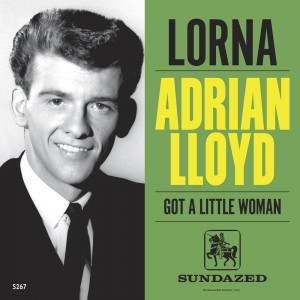 Speaking of screaming punks, Sundazed has unleashed another punk killer among its RSD releases, the lasciviously lustful "Lorna" by Adrian Lloyd. Busting and burning the surfboards he brandished in the Rumblers and the Sunsets, Lloyd unloads a torrent of tribal drums, snotty vocals and screams ("approximately 25," sez Jarema in the liners) for a rightly regarded classic getting its first reissue on a seven-inch. Possibly (and if so, justifiably) winded, Lloyd is a little more restrained on the B-side, "Got a Little Woman," a groovy rocker with "woah yeah" call-and-answer vocals that's pretty cool in its own right.
No discussion of screaming rock 'n' roll would be complete without the Trashmen, who rode it into the Top 10 with the infamous Rivingstoned rant "Surfin' Bird" in 1963. By 1966, the hits had dried up, the British had come, and a trip was about to be taken, but the Bird men defiantly stuck to rock 'n' roll — as evidenced by the live versions of "Mean Woman Blues" and "Big Boss Man" on this RSD single on Sundazed, which has done more than perhaps anyone else in spreading the Trashmen gospel.
SONY LEGACY
Sundazed head Bob Irwin's other employer, Legacy, also did some great releases for Record Store Day – the best unquestionably being the 180-gram vinyl reissues of the mono mixes of three vintage Miles Davis albums: 'Round About Midnight, Milestones and Someday My Prince Will Come. Housed in sharp reproductions of the original covers, the sound emanating from the grooves is nothing short of stunning – presenting the material with a clarity that almost feels like being in the studio with Miles, John Coltrane, Philly Joe Jones and (on Milestones) Cannonball Adderly.
Much has already been written about Miles' first and third Columbia offerings, 'Round About Midnight and Milestones, respectively, what with the all-star lineup and groundbreaking evolution of hard bop into modal jazz – not to mention classics like the rearranged version of Monk's " 'Round Midnight" on the former and the swinging title track of the latter. So that leaves the mono vs. stereo question and, to these ears, much as I enjoyed the stereo CD remasters, the more intimate sound of the mono mix is preferable.
Released on the heels of two landmarks, Kind of Blue and Sketches of Spain, Someday My Prince Will Come was bound to suffer in comparison. But it's a fine album in its own right, thanks to all of the Kind of Blue lineup save Adderly and Bill Evans — although here the mono mix is more of an alternative for collectors.
Legacy has also given us 10 inches of previously unreleased Sly and the Family Stone at their peak, including "Music Lover/I Want to Take You Higher/Music Lover" from the Isle of Wight Festival in 1970, the rare promo-only single version of "Higher," and a TV medley of "Sing a Simple Song/Hot Fun in the Summertime/Sex Machine/I Want to Take You Higher" from 1969. Nice to have, but the best news is the insert in this I Want to Take You Higher EP noting the upcoming release of a four-CD Sly box set with rarities and 18 previously unreleased tracks.
BELATED BLACK FRIDAY
Black Friday has become to Record Store Day what Labor Day is to Memorial Day – and spotlighted some worthy limited editions of its own the last time around, including a self-titled 12-inch four-song EP by Eric Burdon & the Greenhornes on Readymade. Old-meets-new affairs usually signify guest appearances on remakes, so I'm pleased to note that this is not only all new songs — but the best music that both Burdon and the Greenhornes have made in years. Hard rockers ("Black Dog," not the Zeppelin or even Timebox track), slow blues ("Out of My Mind") and flat-out rockers ("Can You Win") fire up a package that makes one wish for a full-length. Age can be detected in the old Animal's voice, incidentally, but like the bluesmen he's long idolized, it's fine seasoning, not wear.
Also worthy of investigation is Secret Stash's single by the Prophets of Peace, "P.O.P" b/w "46th Street Bump Time." From the same 1974 session that produced one side of their lone single (included on Twin Cities Funk & Soul, reviewed in the upcoming issue) comes this previously unreleased pairing of two fine Tower of Power-styled horn soul groovers: a vocal number on the top side and an instrumental on the flip. Limited to 500 copies.
---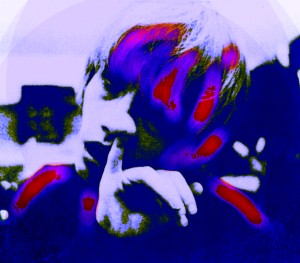 On May 24-26, 2013, we celebrated Ugly Things' 30th anniversary with three nights of live music at the Casbah in San Diego, and two afternoons of extracurricular fun at Jayne's Gastropub. Three days and nights I will never forget.
From the start, Anja and I agreed we didn't want to stage a typical Sixties/Garage Weekender with an exhaustive—and exhausting—roster of reunited '60s icons and popular newer bands. Too predictable, too stressful, and, without corporate sponsorship (which we didn't want), too expensive. We wanted something different, something personal; something that celebrated the DIY spirit of Ugly Things. So we turned to some of our favorite musicians and friends—people who have played a role in the magazine's growth over the years—and persuaded them to put together something unique for the weekend—something people had never seen from them before: a new repertoire, a new format, or a new configuration of players. We wanted to offer the audience an experience that could never be repeated. What a time it was.
Friday evening began with THE NEUMANS from Orange County, one of the best new, young garage bands on the scene. They delivered a great set of archetypal '66 fuzz'n'Farfisa punk and mixed a mini-set of Missing Links favorites into their usual stew of original compositions. Next up, something special: EBBOT LUNDBERG flew out from Sweden to be a part of the event (he was trailed most of the weekend by a cameraman who was filming him for an upcoming TV/Internet reality show, Webbot). On the Friday night, Ebbot performed an acoustic set, accompanied by original Loons/Tell-Tale Hearts guitarist Eric Bacher. Along with numbers by Union Carbide Productions (cover story of Issue #16) and the recently disbanded Soundtrack of Our Lives, Ebbot also surprised us with a stirring version of Pink Floyd's "The Gnome." It was his performance of Union Carbide's "Golden Age," though, that really raised the hairs on the back of my neck—one of my all-time favorite songs and one I'd never seen him sing live before.
---
By Mike Stax
(The article below appeared in the SAN DIEGO READER in 2010 as part of a larger story marking the 30th anniversary of John Lennon's death.)
On December 8, 1980 I had been living in America for just over four weeks. I had flown to San Diego from England with a suitcase, a bass guitar and about $250 to join a band called the Crawdaddys. I was 18 years old. The Crawdaddys were one of the first fiercely retro '60s bands. We lived and breathed 1964-65: vintage clothes, vintage guitars, vintage amps, vintage songs. Musically we were fixated more on the Stones and Them than the Beatles, but the early Beatles were a big part of the daily soundtrack of our lives. John Lennon in A Hard Day's Night was the epitome of cool to us: his quick wit, that hard-faced sarcasm in the face of authority.
At the time I was living with Ron Silva, the Crawdaddys leader, and his girlfriend Mindy in a small apartment on Fifth Avenue, close to downtown. Ron and I arrived home early that evening after another day of walking around the city. We'd walked as far as 30th and Meade where Ron had dropped a jacket off at a tailor he used there. Later we figured out that's where we must have been when Lennon had actually been shot. I can't drive by that block now without thinking of John Lennon. When we got home Mindy blurted out between sobs that John Lennon had been shot. We were stunned, speechless. She and Ron disappeared into the bedroom and I was left alone, reeling in disbelief. It wasn't until a few minutes later when Ron reemerged that I learned that Lennon had not only been shot, he was dead. Mindy was inconsolable, fixated on a line Lennon sung years before: "The way things are going, they're gonna crucify me."
Later that night and over the next few days, we, like the rest of the world, watched as the rest of the story unfurled on television. None of it made any sense: the killer, the motive, the media canonization. I was gutted but felt completely detached from the public displays of grief, the constant soundtrack of "Imagine" on every TV set or radio. These people seemed to be mourning a different John Lennon than we were. Did they even know him? I remember one grieving 'fan' on TV sobbing to a reporter that she loved John so much because he'd written two of her favorite songs: "Yesterday" and "Hey Jude." You had to laugh to keep from puking.
A few months later Reagan was shot, not by a political revolutionary but by another delusional loner with an unhealthy celebrity fixation.
So this was America, I thought, a land where any disaffected loser can simply grab a weapon, select his target and blast himself a small perch in history. I seemed to have arrived in a very strange place, a long way from home. Maybe John had a similar revelation as he lay dying on the cold pavement in front of the Dakota. Maybe we all did.
Mike Stax, writer, Ugly Things magazine publisher, lead singer of The Loons.
---