Featured

News

By Jay Dobis Nejat Toksoy, the lead singer of one of the top rock bands in Turkey in the '60s, Mavi Işiklar (1966-70), died on Tuesday, July 9, 2019, after a lengthy stay in hospital d

Featured

Articles

By Harvey Kubernik February 3, 2019 is the 60th anniversary of tragic airplane crash that subsequently became known as "The Day the Music Died," sadly referenced in Don McLean's so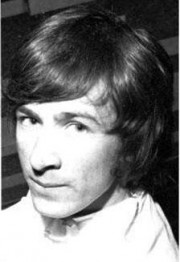 It is with deep sorrow and incredible sadness that we learned of the death of our dear friend George Gallacher, lead vocalist and founder member of the Poets, who died suddenly from a heart attack while driving home from watching his favorite football team, Partick Thistle, on Saturday August 25, 2012. On the day "The Jags", as Thistle are known by their fans, won 3-0 against Dumbarton at their home ground Firhill, in Glasgow, so George would've been pretty ecstatic. He was such an avid supporter that, unusually, the club held a half-time tribute to him on the day of his funeral, playing Poets songs, while former Scotland player Alan Rough read out tributes.
George was born in the Garngad (later Royston) area of Glasgow and would've celebrated his sixty-ninth birthday on 21 October.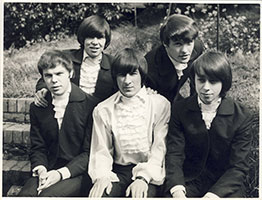 In 1964, The Poets were quickly signed to Decca by Rolling Stones manager Andrew Loog Oldham, who produced for them a brace of highly-innovative singles, all co-written by Gallacher, and guitarists Hume Paton and Tony Myles. Forever etched in the minds of beat fans is the group's scorching February 1965 single, "That's The Way It's Got To Be," and its sublime, truly haunting counterpart, "I'll Cry With The Moon." This showcased both the tough and romantic sides of the young Gallacher's talent, across intense, creative, and thoroughly mesmerizing material. The weird baroque-beat stomp of "Now We're Thru," their debut from late the previous year, would give them their only Top 30 placing. The Poets followed manager Oldham into his new Immediate label venture, cutting two singles there including the spellbinding "Some Things I Can't Forget," the group's preferred choice for the topside. This was over-ruled by ALO in favor of "Call Again"—"depressing stuff… and we were depressed that it was going to be our single," recalled Gallacher in 2011.
In early '66 after "Baby Don't You Do It," Gallacher left the Poets, disillusioned by lack of direction and momentum within the group, and the mess of ongoing management wrangles. He stayed in London until the end of the '60s singing back-up on sessions for such as Keith Relf and Spencer Davis, doing A&R work, writing and recording for labels including United Artists, Fontana and Major Minor. Gallacher also taped some excellent songs of his own with backing by the pre-White Trash group, the Pathfinders, who included former Poets guitarist (and by then Gallacher's brother-in-law) Fraser Watson. At least four titles exist on acetate only including "The Tailor," "A Weathercock's View Of Life," and the more well-known "Dawn (A Portrait)." A little-known fact, however, is that in 1968 Gallacher also supplied lead vocals for an album project by a group called the Illusive Dream which remains unreleased to this day.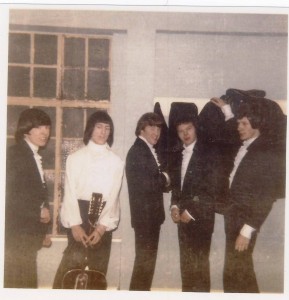 When George returned to Glasgow, married with children, much of his free time was spent playing junior league football. As early as 1963, before the Poets broke out, George's prowess on the football park had already been noted and he signed up for trials with Leicester City's youth team alongside England's future goalkeeping hero Gordon Banks.
But music was in Gallacher's soul, and after a brief stint playing with old pal Alex Harvey, he and Watson formed the hard rocking, politically aware Dead Loss Band, also the Dansettes, The Blues Poets and, more recently, the Nearly Men. His friend, award-winning author James Kelman, had also cast him as the leading role in his acclaimed 1994 play One Two Hey!, the story of a struggling blues group, mirroring that of the Poets.
Gallacher also returned to education, gaining degrees in both English and Philosophy at the University of Strathclyde, before becoming a teacher, and mentoring to asylum seekers, many from war-torn Kosovo.
A unique vocalist until the very end, George was blessed with a thoroughly commanding stage presence, as evidenced by those in attendance at recent concerts given by the reconstituted Poets line-up where George and Fraser were backed by longtime friends and fans, the Thanes, in Glasgow, London, and at what would turn out to be their last ever appearance, at Festival Beat in Italy on 30 June, playing almost all of the group's '60s repertoire before jubilant, receptive audiences.
On a very personal note, as one of George's and his family's friends for the last twenty five years, I'd like to say that life has been richer by far having known him. George Gallacher was a very generous, gracious, wryly funny, heart-thinking individual, an extraordinary spirit with an astonishing musical gift. He will be dearly missed by all who knew him. He journeys on leaving behind his dear wife Anne, and their two sons, Craig and Fraser. RIP George, you were some man. (Lenny Helsing)
---
Due in great part to the compilation release of Those Shocking, Shaking Days (Now Again, 2010), the exposure and subsequent interest in unknown and/or long forgotten Indonesian psych/hard rock groups of the late 1960s to early-mid 1970s has been growing in recent years. A virtual treasure-trove of lost tracks and obscure bands, one can only wonder why these Indo treasures weren't excavated sooner. One of the stand-out tracks on …Shaking Days is undoubtedly Shark Move's "Evil War", an incredibly eerie, psychedelia drenched gem that just oozes monster tones and thumping bass. Lest we forget, during the early 1970s, Southeast Asia was very much in turmoil and littered with devastating violence. "Evil War", a song written in the very backyard of that seemingly never ending conflict, speaks volumes about the people who endured so much, yet who persevered in spirit, as evidenced in their their music. And so, in 1973, against the backdrop of war, Shark Move laid down their one and only album, Ghede Chokra's.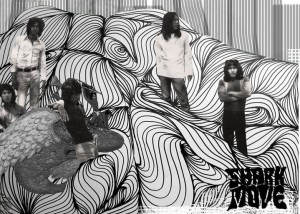 One of the members of Shark Move, a cat by the name of Benny Soebardja, would go on to work with another well-known Indonesian band of the period, Giant Step. It was with Giant Step that Benny almost caught his "big break", when they came painfully close to signing with Virgin Records (UK). However, as with most Indo acts of the time, this was not to be; the world just didn't seem ready. Eventually, Giant Step ran its course in relative ambiguity, being contained, and ultimately lost, within the confines of mid-70s Indonesia. Refusing to lay down his pen, however, as well as his guitar, Benny would go on to crank out some of the most phenomenal solo music the Indonesian music market has ever been hit with. Much like his earlier work with Shark Move and Giant Step, Benny's seminal solo recordings of the 1970s were released without label support, making them essentially private pressings. Between 1975 and 1980, Benny recorded five albums, all of which have never seen any official vinyl issuing…until now. Thanks to the salvage divers over at Strawberry Rain, Benny's first three solo albums, Benny Soebardja & Lizard(1975), Gimmie a Piece of Gut Rock (1977), and Night Train (1978), have been released on vinyl for the first time ever.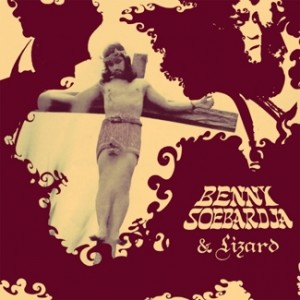 BENNY SOEBARDJA – Benny Soebardja & Lizard (1975/2012) [Ltd. Ed. 250] (Strawberry Rain) LP
Where to begin? Well, for starters, this was Benny's first "official" solo release. And, with no label backing this sucker, the creative freedom was flowing — and man, can you hear it. Hell, you can feelit! Backed by Lizard (a group made up of essentially mystery musicians, although I personally suspect some Sharkmovers are present), what you hear on this album is beyond amazing. Standout tracks include "18 Years Old" and "Cynthia"; "Cynthia" will leave you wondering if you've ever really heard a love song before. Upon its original release (if you can even call it a release), Benny Soebardja & Lizard appeared on cassette only, in sudo-bootleg form, and was ultimately absorbed by the sands of time. Enter Strawberry Rain records! This reissue has everything going for it. One, it's a limited edition pressing of 250 copies (however, the Indonesian market had reserved 50% of those pressings, leaving only 125 copies available worldwide). Two, the sleeve on this LP sports the original banned artwork. And three, the album (as well as the other two re-releases) is housed in a vintage tip-on style jacket! How cool is that?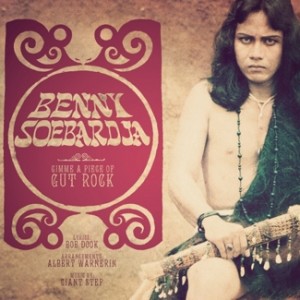 BENNY SOEBARDJA – Gimmie a Piece of Gut Rock (1977/2012) [Ltd. Ed. 500] (Strawberry Rain) LP
Ah, Gimmie a Piece of Gut Rock. Just the title alone is far out! Recorded in just 30 days — rumor has it that Benny was given unlimited studio time — the sound you get off Gimmie… is layered, at times complex, and not necessarily what one would expect coming off of Benny Soebardja & Lizard…but it works! It works so well in fact, that some collectors argue this to be his finest hour. While I personally don't adhere to that opinion, it is nonetheless an epic ride and one definitely worth buying a ticket for. Hey, speaking of Lizard, guess who backed-up the noise on this effort? You got it! But what most people don't know is that Benny also had help from some even older pals on this one, with Giant Step filling the gaps.
BENNY SOEBARDJA – Night Train (1978/2012) [Ltd. Ed. 500] (Strawberry Rain) LP
Recorded in 1978, Night Train may very well be the rarest thing that Benny Soebardja ever laid down. Cassette copies of this creature fetch an upwards of three figures on the Indonesian market! The first track, "Wise World", is a testament in itself; it's also a track that paves the way for the rest of the album, preparing you for some amazing fuzz as well as other trippy musical dealings. Laced in classic Benny Soebardja psychedelic style, Night Train stands out as one of his most crowning achievements. Thanks to Strawberry Rain, this "Benny at his best" title has finally seen a proper vinyl pressing, although it is limited to 500 copies and is getting harder and harder to track down nowadays.  (Bryan O'Keefe)
---
(Ace, UK) CD
During the two-year period covered here, Ike Turner was one hell of a busy mofo. He recorded in any studio he could find while his popular revue was out on the road, which by most accounts was around nine months of the year. From '63-'65, Ike and Tina records came out on Sue, Kent, Warner Brothers, Sonja, Loma, and Modern Records. He also recorded members of his revue, leading to releases on Sputnik, Sony, Teena, and Modern. Sorting out those sessions is a particularly daunting task. Compiler Brian Nevill's superb annotation manages to make sense of it all.
Then again, one could always forgo the details and simply surrender to Ike's powerhouse groove, not a bad strategy when the music is as raw and funky as it is here. The performers are led by the magnificent Tina herself, turning in an impassioned "All In My Mind" that takes Maxine Brown's familiar tune to a different place entirely. Her cover of Eddie Boyd's "Five Long Years" is suitably rough and tumble. Ikette Jessie Smith adds down home grit to her New Orleans-styled "They Ain't Lovin' Ya," a duet with fellow Revue member Vernon Guy. Another Ikette, Venetta Fields, contributes a smoldering piano blues called "Through With You."
Jackie Brenston shows up on the bouncy soul number "In Love," backed by the Ikettes, as well as a slow blues originally done by Billy Gayles on Federal, "I'm Tore Up." Brenston and Turner had an off and on working relationship going all the way back to their classic "Rocket 88" hit back in 1951. The other singers and musicians all acquit themselves well throughout. The relative lack of polish and production hurt the commercial potential of these mostly unreleased recordings, which is exactly what makes them so appealing.
I like Ike! (Dave Gnerre)
---