Featured

News

By Harvey Kubernik Larry "The Mole" Taylor, known primarily for his bass playing in Canned Heat passed way from cancer on August 19, 2019 in the Lake Balboa area of California's San

Featured

Articles

By Harvey Kubernik John Mayall OBE has been indefatigable in his commitment to the blues: virtually every musician who went through his Bluesbreakers academy went beyond their wildest ima
By Mike Stax
(The article below appeared in the SAN DIEGO READER in 2010 as part of a larger story marking the 30th anniversary of John Lennon's death.)
On December 8, 1980 I had been living in America for just over four weeks. I had flown to San Diego from England with a suitcase, a bass guitar and about $250 to join a band called the Crawdaddys. I was 18 years old. The Crawdaddys were one of the first fiercely retro '60s bands. We lived and breathed 1964-65: vintage clothes, vintage guitars, vintage amps, vintage songs. Musically we were fixated more on the Stones and Them than the Beatles, but the early Beatles were a big part of the daily soundtrack of our lives. John Lennon in A Hard Day's Night was the epitome of cool to us: his quick wit, that hard-faced sarcasm in the face of authority.
At the time I was living with Ron Silva, the Crawdaddys leader, and his girlfriend Mindy in a small apartment on Fifth Avenue, close to downtown. Ron and I arrived home early that evening after another day of walking around the city. We'd walked as far as 30th and Meade where Ron had dropped a jacket off at a tailor he used there. Later we figured out that's where we must have been when Lennon had actually been shot. I can't drive by that block now without thinking of John Lennon. When we got home Mindy blurted out between sobs that John Lennon had been shot. We were stunned, speechless. She and Ron disappeared into the bedroom and I was left alone, reeling in disbelief. It wasn't until a few minutes later when Ron reemerged that I learned that Lennon had not only been shot, he was dead. Mindy was inconsolable, fixated on a line Lennon sung years before: "The way things are going, they're gonna crucify me."
Later that night and over the next few days, we, like the rest of the world, watched as the rest of the story unfurled on television. None of it made any sense: the killer, the motive, the media canonization. I was gutted but felt completely detached from the public displays of grief, the constant soundtrack of "Imagine" on every TV set or radio. These people seemed to be mourning a different John Lennon than we were. Did they even know him? I remember one grieving 'fan' on TV sobbing to a reporter that she loved John so much because he'd written two of her favorite songs: "Yesterday" and "Hey Jude." You had to laugh to keep from puking.
A few months later Reagan was shot, not by a political revolutionary but by another delusional loner with an unhealthy celebrity fixation.
So this was America, I thought, a land where any disaffected loser can simply grab a weapon, select his target and blast himself a small perch in history. I seemed to have arrived in a very strange place, a long way from home. Maybe John had a similar revelation as he lay dying on the cold pavement in front of the Dakota. Maybe we all did.
Mike Stax, writer, Ugly Things magazine publisher, lead singer of The Loons.
---
By Dragana Drobnjak
A much shorter version of this interview appeared in Issue #5 of NIGHT OF THE FANDOM fanzine in September 2012. ( lovecrafthouse@gmail.com ) This is the complete transcript.
Mike, how would you describe your experience in the U.K. prior to moving to San Diego in '81?
I was born in Watford, but lived near Manchester, Leicester and finally Leeds before moving to California in November of 1980. I suppose I had a pretty normal childhood. I got hooked on writing at a young age, and then on music too. Rock & roll became an obsession for me, and ultimately became the driving force of my life.
I read that you moved in order to join the Crawdaddys. Is this true? How did you get in touch with the band?
That's true. I heard the Crawdaddys one night in 1979 on John Peel's radio show, and I was blown away. I was already a huge fan of the early Stones, Yardbirds and Pretty Things, and I was blown away that a 'new' band could recreate the sound and excitement of that music so authentically. After picking up a couple of their records, I wrote them a fan letter c/o Bomp Records. I was very surprised when a few weeks later I got a letter back from them asking if I'd like to move to San Diego and become their new bass player. After saving up enough money for a plane ticket, through working at a vacuum cleaner factory, I flew to California to start a new life.
Moving usually brings about a lot of chance, especially when it takes place cross-continentally. Has the experience helped form any ideas or decisions?
Absolutely. The decision to move to the States changed the whole direction of my life. I was just a naïve teenager when I arrived—just out of school, and had never lived away from home. I had to learn very quickly how to get by. It wasn't easy sometimes as I was here illegally with no work permit, and had to find ways around that situation. There were many times when I went hungry, and I was at risk of getting deported back to England at any time. There was a lot of stress and uncertainty. I didn't think about it much at the time, but later I realized how that experience must have hardened me emotionally to some degree, and certainly forced me to face all kinds of different challenges on my own. But somehow I managed to make a life for myself here, and I eventually got a green card and then citizenship.
What initiated the Ugly Things fanzine?
I was the early 1980s, the beginning of the MTV era. I thought 99% of modern music was just dreadful – very synthetic and over-stylized for the most part. I started Ugly Things as an antidote to that. I wanted to turn everyone on to the music I was passionate about—which was the exciting, unfiltered, ugly sounds of '60s garage bands, beat groups, psychedelia and suchlike. I felt that if people heard bands like the Music Machine, the Pretty Things and Q65 they'd never want to listen to Michael Jackson, Van Halen or Flock of Seagulls ever again. Maybe that was a little unrealistic, but I'd like to think I helped a few people see the light.
How would you describe the fanzine?
It's a celebration of rock'n'roll, focusing on the overlooked bands and records of the '50s, '60s and '70s. It's about uncovering the untold stories, and also being something of a consumers' guide to the continuing flood of reissues.
In your opinion, why is it important to preserve and reflect upon cultural history?
Some of the most interesting and creative "art"—for lack of a better word—be it music, literature, film, painting, may go undiscovered for years if not decades. There's always a fear it may be lost forever, especially now amid the avalanche of consumer products, useless information and compulsive 'busy-work' we're bombarded with as part of our daily lives. Like many other people, I feel some kind of responsibility to expose and illuminate those parts of our shared cultural history that may otherwise be forgotten. The 1960s were the cultural high-water mark of the last century—something was lost in the decades that followed—and there's still so much to be learned, shared and enjoyed from that era.
Did the fanzine gather immediate attention and support?
No, it was very much a small underground, grassroots affair, and it always will be. We appeal to a small niche of people, and while the population of that niche continues to grow, it will always be what it is—a niche. Most of the world will never 'get' it, and I don't expect them to.
What was the fanzine culture like during '80s California and nationwide?
If the mid '70s was the first golden age of rock fandom, the mid to late '80s saw a second golden era with zines like Kicks, 99th Floor, Here Tis, Black to Comm, Hartbeat and dozens more around the world, all championing garage bands of the '60s and/or newer bands who had tapped into that source for inspiration. It seemed like every week there was a new issue of a cool fanzine dropping through my mailbox, and it all helped build an international network of like-minded souls—all accomplished through the postal system using pen & paper.
Do you think that fanzines help tie scenes from different localities into a more unified vision?
Yes. I mean, everyone had their own unique vision and perspective on things, but there was a sense of unity in that we completely rejected the modern music mainstream and the blinkered MTV generation mentality in favor of the underground garage/beat/rock'n'roll of the mid-'60s, something we knew to be infinitely more authentic and exciting. Time has shown we are right, because that kind of music is more popular than ever, and once bitten by the big beat bug, most people are stricken for life.
Why do think fanzines are so successful in uniting enthusiasts?
I can only speaking for myself, but when I first discovered fanzines like Bam Balam, Gorilla Beat and Who Put the Bomp in the late '70s, it made me realize I wasn't alone in my rock'n'roll obsession. Fanzines validated what I was already feeling, then magnified it all by opening up a vast new world of music to discover.
In my own amateur fanzine making experience I am led to believing that fanzines have the power of giving voice to the underground culture and to voices usually unheard. What is your take on this?
I agree 100%, though I believe that this has been supplanted to a great extent by the Internet and social media—for better or worse. Nevertheless I think print fanzines will always have a role to play. Blogs are transitory, print is forever.
Zines have created their own niche in our culture. Looking back to when you got started, do you notice any aspects of this culture that have remained the same through the decades?
At its core, fanzine culture is fundamentally the same as it was back then – a means of self-expression for anyone with access to a few basic tools and a copy machine.
Do you think any significant difference exists between the way printed information impacts readers vs. that found online?
As I stated earlier: Blogs are transitory, print is forever. The printed word carries more weight because it brings with it a sense of permanence. Online opinions are dished up and digested in the moment, then they disappear into the ether. But when you set your words down on paper and send them out into the world, you are making a tangible statement that you will have to stand behind.
Do you have a favorite issue to date?
It may sound trite, but my favorite issue is always the next one – the one I'm working on right now, because that's the one I have the most passion invested in. If forced to pick some of my favorite UT back issues, I would pick #13 with the Birds story, #20 and 21 with
the first two parts of the Misunderstood, and #33 with the Johnny Echols interview.
What's currently in the works?!
Issue #35 has a story I've been working on for over ten years, unraveling the tale of Craig Smith a.k.a. Maitreya Kali – a super talented songwriter and musician from the 1960s who went off the rails completely at the end of the decade. Writing it has involved a great deal of detective work, and a lot of challenges. More of those ahead, but I hope to finally complete it in the next few months.
Any closing words of wisdom for readers and fellow music enthusiasts?
 Thanks to everyone who has supported Ugly Things over the last 29 years. The zine has always been fueled by passion for the music – not just mine but that of my fellow writers and all of our readers.
---
Since 1983 UGLY THINGS magazine has brought its readers unparalleled coverage of WILD SOUNDS FROM PAST DIMENSIONS: the best lost, unknown and overlooked music of the 1960s and beyond. Published three times a year, each issues features 140-200 pages of in-depth features, exclusive interviews, rare photos and more, as well as a massive review section sifting through hundreds of vinyl and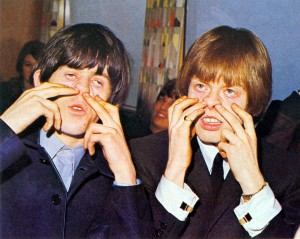 CD reissues, music-related books and DVDs. UGLY THINGS is not a hobbyist publication for trainspotting elitists, it is a high energy rock & roll fanzine about the music and the stories of the people that made it happen.
UT RECORDS was started as a sideline to the magazine, presenting high quality vinyl and CD releases of rare and previously unreleased garage, beat and psychedelia from the 1960s.
You can contact us at: uglythingsmag@gmail.com
UGLY THINGS, PO Box 3021, La Mesa, CA 91944, USA
Telephone: 619-337-1966
Thanks for your interest,
Mike Stax
Editor/Publisher
---