Featured

News

By Jay Dobis     Erkin Koray, aka Erkin Baba, the father of Turkish Rock 'n Roll (he put together the first Turkish rock band (Erkin Koray ve Ritmcileri) in 1957 when he was a high school student

Featured

Articles

By Harvey Kubernik   To celebrate the 50th anniversary of The Roxy and its enduring relevance, the Grammy Museum announced a new exhibit, The Roxy: 50 Years On The Sunset Strip, which explores the
Thor G. Noras: Look to Norway!
Wild Times with Thor G. Noras, the Lunicks, Bente Lind, and the Ski Ungdomsklubb Scene
By Mike Stax
One of the resources we have at the Ugly Things website is Searchin' For Shakes, an extensive, near-complete database of '60s garage, beat and psychedelic compilations. We receive numerous e-mails as a result of this, some of them from the original band members or others somehow involved in a particular recording. One of the most interesting I've yet received came from Norway, in reference to the song "Goodbye Jimmy, Goodbye" by Bente Lind & the Lunicks, a cool femme-sung beat track that can be found on the Girls in the Garage series.
"It gave me great pleasure to find this record in your list," the e-mail read. "The record has a story attached to it that may interest US listeners. The country singer Jim Reeves was very highly appreciated in Norway, so when he suddenly died in a plane crash we went into the studio and recorded the song. The intro is played on an organ to give a chapel-like atmosphere, and then it went on in a teen-beat fashion, something like the bluebeat of Jamaica or junior high rock'n'roll from the USA. However, on the second day of Christmas we performed in a little village in eastern Norway. On our way back the car slid on the icy road and the organ player was killed instantly.
"On New Year's Eve, we were in Arendal, a lovely city in southern Norway, Bente's hometown. Everybody wanted to hear her great hit song, 'Goodbye Jimmy, Goodbye.' She made herself ready and waited for the intro. When it came she was a little bit puzzled: it didn't come from the organ but from the lead guitar. The organ player was the day before buried and the whole group was present. Bente started crying, the band stopped playing and everybody looked very confused. I had to go on stage and tell the sad story, about Gentleman Jim Reeves and his tragic fate, the organ player who had been killed—and why the city's darling, Bente, was crying instead of singing.
"But that special New Year's Eve was one of the most memorable all of us have experienced. People were having a beautiful evening, holding each other close and dancing to the orchestra: Bente Lind & the Lunicks."
The writer of the e-mail was Thor G Norås, the group's mentor and chief songwriter. Before long, messages were flying back and forth as I began to find out more about this extraordinary character, who left his fingerprints all over the early Norwegian rock'n'roll scene as a successful songwriter, musician, manager, producer, arranger and promoter, working not only with Bente Lind & the Lunicks but also such artists as Harald Pettersen, the Green Onions, Nina & Patzy, Jørn Are and many more. These acts may be virtually unknown outside of Norway, but much of their music has an enduring, almost magical quality that should appeal to any fan of '60s beat and rock'n'roll. The reason for the strange, indefinable flavor of these records becomes more apparent as one learns more about the life and unique personality of the man who played such a large role in their creation.
It's the story of the blending of many different musical and cultural influences, and of the small but remarkable music scene that blossomed out of an innovative, free-thinking youth club organization on the outskirts of Oslo. Its impact may have been limited in a geographical sense, but what happened at the Ski Ungdomsklubb in the early '60s was in many ways a microcosm of the teenage cultural explosion that was shaking the world.
Chapter 1: BONDED TO THE SEA
I was born in 1935 in the west coast city of Stavanger in Norway," says Norås. "When I was five years old the Germans invaded Norway and when the occupation ended I was 10 years old. During the war we had no radio—the Germans had confiscated all the radio equipment to see to it that we didn't listen to foreign stations, mainly from England and the USA. We did manage to get the news with the help of illegal radio equipment and agents sailing to and from England and Ireland in small motor vessels. The Norwegian merchant marine was by that time the third largest in the world and we freighted gasoline, oil, war equipment, food, troops and whatever was needed while the German submarines lay in the Atlantic to blow our ships to kingdom come. To boost the morale, the American president [Franklin D. Roosevelt, September 1942] said, 'Look to Norway.' We lost most of our ships and more sailors than we had to lose. But that's life. Or war. Or something."
"These were hard times," he continues; "lots of alcoholism and unemployment, sickness like diphtheria, tuberculosis, VD, and, to a certain degree, malnutrition. I didn't suffer much, but people around me died: an aunt, a cousin, playmates in the street of Old Stavanger where I grew up. My mom was hospitalized with tuberculosis; she was separated from my dad, who was a chief steward—some of my family was sailors."
The young boy, like so many others in this impoverished working class community, found solace in music. "There was always music in my childhood," he says. "Everybody was singing and playing; my mom and several of my aunties were in the Salvation Army, and some of my uncles were in a men's choir, singing bass and baritone and tenor with loud volume. Christmas time—or juletider—we all gathered in 'bestastuå'—the 'best living room,' a special room that never was in use, except for funerals, Christmases, christening ceremonies, weddings and confirmations. When the aunties' and my grandmother's and my great-grandmother's sopranos and altos mixed with the uncles' bass, baritone and tenor it was quite something. With guitars, harps, mandolin, banjo, sometimes a piano or small pedal-organ, even a harmonica and soup spoons for percussion, it was quite something. And the toddlers and the kids were all ears."
These early musical experiences taught Norås a lot about harmony and arrangement, skills that would serve him well later, in his record-making days. "I think it all started there, with mothers, grandmothers, great-grandmothers and lots of aunts—man-folks being sailors, or somewhere else—singing old folk songs, the kind that Alan Lomax and Hank Williams were so fond of. There were religious songs, psalms from Germany and Denmark (Grundtvig, Kingo, Luther, etc), and from the USA (Fanny Crosby's 'Blessed Assurance'). Beside that it was all the Negro spirituals and the Sons of the Pioneers' songs and all that other stuff."
"The culture here in Stavanger distinguishes it from the song tradition of the eastern part of the country in many ways," he explains further. "Among other things, we are closely bonded to the sea and the continent. As the boys were expected to go to sea at the age of 14 years, we learned not only the nice songs, the Sunday school repertoire, but also the types that were sung in harbor pubs in Liverpool, Hamburg and Marseilles."
The influence of American musical forms was also very strong, especially after the war, when Norås, like thousands of other young Norwegians, listened raptly to the American Forces Network. "They sat up their antennas here right after the war ended," he recalls. "I've been listening ever since. That's how I know so much about Alan Lomax, Brenda Lee, Hank Williams, Hank Snow, Slim Whitman, Marty Robbins, Mario Lanza, Johnny Ray, etc. Hillbilly Jamboree used to be among my favorite shows."
A few years later, Norås got to see America for himself. "At 14 years old I went to sea as a mess boy, then a deckhand, and an engine boy, first on an old steamboat named S/S Mathilde, than a tank-ship M/T Kaldfonn. We carried crude oil to the refineries in Yokohama for the US fighting forces in Korea. With the tanker I came to the USA in 1950 and landed in Alameda Shipyard in Oakland, just outside San Francisco. I got acquainted with an executive worker in the shipyard and he invited me home. There I met his 16-year-old daughter, Sissil Kissinger. We used to listen to the records of the time like teenagers always are inclined to do."
On his return to Stavanger, though, Thor was confronted with some tragic news: his father was missing, presumed murdered. "Being 16 years old, just homecoming from the sea, the Far East and San Francisco, with typhoons and an engine breakdown in the Pacific, it was hard to deal with the fact that my father was missing," says Thor. "He had gone to Bergen to start working as a steward on a ship, and had a lot of money with him that he was to deliver to the captain of the ship. He visited my uncle, his brother, who at that time studied for his sea captain's certificate at the Skipper school in Bergen. He left my uncle, got into a taxi and that's the last anyone saw of him. The police couldn't find the taxi driver, nor the taxi—or my father or the money he brought with him for the captain. Some of the money was in checks, and they never turned up. The police thought he had been killed and thrown into the sea, and then the current had taken him out on the ocean."
Adding to Thor's misery, his girlfriend at the time dumped him. "I had a girl in Stavanger who I was very fond of and for whom I had bought a scarf in silk and bright colors in Japan, like sailors did at that time. But alas, when I was gone she had grown a yard (it seemed) and I was still 1.60 meter. She was an adult; I was still a kid—which was nonsense, we were the same age, but had grown like girls do and like boys do at that age: different."
Norås later drew on the breakup for a song he wrote for Bente Lind, "Go Joe": "You must go now, Joe, 'cause I'm far too old for you, Joe, you know."
 Thor completes the story: "The loss of my father and the goodbye to my supposed sweetheart was too much. I got depressed, and I was sent to a psychiatrist and he gave me 16 electro-shocks. I guess it 'cured' my depression, but I don't remember anything else [about that period]."
Chapter 2: SKYLINERS
Moving on with his life as best he could, Thor moved to Oslo in 1958 to attend the Royal Norwegian Telegraph School and also college, where he studied to become a children's doctor and later a specialist in child psychiatry. "In Oslo I attended the Telegraph School in the morning, and college in the evening," he recounts. "With me I brought all the memories of American music, the music we used to sing when I was a child, the songs we sung on the freewatch on our trips over the Pacific, the Indian Sea, the Mediterranean or the stormy North Sea."
It was during this period that Norås joined his first band, the Skyliners, playing upright bass and also acting as an MC. The Skyliners played a mixture of rock'n'roll, country and standards, backing a variety of vocalists, including Truls Frydenberg, who sang most of the deep-voiced country material, including a lot of Tennessee Ernie Ford, Reidun Danielsen, who sang the pop and mainstream jazz standards, and Little Sofus, who belted out the rock'n'roll staples like "Be Bop A Lula," "Rock Around the Clock" and "Shakin' All Over."
Little Sofus was just 13 years old when he started singing rock'n'roll music, winning an important talent competition, the Oslo Championship, in 1959. He also appeared in a short documentary film, together with the Rockin' Jailers, entitled Oslo, The Youth City. With the Skyliners his performances were invariably the highlight of their shows. "I can vividly see him jumping around the stage," reminisces Thor, "like a rabbit. His movements, together with his singing, were what set the audience on fire."
Norås remembers one show in particular where the crowd was particularly worked up to see Sofus in action. "It was at the Drammen Theater. The Skyliners were on stage, and at the microphone was Reidun Danielsen. She was doing some standard jazz routine—'All of Me' or something—and the crowd started calling out for Little Sofus. He was the main attraction. Then they started to throw krone coins on stage. Some of them hit Reidun, a couple in her face, and one cut a vein over one of her eyebrows. The blood started running down her face, nose and cheek and all. She continued to sing and smile at the public—I don't think she noticed she was bleeding. Little Sofus, mind you, was just 13 years with a small build. He jumped around on the stage and picked up every coin he could lay his fingers on. And the public applauded, and Reidun smiled and bowed. She thought it was her singing the applause was all about."
Despite his popularity, Little Sofus never made any records, but he worked for some time with Norås and the Skyliners.
Around this same time Norås became involved in founding a youth club in the town of Ski, just outside of Oslo. Before long the SUK (Ski Ungdomsklubb or Ski Youth Club) had 1,200 members, plus numerous paying "support members" made up of parents, relatives and teachers, making it possible to run a school with almost 600 pupils, and finance various other youth activities, including dances, musical and theatrical groups and even a motorcycle club.
"We had up to six typing classes with students learning the touch-method," says Thor, "because I was educated as a line-telegraph operator. We used to let them write to the rhythm of rock'n'roll melodies, and I remember 'Please Help Me I'm Falling' [Hank Locklin] was very popular, and so was 'Be Bop-a-Lula.' In the recess, usually 10 minutes every hour, we used to dance to rock'n'roll music between the tables and chairs. Then it was 'Blue Suede Shoes' and 'Rockin' Robin.' Doesn't that seem like fun? They achieved great skills, I can assure you, and many of them got well paid as dentists' secretaries, or working in doctors' or lawyers' offices, or in community works. That's a lot better than just hanging around on the street corners, don't you think? And that was just one of a number of activities the kids were engaged in. They could be out late in the evening, but the parents were not worried: 'They're in the Club,' they said. And so they were."
Before long Thor's youth club activities caught the attention of the media, and he found himself, rather unexpectedly, in the center of a national debate on the subject of youth and morals. "There were lots of articles in all the weeklies," he remembers, "and there were discussions for and against what I said or did. I claimed that there were no evil kids around, only kids who had started out in a wrong direction. I proclaimed that a kid practicing car theft was a clever one: he had to be skilled to operate a car illegally, and he had to be brave to dare to steal that car, etc. People didn't agree with that! They said that such a kid should be jailed, whipped and sent to a deserted island and all that jazz. You, being a rock'n'roller, will recognize the agenda, no doubt."
Now something of a household name, around 1960 Norås was given his own column in a popular weekly women's magazine, Alle Kvinners Blad. "I was picked by Professor Francis Bull, who was on the board of directors, and the editor Johanne Oftedal, to bring young readers to the magazine—most of them girls, obviously. So I did. I got my own pages: Page One and Two." Norås would also write regularly for the magazine's more male-oriented companion publication, Alle Menns Blad, as well as a variety of other magazines.
Chapter 3: CRYING CLOUD
During this same period, Thor discovered a young country singer named Harald Pettersen, an event that would lead to his first recording venture.
"The Skyliners headlined a show in Moss in the local cinema theatre," recalls Thor. "It was a rainy evening, so the theatre was packed. After playing some numbers I did as I always used to do and asked if there was anyone in the audience who would like to try to sing with the Skyliners. The audience started shouting 'Harald, Harald,' and stamping their feet. A shy young man entered the stage escorted by a couple of girls. He sung 'Lucky Old Sun' with a voice the like of which I hadn't heard before—this guy could reach three and a half octaves! Amazing. So I told him, 'Come home with me and we will work out something.'"
"The next week I contacted Håkon Tveten at Philips. Remember, I was a pop writer for the most influential magazine in Norway, so he could not ignore me. I used to visit him and get records for review, so he was all ears. He asked me to find four different artists and he would give them a chance and see what happened."
For the other singers, Thor roped in Truls Frydenberg of the Skyliners, a female singer, Kari Pedersen, and Per Hartvig, better known as Rocke-Pelle, one of Norway's most popular homegrown rock'n'roll singers at the time. It was decided to record an EP of cowboy songs, designed to appeal to children age seven to 17, like those at the SUK. Kari Pedersen sang a Slim Whitman song, "I'm Casting My Lasso" and an unusual, haunting rendition of Hank Williams' "Kaw-Liga," translated into Norwegian by Norås. "My Norwegian lyric is not outstanding," admits Thor, "but we didn't care. There was no time for outstanding art."
Pelle sang an original song by Norås, "Hangman's Town," while Pettersen performed another original composition (his melody with Thor's lyrics), "Gråtende Sky" (Crying Cloud). "That song was a comment to 'The Tennessee Waltz'," explains Norås. "I wondered what happened to the poor guy when 'my friend stole my sweetheart from me'? I reckoned it had to be a long lonesome road through bush and trees with a crying cloud over head, oh so lonesome, and a heap of yodeling too."
The recordings were made in the Auditorium of the University of Oslo where the Nobel Peace Prize is presented each year, right in front of a large landscape painting by Edward Munch. Sigurd Jansen wrote the arrangements and hired the musicians for the session, including some of the best session players in the country, like Robert Normann, a guitarist who played in the style of Chet Atkins and Les Paul.
"On some of those records you can hear him playing the 'ukulele' by putting his handkerchief in between the strings of his guitar," explains Norås, "or imitating a steel guitar by using his cigarette lighter to slide on the strings. He did the banjo [effect] too. He said he could play anything on his guitar, except basketball."
The production was very basic, with some of the technology improvised on the spot. "We didn't have an echo machine on the first recordings," laughs Thor, "so we used a long tube approximately five or six meters long, and put one end in front of the microphone, and another on the other side picking up the sound that has traveled through the tube. Then they were mixed. That's how the first records were made."
Released in early 1960, the EP, entitled Cowboyviser, was not a big seller, in part because "Gråtende Sky" was barred from the national airwaves. "People were not allowed to cry on public radio," explains Thor. "However, the record caught on on the jukeboxes and all over the nation it was played to pieces. Still later it was recorded in Sweden by Anna Lena Løfgren as 'Regniga natt' and sold millions. It was Number One on the charts for a year, and played 10,000 times every Saturday in the folk parks." The song generates income for Norås to this day.
Norås would go on to make several more records with Pettersen over the next several years, all in a quite convincingly authentic country & western style. He also worked with a number of other country-styled singers for various labels in the early '60s, including an American vocalist based in Oslo called Jack Dailey, who in 1963 recorded a rousing, whip-crackin' cowboy song of Thor's, "Vamos Vaqueros," which would go on to be covered by several other artists over the years, but never to quite the same effect.
Things were happening faster and faster, and keeping track of all of Norås's musical activities during this period is practically impossible. "Everything was done in a hurry," he explains, "so we never noticed when and who and why. I worked in the telegraph building, at the same time I attended college, edited the columns in Alle Kvinners Blad, had my own photo studio, was principal of the SUK school, was an insurance agent, and worked as a tool repairman at the Nora Crown cork factory in the evening. And in between I had two kids and a wife and a house to take care of. When would I have time to keep track of what I was doing?"
"However, this couldn't go on forever," he continues, "so when the kids were taken care of I was admitted to a mental hospital for some months."
After a few weeks in the mental ward, he was visited by a gang of kids from Ski Ungdomsklubb, headed up by the club's young president, Finn Prytz. "Finn had bought his first car at that time," relates Thor, "a 6-cylinder Chevrolet van he christened 'Nattens Dronning' ['Queen of the Night']. He filled the van with girls—for one reason or another, it was always fully loaded with girls—and then they set out on an expedition, 'Free Thor, dead or alive' or something like that. They were cross with the doctors and demanded my 'release,' but the doctors knew I had not gone loco, I was just dead tired and needed sleep and good normal food."
Thor's stay in the hospital included some moments of real comedy. "There were of course some real nut-heads there, among them an 85-year-old farmer. Each night he pushed all our beds into a corner—he had to bring his hay into the house in case of rain.
"And then there was little ol' me," he continues. "Every day they used to play records over the loudspeakers at the hospital, and to my astonishment they seemed to have all my songs on there. So I, an innocent idiot, would say, 'I've made that song! And that! And that one too!' And the nurses told the doctors that I was raving mad, thinking I had made all the records they were playing. Nobody believed me, but it was true!"
There is also, however, one dark sidebar episode related to Thor's stay in the loony bin."One of the inmates was a young boy, who was there because he had experienced shell shock. A grenade [left over from the war] had ripped off one of his arms. As a consequence of the shock he raped and killed a young girl. One of the girls from SUK, I don't want to name her, became the subject to his love, and he promised her he would come to Ski and visit her. And that he did! He broke out of the heavily guarded asylum and somehow managed to get to Ski.
"That evening Ski Ungdomsklubb staged a dance and had arranged a fair with tombolas and lots of stands. This special girl was in one of the booths where you could pay some money and get five balls to throw at some tin cans. He came up to her and said hello. She said hello and told him she couldn't talk to him while she was working in the booth, but offered to let him take a walk with her later. She took him by the hand—the one he still had—and led him to the county police station, and asked them to take him back to the hospital. They did so, with no problem at all.
"I have always admired her for the skill and the bravery she showed," he concludes. "She was only a 16-year-old girl, taking care of a violent rapist."
Chapter 4: ANARCHY IN THE S.U.K.
 The Ski Youth Club remained the axis around which all of Thor's various musical and journalistic activities revolved. As clichéd as it might sound, it really was "all about the kids." The kids had a big voice in the way the club was run, and this set the SUK apart from other youth centers at the time, for example the nearby Hammersborg Fritidsklubb, managed by the Oslo Community and headed up by Herman von der Lippe. "He was my antagonist," asserts Thor. "He fought for a system where society had all the power. They engaged and paid for the leaders, they determined what the kids should do in their spare time; they set the rules. In opposition to this, Ski Ungdomsklubb, with me as the spokesman, would give all the power to the kids themselves: a complete democracy. Some called it anarchy, and that works for me!"
With the kids setting the ground rules for their miniature kingdom, under the imaginary flag of teenage anarchy, not surprisingly the SUK became a crucible for rock'n'roll and the emerging beat music scene in the area. One of the club's major activities was organizing and promoting teenage dances. "We were a non-profit youth club," explains Thor. "We financed our work by doing shows and collecting admission, and by arranging dances every Saturday in community halls."
The SUK organized dances not only in Ski but also in Oslo itself, often at a venue dubbed the Teen Treff ("Treff" meaning "date" or "meeting"), in the center of the city near to the Norwegian Parliament. For dances like this, the SUK's motorcycle club wing proved useful.
"As Ski was outside the city we needed to put out the posters all over Oslo in order to make it known that we were going to stage a dance in the midst of downtown," remembers Norås. "So a whole lot of youngsters painted posters and the bikers picked them up, and off they went in to Oslo, one kid on the back seat of the bike and one driving. The next day the police in Oslo called the foreman in SUK and asked him how in the hell the club had managed to cover the whole city of Oslo with posters. We never told the police about the 30-40 bikers that rode the whole night and plastered the city."
The dance itself also brought a memorable interaction with Oslo's law enforcement. "The doormen at the dance were kids from the Handicapped Society in Oslo," explains Thor. "They sat in their wheelchairs or with their crutches beside them and sold tickets, or hot dogs or whatever. Two civil [plain clothes] policemen from Oslo City Police Department came by to check out the security. The plain-clothes police passed the guys at the door and ignored them when they told them to stop and buy tickets. Moments later the two policemen were sitting on their asses out in the street and wondering what happened.
"SUK had a back-up guard, consisting of some real 'bad' guys, with a black sordid reputation. They were called 'The Blackie Gang' and were feared by most people in Oslo, but they were trusted to take care of the vulnerable handicapped kids if anybody threatened them. So beware of the dogs: the Blackies don't bite, they fight—but for a good cause, of course.
"The police guys wrote afterwards in their report to their superior that the guards at SUK's dance were the best in town!" he concludes. "We never saw them again, or heard any complaint later on. On that occasion the police and members of 'The Blackie Gang' shook hands."
The SUK dances brought Norås into contact with all kinds of singers and bands, several of which he would then go on to write material for and record. "Sometimes we made recordings when there were teenagers with very low self-esteem that needed to have their morale boosted," he says. "Nothing is better for that than entering a stage and shouting to the public, 'Here I am! Deal with it!'"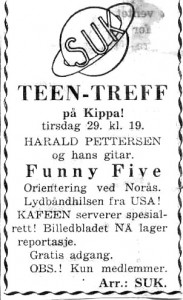 Probably the most important band to emerge out of the SUK was the Lunicks from the small town of Kjenn. Norås first encountered the group at an amateur talent competition in 1962, at which time they were called the Upstarts. By 1963 they had become the Lunicks, with a lineup that included the brothers Oddvar and Gunnar Erøy on lead guitar and bass respectively, Svein Berg on rhythm guitar, and Roar Hansen on drums.
"For a long time the Lunicks played homemade guitars," recounts Svein, "made by Oddvar—he is a skilled carpenter. Finally we all borrowed money and bought 'real' equipment. Gunner purchased an Epiphone bass, and I got a Gretch Tennessean, with fake F-holes, just like George Harrison in the Beatles! All other groups played Fenders at the time, but we wanted slightly different sounds, so we switched and borrowed, not wanting to fall into the 'Common Fender Trap,' even though we loved the sounds of both Strats and Teles—especially Strats when playing pure instrumental songs."
The band's small town rural background is illustrated by a story about them that made the newspapers under the headline, "Scandal for rock'n'roll ensemble in Brevik."
"The Lunicks had brought a hen for auctioning as part of the show," recounts Norås. As you do. "The price for the hen ran up to 70 kroner (approximately 10 US dollars). The man who 'won' the hen refused to take it, and the drummer—remember he was a farmer's son—got his axe and told the audience to get back as there would be some blood splattered around when he chopped the head off the hen. The man who 'won' the hen went on stage to stop the killing of the hen, but the rest of the band threw him in a stage-diving manner back down into the audience. But then a policeman in civilian clothing stopped the show, ordered the facilities to be cleared and told the newspaper that the Lunicks 'forever' were prohibited from entering the town."
"The 'hen incident' stuck to us for a long time," reflects Svein Berg, "and had a lot of press coverage. We did not dare to bring the poor animal back, as Roar had stolen it from his father's farm. Therefore it was sadly beheaded behind the motel we stayed in."
 Fortunately, the Lunicks managed to secure a more appealing feature for their act than a chicken auction, when they teamed up with a young girl singer named Bente Lindegaard in 1963. "Gunnar and I went to Restaurant Parketten in Moss to listen to an amateur competition there," remembers Svein Berg. "We had already tested out a couple of girls, who sounded terrible. Then we heard Bente. Bente Lindegaard, newly homecoming from Finland, won the competition, and we made contact with her. She came with me to Kjenn, where Gunnar and Oddvar lived and where we had our rehearsals. Then we all went out to the barn that Roar's parents owned, where we could turn up the volume as high as we wanted without disturbing anybody. The rehearsals continued and then we brought her along to Langhus where a certain Thor G Norås lived—and the rest is history."
"She was only 14-15 years old then," recalls Thor, "and she was their idea. I was a bit resistant at first, so I had to hear her in concert at a place called Glomdals-museet, a folk park. She sang the Melody Grand Prix winner 'Non ho l'eta' in a way that made my blood chill. There was no doubt, she was star quality in whatever language you would care to mention. From then on, it was go, go, go!"
Chapter 5: MANU MANIA
By this time Norås had become involved with Manu Music, an independent record label headed up by Per Gunnar Jensen. "I worked in the telegraph building, a block away from his office and from the office of Alle Kvinners Blad," recalls Thor. "He knew me from the newspapers, the magazines, my column, my recordings, etc. I had also interviewed some of his artists [for the magazine], I guess."
In late 1963, or thereabouts, Jensen approached Norås about writing a couple of songs for the debut single of Anne-Karine Strøm, an 11-year-old singer he was preparing to launch. The result was a charming little record called "Dance Quiella" b/w "Quiella Dance." "Quiella ai Bolè is a Caribbean dance," explains Norås, who wrote both sides under the pseudonym Humphrey Ballard. The record does have a mild ska flavor (especially the B-side), while the distinctive production has multi-tracked lead vocals and an unusually loud bass drum track that makes both sides bump along very appealingly. Translated into German as "Bim-Bam-Bella," the song later went on to become a huge hit in the Netherlands. Anne-Karine would enjoy a long and successful musical career over the next few decades, but "Dance Quiella" was her only record with Thor's involvement.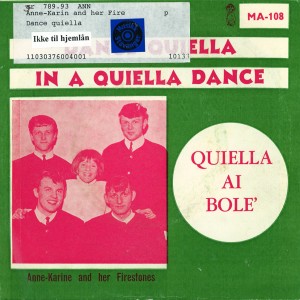 Norås had a hand in numerous other releases on Manu during 1963-65, including a couple of strong guitar instrumentals by the Snapshots from Harstad, but most involving young musicians from the Ski youth club scene. In August 1964 Bente Lind and the Lunicks—with Per Arne Johansen of the Tremblers guesting on organ—recorded what would become Manu's biggest selling record, "Goodbye Jimmy, Goodbye." The song had been a US hit for Kathy Linden back in 1959, but Norås saw its potential as a tribute to one of his musical idols, country singer Jim Reeves, who had perished in a plane crash earlier that summer. Bente's voice supplied just the right amount of emotional resonance, with gorgeously eerie backing support by Nina and Patzy Ødegård, teenaged sisters from Royken who would record several cool records in their own right. The unusual halting, almost hiccupping style employed by Bente on the lead vocal was Thor's idea. "He had some ideas that seemed 'lunatic' at the time," remarks Svein Berg, "but they later proved completely right for the context in which they were used."
Released in September 1964 (backed by a fine Norås original, "You Cannot Hurt Me"), "Goodbye Jimmy, Goodbye" was a sizable national hit and went on to be released in several other countries including Belgium, Finland, Germany, Sweden (where a 1972 reissue of the single charted), and the US, where it appeared on the DeVille label. According to reports in Norway, the US release sold close to 100,000 copies, but this claim seems a little questionable given its failure to appear on any record charts (as far as I've been able to trace), and the relative scarcity of the US single today. Nevertheless, it's a lost beat era gem, a fact recognized by the people at Romulan Records who, as mentioned earlier, included it on one of the Girls in the Garage compilations.
At the same session as "Goodbye Jimmy," the Lunicks also made their own single, pairing solid cover versions of Ronnie Hawkins' Chuck Berry rewrite "40 Days" and Leadbelly's "Goodnight Irene" with Svein Berg singing lead, under his Anglicized alias, Roy Scott, with Nina & Patzy providing teasing backing vocals. "The Leadbelly number was very popular in the dance halls in a slow tempo," remembers Thor. For the single, though, they pumped up the tempo and the volume. "We did it dangerous and with humor. More usually [the last verse] was sung, 'I'm gonna hang my head and cry' or 'I'll jump in the river and die,' but Svein is singing, 'I'm gonna take morphine and die,' which was unheard of in puritanical Norway."
Whether a result of this controversial lyric choice or not, the Lunicks' single without Bente sank without a trace.
"Goodbye Jimmy, Goodbye" began an extremely prolific period for Thor and his artists, with a string of records being written, recorded and released on Manu during the fall and winter of 1964. "The artists and the bands were all one happy family," says Thor, "helping each other out, even stepping in if anyone had to stay home sick. No jealousy. And I guess this is what shines through on the records, what you describe as 'magic'. Maybe it's just plain love?"
At one session with the Lunicks, Bente Lind and Nina & Patzy, on October 6, 1964 they recorded no less than three singles—A and B-sides—all of a high standard. With Bente Lind they cut "Not Even A Band of Gold" b/w "He Is My Boy" and "Candy Girl" b/w "Go Joe"; and with Nina & Patzy on lead, "I Don't Want My Boyfriend to Go" b/w "Civilization." Five of the six songs were excellent Norås compositions, catchy pop melodies with authentic themes relating to teenage love and life, redolent of the best American girl group and pop music of the era. Interestingly, the verse of "Go Joe" shares the exact same melody as the Beatles' "Ob-La-Di, Ob-La-Da," a song that was still almost four years away. Coincidence? Or is it possible that McCartney heard the Bente Lind single somewhere and inadvertently lifted the tune? We'll probably never know, but personally I'll take Bente and the Lunicks' rocking "Go Joe" (with its thrilling lead guitar break) over the Beatles' lame throwaway any day of the week.
Nina & Patzy's "Civilization"—the only non-Norås song—is a hilarious novelty number, delivered with real panache by the Ødegård sisters. The song originally appeared in the 1947 Broadway musical Angel in the Wings. "I must have picked it up from a recording when I was in San Francisco in 1950 or something," speculates Thor. "Or I may have heard it from one of my sailor mates on board the M/T Kaldfonn." The song takes the point of view of a native of the Congo who rejects the attempts of the missionaries to introduce her to modern Western culture, with lyrics like "Don't want no bright lights, false teeth, doorbells, landlords, I make it clear / That no matter how they coax me, I'll stay right here." The native sagely points out in conclusion that "They have things like the atom bomb, so I think I'll stay where I am." The cheeky way the sisters pronounce "am" as "om" to rhyme with "bomb" is one of the record's highlights.
Singing an equally comical falsetto part on "Civilization" was another Ski Club regular with musical ambitions, 16-year-old, Jørn Are. Jørn had a personable enough style in the early Cliff Richard mode, as heard on the early 1965 release "Tell Me While You're Blue" (written by Norås with Harald Pettersen) backed with "Walking Down the Street" (another Norås composition). As always, the Lunicks (billed as the Lunick Group) provided the backing.
Norås and the Lunicks were in and out of studio constantly—or at least it seemed that way. During this period Norås, Bente Lind, Nina & Patzy and Jørn Are and the Lunicks also recorded and released records in a more traditional acoustic folk style under the name Skillinggruppa. "Skillinggruppa is the name I gave the Lunicks when we did unplugged folk songs," explains Thor. "These are special folk songs called Skillingviser (Shilling-songs). It is a European phenomenon. They were composed by poor people, often disabled soldiers from all the wars we participated in, or they were born blind, were limping or some other misfortunes had struck them. So they printed their songs and traveled from place to place and sung their songs in marketplaces and fairs and sold the prints for 'a shilling a piece,' hence the name: The Skillinggroup, singing Shilling-songs."
Outside the studio, Norås was equally demanding. "More than once, we returned from gigs around four or five o'clock in the morning, dead tired, stopping at Thor's house to let him off," recounts Svein. "Then this man would demand that we came in, rigged up our equipment and started rehearsing, 'while the impressions were fresh'! Moments like this made us all think that 'Thor has gone off the deep end—this is the final proof—he is raving mad.'"
Chapter 6: HEAVENLY FUN
On December 27, 1964 tragedy struck when the organ player of the Tremblers, Per Arne Johansen (who'd played on the Lunicks' "Goodbye Jimmy, Goodbye" and "You Cannot Hurt Me") was killed in a car accident returning from a gig at Spydeberg in Eastern Norway. Shattered by this turn of events the Tremblers broke up, and shortly afterwards their guitarist Øivind Jensen joined the Lunicks on Farfisa organ. Jensen was a talented multi-instrumentalist who also filled in on various other instruments, live and in the studio, as needed, including pedal steel guitar and various harmonicas.
Members of the Lunicks, the Tremblers and others would also team up in different configurations under the loose umbrella name of the Lunick Group, which gave them a tremendous flexibility for their live engagements, with vocal spots by Bente Lind, Nina & Patzy, and sometimes Harald Pettersen, Little Sofus, Rocke Pelle and others. "By changing instruments and costumes, they could then form several different orchestras on the stage," explains Norås. "One of them was Stakans Trio, which was accordion, double bass, drums and sometimes a rhythm guitar added. Sometimes Nina and Patzy performed with 'their own band,' but it was just a rotation of the same gang and some costuming wizardry. We fooled a lot of newspaper reporters in this way; they wrote about all the different bands on stage. They were all, in fact, a chameleon part of the Lunick Group. That was a part of the entertainment we sold to the buyers: they demanded rock'n'roll for the youngest, they wanted ballroom music for the adults and they wanted old-fashioned folk music with accordion for the seniors. So they got it all in one orchestra, divided into whatever we could manage, and whoever was free that Saturday evening who needed an extra buck."
Often Lunick Group shows would be quite elaborate productions, complete with light shows, dry ice and other effects. For one segment of the show they'd come out as 'The Vampires': "They were dressed in Count Dracula clothes," explains Thor, "jet black silk cloaks, lined with blood-red silk on the inside, playing 'Music to Murder By.' Nina & Patzy wore masks for such occasions and we did some tricks with the lighting and staging. That was more entertainment than music, but there was lots of heavy drumming, screams and God knows what. All heavenly fun!"
The Vampires segment included a wild, never-recorded Norås composition of the same name. "I wrote a lot of music that was a once in a lifetime experience," he explains. "It happened then and there; there was no sheet music, no recording. Either you were there and experienced it, or you missed it. It was never repeated, or only repeated within a time limit—let's say three weeks, or three Saturdays—and then forgotten, and the show turned into something else.
"For 'The Vampires,' I used kind of a 'singing bass drum'," he continues. "I turned the bass drum upside down and used it as a hand-drum like in 'The Night Dance' [from the movie Equilibrium, see Chapter 7]. Then there were lots of disharmonies, and eerie scraping noises from the lead guitar and the organ, and screams from far away, or from the back of the dancehall—I'd put loudspeakers there and very long cords from the microphone. The audience used to jump when the screams suddenly came from behind while they were watching what went on onstage. Sometimes I used an egg-slicer, a device with short strings to cut hard-boiled eggs into slices. I had musicians 'play' the strings with a plectrum in front of a microphone with the loudspeaker way up high. That was creepy! But it was a natural song, nothing technical. The lyrics to the Vampire song went something like, 'They are here, they are there, they are everywhere / Hear them coming, beware, beware / the   Vampires—they're coming!' Followed by a sudden scream and wildly gliding on the rhythm guitar on disharmonic chords.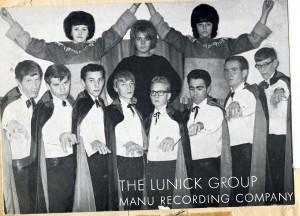 "This is how I remember it. It was improvised. You could say I used the band—or more than one band—the artists, the lights, the sound equipment, the scenery, the public—everything as one instrument."
"He had some crazy ideas for our stage performances and behavior," relates Svein. "Once he had our roadie, a strange guy we called Texas, walk across the stage with a lawnmower while we were in the middle of a song. Another time he had a fully-set dinner table and chairs carried onto the stage so we could eat dinner there while Roar performed one of his endless drum solos. Anything to puzzle the audience!"
On one occasion, Svein remembers Thor demanded four drummers and four sets of drums on stage at the same time. "He told me recently that he wanted to ask me why I wanted it that way," says Thor, "but he didn't ask. Probably I wouldn't know myself why I wanted those drums on stage, but when everything was set it worked. That astounded Svein and the rest of the gang, so they shut up. 'Don't ask, he's probably mad!'"
"More than one drummer on stage playing simultaneously could be rather noisy and give special results," agrees Svein. "One time in Oslo he wanted the Green Onions on stage with all their equipment together with us. Included were of course our Roar and the Onions' George with their separate drum kits. In those days we had no monitors, so we could not hear the song. This resulted in the singer singing in one key, and the bands playing in quite a different key. To us, on the stage, the public stood like zombies—eyes and mouth wide open—they couldn't make out what that was all about. They came to the conclusion: "It has to be rock'n'roll of some sort…."
"I remember one evening I put the orchestra and the singer out in the lobby," relates Thor, "while I put a hamburger and a hot-dog stand on the stage and had the public to form a line up to the stage, queuing up to have their hot-dog or hamburger and the file down again to the dance floor and dance with their hot-dog in one hand and their girl friend in the other to the music coming in from the lobby. Nobody asked why it was so; they were at SUK events and that was what to be expected."
As well as booking and staging live shows, and writing and arranging most of the material recorded by Bente Lind, Nina & Patzy, the Lunicks, Skillinggruppa, Jørn Are, Anne Karine Strøm, Harald Pettersen, the Green Onions, Jan Groth and others during this period, Norås also served as their uncredited co-producer, along with Per Gunnar Jensen. The controls, though, were invariably manned by Roger Arnoff, who ran the studio where most of the Manu sides were recorded. "Roger Arnoff was the kind of a man who could do miracles with a hairpin and some chewing-gum and 230-volt electricity," explains Norås. "He could even make wonders, but they took a little bit more time. My function was more of a floor manager or studio manager, while the technicians were in the control room. I only used to be there if there was something that has to be adjusted like pitch, echo, or balance. But then the engineers did the knob turning."
"To give an idea of the luxurious studio conditions at that time," relates Svein Berg of the Lunicks. "When we recorded 'Goodbye Jimmy,' the walls at Roger Arnhoff's studio were covered with egg cartons to reduce acoustic feedback. All instruments and all music had to be recorded directly in one take. Only the vocal was recorded separately after, on the other tape track that was available. No later mixing was possible."
All the Manu label records involving Norås and the Lunicks have a highly distinctive sound, with haunting, even otherworldly vocals and close-miked, hard-driving rhythm tracks, not unlike some of the Joe Meek's recordings from the same period. Recast as a 'death disc,' "Goodbye Jimmy, Goodbye," in particular, bears comparison to some of Meek's famously atmospheric eulogies, such as Mike Berry's "Tribute to Buddy Holly" or Heinz's "Just Like Eddie" and "Tribute to Eddie." The Meek similarities though were purely coincidental, as, aside from 'Telstar,' Norås was not familiar with his work, at least consciously.
"The music at that time was globally influenced," theorizes Norås, "and we were all subconsciously picking up something here and something there. The musicians and the artists were all ears: listening, picking up, trying out, suggesting and living out the life of music. As I remember it, it was a symbiotic sort of ecstasy in the process of creating and expressing. I can remember tears being wiped out of the corners of eyes while singing something that must have moved something in someone sometime."
Listening to some of Meek's productions today, though, Norås is struck by some remarkable similarities with his own work. "There's no doubt, we are kindred spirits," he says. "We are influenced much from the same sources. You can clearly hear an echo from 'Ghostriders in the Sky,'  'Streets of Laredo' and more Marty Robbins, Mario Lanza stuff. It's the atmosphere, not the lyrics or the melodies, but also some themes—more or less dark themes—sorrow, yearning. longing, parting. Themes like vampires are something we both have dealt with—if the Lunicks had played my music, or Joe Meek's 'Night of the Vampire' it would have had the exact same effect—and one of his numbers has the atmosphere of 'Vamos Vaqueros,' although it's a different subject, different lyrics and melody, but the mood is there."
Chapter 7: FILM WORK
Towards the end of 1964, the prominent Norwegian film director Nils R Müller approached Per Gunnar at Manu Records about helping out with the music for a couple of upcoming projects. "So Per Gunnar called me and asked me if I wanted to participate," remembers Thor. "I said yes, never having attended music school, but what the heck? Film was film, music was music and I was deep into it, with Bente & the Lunicks, Nina and Patzy, and so on."
The first movie they worked on was Equilibrium. "Equilibrium was the first Norwegian film to deal with homosexuality," relates Norås, "although it wasn't called that in 1964, it was called 'Mother affinity.' It was not a success—people were a bit afraid of it, I guess."
The music for the film presented a serious challenge for them. "This film was already shot, music and all," explains Thor, "but the composer, Kjell Karlsen, had a disagreement with Nils and denied him the use of his music. The music was already recorded in the film, with Kjell even playing the piano in some scenes, so I had a hard time measuring the tempo and detecting the chords Kjell was playing and then directing my own music while the film was shown on a silver screen over the orchestra's head. I do not recommend this way of making film music. But the critics were very nice to me and Per Gunnar."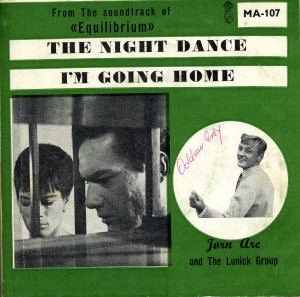 Among the Norås songs included in the movie are "I'm Going Home" by Jørn Are and the Lunick group with Nina & Patzy, "Not Even A Band of Gold" and "South Going Train" by Bente Lind and the Lunicks, and "The Night Dance," a very cool dissonant instrumental by the Lunicks. All of these tracks would later appear as singles on Manu. There's also an instrumental version of "Tears In Your Eyes," performed by jazz trumpeter Finn Eriksen. Thor and Per Gunnar were also responsible for all the film's incidental music, ranging from jazz to unusual instrumental guitar sounds. "I even had to send Øivind [Jensen] down to Hagstrøm Music to buy a 12-string guitar," remembers Thor, "because I didn't like the sound of the Fenders for this particular job. Guitars were the easiest to direct in the studio with the film running on a silver screen. That's how magic film moments are created, the rock'n'roll way."
After the film was completed, Norås went as a delegate to the Berlin Film Festival at the end of July 1965, where, despite the controversial subject matter, the movie was well received by some critics and was picked up for distribution in several other countries, including the UK where it was released as The Other Sex.
While in Berlin, Norås began writing the music for the next Müller film, entitled Broder Gabrielsen. The movie's plot centers on a down on his luck small town preacher who is finding it difficult to gather a congregation, so he enlists the support of some local teenage rock'n'roll musicians to back up his own singing and give his message a more contemporary beat. The ploy pays off and the kids play along as he begins to gather a larger following. His newfound success starts to go to his head, especially after he appears to heal a young woman who had previously been confined to a wheelchair. His delusions of divine power or protection are shattered, later in the story, when he crashes his car into a tree. As the blood streams from his forehead he pleads to God to make the bleeding stop, but to no avail.
This time Norås had full control over the soundtrack, so not surprisingly called on Bente Lind, the Lunicks, the Green Onions and others from the SUK crowd, not only to provide musical numbers but also to appear as extras throughout the film. Also appearing in the film was an all-girl band Norås had recently discovered, the Dandy Girls.
"I knew I had to make the film a rock'n'roller," explains Thor, "as the whole plot was for the preacher to take this new wild music and exchange that with the very boring songs he and his wife performed. But I needed more girls on stage as they use to be more religious than guys. And I wanted outstanding girls, girls a little on the wild side. If they were as dull as the usual gang, the teenagers in 1965-66 would not be likely to go and see a film about a preacher. So I jumped with joy when I read in the Norwegian newspaper Arbeiderbladet that a girl band had participated in a talent competition in Oslo. I phoned them and asked them if they wanted to participate in a movie. They answered, 'Yes, but we can't play.' I told them I couldn't care less, musicians were easy to come by, I just needed someone on stage to mime to a playback and I needed an all girl rock'n'roll band that wanted to do their best. The rest is history. You can see the Dandy Girls as a part of the preacher's band through the whole film."
"Later I found that they could play," adds Norås, "at least as well as other garage bands, even if the others were boys."
Even without the benefit of English subtitles, Broder Gabrielsen is an extremely enjoyable rock'n'roll-related movie. Bente Lind & the Lunicks appear in a memorable scene early in the movie playing "Candy Girl" at a dance, and here it's possible to get an authentic glimpse of the SUK crowd dancing and hanging out. Along with the Dandy Girls, members of the Lunicks and the Green Onions are also shown playing behind the preacher and his wife as they sing their religious songs.
Behind the scenes, though, the movie was fraught with controversy as various religious groups took offense at its supposedly "blasphemous" message. A fundamentalist Christian sect called Maranata, headed up by a preacher named Åge Samuelsen, picketed the set, handing out flyers denouncing the film: "The film Broder Gabrielsen is the judgment over Norway," the flyer proclaimed [see illustration]. "The church department reveals its anti-Christly face. Granting 40,000 kroners to this work of Satan … Crucify – Crucify – Crucify. Satan is working – the Christians are sleeping – full mobilization from Hell against healing by prayer. Christ and his disciples were killed by the mob for their teaching. The same thing will happen in Norway. It is night! Maranata!"
Things got pretty scary on the set. "We were filming in Mjøndalen at the Rocke-hjulet—The Rockin' Wheel—where Bente & the Lunicks play 'Go Joe' and 'Candy Girl,'" recounts Thor. "While we were at it, a huge crowd was on their way from Krogstadelva towards Mjøndalen with burning crosses, giving out their flyers and shouting God knows what. We had our own guards posted along the line and well prepared to throw the 'Klu Klux Klan' mob in the river if they came to close. There was some kind of skirmish, but nothing serious, as I remember. Hans Nord, the film photographer, had an accident with the camera-wagon. We had a driving sequence with iron tracks for the camera-wagon, and for one reason or another, the wagon was derailed and the Maranata crowd shouted, 'Hurray! It's God's punishment! It was God who derailed the camera wagon.' 'Shut up,' one of the crew said, 'or I'll derail you out into the river where you belong.'"
The Maranata mob incident inspired Nils Müller to write a new scene into the movie, featuring a torchlight march through the city of Holmestrand. The new scene required Noras to improvise some rousing musical accompaniment to accompany the flashing torches of the mob. "The scene is remarkable in many aspects," he reflects. "Today you can put the light through a mixing table and make it move wherever you want. I had to have the drummers climb up the walls of the set on each side and sit by the hot spotlights and give light-pulses in harmony with the music on stage, so the light flickered in trails on the 2 and 4 beat."
For the climactic car crash scene, Norås made clever use of two songs by the Green Onions to give an underlying commentary to the plot. "Now that the car has crashed the preacher is confronted with the idea that his belief that he was under a special protection was wrong," explains Thor, "and that he was on his own—that he had to walk on by without God to blame or cling to."
As Brother Gabrielsen stumbles from the car wreck clutching his bleeding head, he says, "I trust God will stop the blood," to which the music from the car radio answers, "It was a lie, oh yeah, A LIE!"
"Then," continues Thor, "when he sees that there will be no help from up above, the Green Onions mock him: 'So now I'm walking, yeh, yeh, yeh, yeh' I'm walking, away from your love!'"
Both of these Norås compositions were released as a singles by Manu prior to the film's release. The first, "It Was A Lie," featured the Green Onions backing a 15-year-old girl singer, Sully Ann (real name Gunn Støa). The second was the Green Onions' "Came From A Party," a pounding Norwegian beat classic that has appeared on several compilations. The latter song was written by Thor as an answer song to the recent hit by the Hep Stars, "Cadillac." "As you know, I'm a working class sort of guy," explains Norås, "so this nonsense with a girlfriend driving up in a Cadillac was not my line of humor. So I let my 'hero' see his girlfriend home, walking. Like they are doing in so many of my songs (for example, Jørn Are's 'Walking, Walking'). My teenagers never rode in any Cadillac, or Ferrari, come to that. You cannot have a driver's license in Norway until you are 18 years, and in the '60s at 18 years you were in a full-time job, getting married and building your own house. The time for dating was over for the teenager."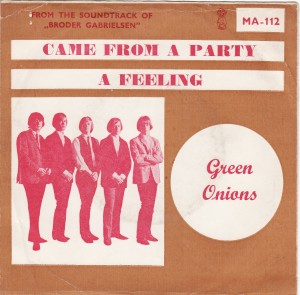 Throughout the rest of 1965 and into early 1966, Thor continued to write and record with Bente Lind, the Lunicks, Nina & Patzy, the Dandy Girls, and others Among the best Norås-involved recordings from this period was Nina & Patzy's sublime single, "Darling Don't Go" b/w "I'll Be Gone," on which their ethereal harmonies are at their most haunting. 
Another memorable track is "Burning Needles" by Jan Groth, again backed by the Lunicks. Lyrically the song is one of Thor's most striking, analogizing the pain of lost love with the agony of hot needles being stuck into one's heart. The dramatic effect is heightened to almost absurd proportions by the wildly exaggerated vibrato of Groth's voice.
The obvious heartache in the lyrics of "Burning Needles" and its flipside, "Inside Love," was directly inspired by the terribly difficult times Thor had been going through in his personal life at the time, including a painful separation from his wife, who was hospitalized after suffering a serious head injury in a fall, leaving Thor to look after their two children, one of whom had a troublesome birth defect. "After two years the kids were placed with her parents, my parents-in-law, and we decided to part on the doctor's advice to give my wife a chance to recover," Norås reveals. "The judge, granting us the divorce, said he'd never seen two so devoted divorcees, who loved each other so much that they had to part. And that's what 'Burning Needles' is all about."
The inspiration for the metaphor itself came from some of the letters teenagers had written to him when he had his magazine column. "They said parting was like dying, it was like burning needles. So, when I heard Jan Groth perform, and felt my own pain, I couldn't help but to write like I did. That is no constructed situation. It's life. Deal with it."
Jan Groth went on to make a couple more very good singles (with no Norås involvement), backed by his own band, the Voodoos. The 1966 track "Bye Bye Baby" (reissued on Volume 3 of the Norsk Rock Historie series) is particularly fine. Groth eventually teamed up with several ex-members of the Green Onions to form the successful Aunt Mary.
Chapter 8: ROCK'N'ROLL BLASPHEMY
Broder Gabrielsen saw only limited release in Norwegian cinemas in early 1966. Dogged by controversy, the film was quickly withdrawn from distribution, so was unable to find the success it deserved.
"The film was forbidden to be shown for 30 years in Norway," mourns Norås. "That's press freedom for you. Oh, boy, aren't we clever? Why was it forbidden? Some preacher, named Åge Samuelsen, sued us again and again, claiming that the film was all about him. Of course it was not, it was about a preacher believing that he, and not God, did the healing."
Samuelsen was relentless in his efforts to quash the film. As late as 1975, he had his lawyer threaten to sue the NRK (Norwegian Broadcasting Company) if they showed the film on TV, and in 1978 he brought legal action against various movie theaters for screening the film.  "He sued Moss Cinema (and Stavanger) for having shown the film on some occasions," says Norås. "This, he said, had harmed his good reputation—it wasn't that good—and the film was therefore blasphemous. To be blasphemous, Åge Samuelsen must certainly have thought himself to be God, and that we had ridiculed him. During the hearing, his lawyer suggested that the film in itself [including the music] was blasphemous, which could not be proven, as the word Jesus or God was not used in the song lyrics."
Nevertheless, Norås and some of the young musicians were forced to answer these accusations in court in Moss. "To the kids this must have been frightening," says Thor. "They were threatened with physical violence and to burn in eternal Hell. One of the guys in one of the bands replied, 'That's OK with me. In Hell we can play rock'n'roll with the sound way out loud! I would like that!'
"The case was dismissed, but still cinemas around the country were afraid to screen the film, which probably caused us great financial loss, and my artists lost the chance to be exposed."
Despite all of these setbacks, Norås remains defiantly proud of what they accomplished with Broder Gabrielsen: "The film is rock'n'roll, was rock'n'roll, and will forever be rock'n'roll. And we are happy to have participated!"
By 1966 the Norwegian beat scene was catching fire, with bands like the Pussycats, the Beatnicks, the Vanguards and 1 2 6 making some great, and in some cases timeless, records. By this time, though, Thor's time was given over more and more to his work as the manager of the Dandy Girls. Over the next few years his travels with the group would take him far beyond the environs of Oslo and the Ski Ungdomsklubb. The Dandy Girls would tour throughout Europe and the Far East, even venturing into the warzones of Vietnam. (Those adventures were covered in issues 27 and 28 of Ugly Things).
This article originally appeared in Issue #26 of Ugly Things.
Thor G. Noras passed away peacefully at his home in Stavanger on January 13, 2015. He was a good man and a good friend who lived a full and remarkable life. I will never forget him. This story is dedicated to his memory.
---