Featured

News

By Harvey Kubernik   April 2023 marks the 50th anniversary of the release of David Bowie's Aladdin Sane, which was released only ten months after his breakthrough album The Rise and Fall of Ziggy

Featured

Articles

By Harvey Kubernik   During 1969, Jimmy Cliff's "Wonderful World, Beautiful People," "The Israelites" from Desmond Dekker & the Aces, and a hit single from Johnny Nash, "Hold Me Ti
Ted Newman Jones III: The Legend & Legacy of a Crazed Cowboy Guitar Genius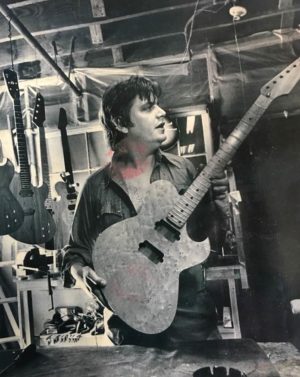 By Greg Prevost
Ted Newman Jones is an unsung hero to anyone who is a fan of the Rolling Stones or for that matter, to anyone who plays a guitar. When I started writing Rolling Stones Gear in the early 2000s, he was on my list of key personnel to track down and interview. Unfortunately, over the course of the near nine years it took to write the book, I was never able to locate him. What was written concerning him and his work was accurate in that it was based upon fact, but the final word from the man was not present or available at the time of press.
To my surprise, a few months ago I connected with Jones' assistant Jeff Smith, who merged talents with Ted in in order to keep the production of Newman Guitars alive and well, now and into the future. In turn, I put in a request to do an interview with Ted, but was saddened by the news that he was terminally ill. Ever the trooper, he did however, grant an interview through special arrangement with Jeff. What is to follow is more or less the story of not only Ted Newman Jones III, but Newman Guitars as well. For those of you who have Rolling Stones Gear, use the information here as an addition, and note that what was not apparent to me at the time the book was written is the fact that Ted's guitars were not just random creations that improved over the years, but a methodical sequence that ultimately led up to a definitive end product. This article is dedicated to Ted, who at the age of 67, passed on July 1, 2016, within weeks after the interview was conducted.
Guitar luthier Ted Newman Jones III was born on October 8, 1949 in Dyersburg, Tennessee. Like most guys who were born between the late '40s and the late '50s, he was hung up on music and became somewhat obsessed with the Stones upon their arrival in 1964. In his late teens, though he took an interest in playing the guitar, he came to realize he had more of a talent for fixing them than playing them. He came onto the scene in 1970 when he refurbished and reconstructed a number of guitars for Eric Clapton including Clapton's famous 'Blackie' Stratocaster. He would however, not be introduced to the music world until 1971 when he became associated with Keith Richards. It's been said that Clapton referred Jones to Richards, but technically, what really placed him in the middle of the Exile On Main Street sessions at Villa Nellcôte in the summer of '71 was the attitude of a free spirit with a strong work ethic and sheer determination.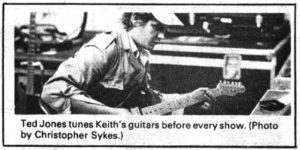 Once referred to as "Keith's Right Hand Man," he would serve as both a guitar tech and guitar builder for Keith throughout the '70s and into the early '80s. As a result of his position with the Stones back in the early '70s, many articles were written about him at the time, one in which he was described as "an 18-year-old crazed Arkansas cowboy guitar genius luthier…" In response to this description, Jones related, "No, I was a 22 year old West Tennessee guitar—I wouldn't say 'genius,' the appropriate word would be, uhhh—let's just say everything I touched just came out that way. I wasn't a genius, but what I did was all unique."
Although he officially started working with Keith (and the Stones) in 1971, his first encounter with him was actually two years earlier. "My initial meeting with Keith was in 1969 at a Stones concert in Georgia where the wings on their DC3 iced over and their plane came in late then finally landed. The show went on late. I met him backstage with Stanley Booth. I lit his cigarette, and he introduced me to BB King and Chuck Berry—so that was a triple threat right there! I remember that Keith was real nice." As for his connection with Stanley Booth, he revealed to David Dalton in 1981, "While going to college, I'd read an article in Eye magazine on the Stones written by someone called Stanley Booth. Later on, I ended up in Memphis, selling clothes, and cashed a check for a man who turned out to be Stanley Booth. Told him I thought his article was great, etc. This eventually led to my meeting the Stones in '69 on tour and spurred me to ultimately go to Europe in '71."
Although Jones' forte would be his own Ted Newman Jones model guitars, his first 'creation' for Keith, as well as the key into the Stones' kingdom was a revamped Rickenbacker he presented to Keith two years after this meeting. He explained, "I was living in an apartment that was previously Leon Russell's and I had all his records and tapes and I had all my stuff. It was in Memphis one story up and it was across from Overton Park. That was the summer of 'Brown Sugar.' Jim Dickinson was a friend of mine and he lived across from the park. I learned 'Brown Sugar' from Jim in an open tuning-open E. I picked up this old Rickenbacker guitar, which I refinished and rebuilt. I refinished it black, not an easy color to deal with, a solid body, not like the famous double-cutaway models. I had never seen a solid body Rickenbacker at the time so I thought it was pretty cool. My mind made it even cooler than it actually was. I was going to take it to Keith, and I had some phone numbers for the Rolling Stones office in London and the girls in the office of course loved my Southern accent and wanted to talk to me more and more, so the more they could lure me in, the better off I was so they could listen to me talk while I was actually purging them of all the information I could, like where everybody was in the band and what was going on, and were they recording, and 'yes they were, in the south of France using the Mobile truck' which was this huge green monstrosity that they used to record several different albums. Anyway I found out they were recording in the south of France and that the name of the house was Nellcôte. It was an old English retired admiral's niche where he hung out. When I got there it was a beautiful old mansion that had been 'Rolling Stone-ized'!"
The journey to southern France proved to be a long strange trip, one that would turn out productive as well as somewhat comical in retrospect. "I went on this train trip that the girls at the Stones office told me about and I had to take the C train. They never heard of that! [laughing] The C train from London crossed into Paris. SNCF was the name of the line. I didn't know where I was going, really. I just went. Then I headed south; all points were open from Paris, and I thought, man, this is so fucking hip. I had already bought my passage to Cannes which is right next to Nice. Anyway, I got down there and got out with my cowboy boots and cowboy hat and all that. That was comfortable gear for me, and I was walking down these old cobblestone streets.
"I ended up at Jo Bergman's house, the lady who was the CEO, I mean she ran the whole damn show for the Stones and she was wonderful. The most wonderful lady I ever met, hands down. I got my boots off and boy did my feet ever ache! She said, 'Go take a bath, and here's some vitamin C. You sound horrible …' I didn't know that they [the vitamins] were effervescent, and that type when I swallowed my throat exploded! I was going nuts! That was my first mistake. Then I got in the bathroom and it had two toilets! I said 'Wow, how come it's like that? One to wash your feet in and one to piss in.' So I turned the one on you wash your feet in and no one was sitting on it so it sprayed all the way up to the ceiling! All this muddy water from off of my feet. That was my second mistake, thinking that that was a footbath. Jo Bergman loved me for this, 'Haw, haw, haw! Wait till I tell so and so, blah blah blah…'
"Anyway, she took care of me, I was staying in her house overnight just to treat this cold that I caught on the train. I was flirtationable, a 'chick magnet' [laughing], but it seems to be what it was. Anyway, I was down there on the coast with Jo and she says, 'The Stones are about five miles that way on a beach front villa with a big green truck out back and they're recording …' Recording what turned out to be Exile On Main Street, and I think it's one of their best albums. I was there during the recording of some of it. That was my first TRUE encounter with Keith when I showed him that old Rickenbacker guitar, and he said, 'God, I haven't seen one of these in forever.' When I dug it up, I was thinking maybe Keith would dig it, so I put that vibe into it when I restored it; it was going to be FOR KEITH. That was my slogan: 'This guitar is for Keith.' As with all Newman creations, in my heart I got into it and just restored this old piece of shit Rickenbacker.
"We went downstairs into his recording studio; as you know, they made this studio out of this old mansion, and it sounded real good. So I get it out of its Les Paul guitar case and I played 'Brown Sugar' in open E tuning. Keith smiled when I got through it. So he took the guitar from me and said, 'No, no, let me show you' He took the bottom string off then tuned it to open G and said, 'This is the way you do it' and that's the way he played it forever on. The was the five-string tuning he used capoed at the fourth fret, it would be B, capoed at the fifth fret it would be C. C would be used for 'You Can't Always Get What You Want,' back up in B would be 'Rip This Joint,' 'It's Only Rock n' Roll'… 'Midnight Rambler' was, believe it or not, in standard tuning capoed at the seventh fret. It was unique."
Jones' mission was accomplished when he sold the Rickenbacker to Keith for $300, then hung out for a spell, making the scene with the likes of Nicky Hopkins and Gram Parsons, until his southern upbringing of not wearing out one's welcome took him on the road back home. The Exile sessions continued throughout the hot summer months and Jones' refurbished Rickenbacker was not only used by Keith during the sessions, but by Mick Taylor as well, playing slide on it on "All Down The Line."
In October, as the Exile sessions at Nellcôte were coming to a conclusion, a number of guitars were stolen, the bulk of them Keith's. Before leaving France in November to add overdubs onto the Exile tracks at Sunset Sound in Los Angeles, Keith remembered Jones, who was then living in Nashville and immediately contacted him. Jones told David Dalton in 1980, "Keith's instruments got ripped off, and he got in touch with me, and he was in tears, told me his guitars were gone and asked if I could replace 'em and fix the ones he'd already replaced. I said, 'Yeah,' and he told me to come on out to LA, and I said, 'I ain't got no money,' and he said, 'I'll send you a ticket, just come on out to LA, you can live with me, fix all my guitars, we can set up shop in one of the bedrooms, kitchen table, or whatever,' and I did."
Jones scored several guitars to rebuild Keith's collection, two of which to this day are Keith's most famous guitars, a 1953 butterscotch-Telecaster which he would later (in the '80s) name 'Micawber' and a 1954 natural ash-finished Telecaster he would later name 'Malcolm' (at the time Keith had a Stones tongue logo pasted on this one). Over the years, there was speculation that the 'Micawber' Telecaster was possibly the Telecaster that Eric Clapton gave to Keith at the time of the Exile sessions. Jones squelched the theory, "No, that guitar was not from Eric Clapton. It and a 1954 one ('Malcolm') were some of the ones I replaced when his guitars were stolen at Nellcôte."
A couple of months later, in February of 1972, Keith would again contact Jones, who at the time was living in rural Arkansas and asked him to accompany him on the Stones STP tour as his personal guitar tech. With Keith's interest in open tunings, which dated back to 1968, as well as his signature open G tuning (using five strings, the sixth string dropped), it came to his attention that when on the road he would need someone to tend the multiple guitars and tunings when recreating Stones songs onstage. Jones technically became the first 'guitar tech' if you will, inventing the concept thereof and what a guitar tech does. In May, Keith flew him out to the rehearsals in Los Angeles for the 1972 North American STP tour, promoted by Bill Graham, which began on June 3 and continued through the end of July, with the Stones playing 51 shows at 32 venues with Stevie Wonder opening throughout. The tour would be the blueprint and measure for all future 'Rock Concerts' to follow. Before the tour commenced, a photo shoot took place capturing the entire band and crew. Jones recalled: "This was one day when the entire band and crew and everybody was going to be in a photo shoot and everybody has on these matching [football] jerseys for that tour and I must not have been listening or something when they said, 'Bring your jersey,' but I didn't have one, so I laid down on the floor with my cowboy hat on and a bottle of beer. I had that hat up to a few years ago."
During the first part of the tour, Jones replaced the neck position Fender pickups on the 1953 butterscotch ('Micawber') and the 1954 natural ('Malcolm') Telecasters with Gibson PAF humbuckers. He also replaced the bridge pickup on the 1953 butterscotch blond maple neck Tele with a Fender lap-steel pickup, which was similar to the Fender Broadcaster's pickup. Jones set this Tele up as a five-string for open-G tuning. Keith once described it as, "my main Tele five-string." Jones: "I put the (Humbucker) pickups in, using a screwdriver as a chisel. Now you see all these people with Humbucker pickups on the necks. I was the first person to ever do that! Now they even have production models like that."
Very few images of Keith's famous 'Micawber' Telecaster exist in its original state, and it can be seen (and heard) on the Montreaux rehearsal footage from May 12th that was aired on The Old Grey Whistle Test. During the tour, Stevie Wonder's guitar player was so impressed by the work Jones did on Keith's Telecaster, he asked him to do likewise for him. Jones: "I did this also for Stevie Wonder's guitar player, Ralph E Hammer. He came up to me (during the '72 tour), a likeable guy. Hell of a player. He played a lot of that Motown shit and he was just fantastic. He said, 'I want you to do that same thing for me' [to his Telecaster] and he opened up this sack from a music store downtown and had a brand new Humbucker pickup with the wire and everything. I said, 'When do you want me to do this?' and he said, 'We go on in two-and-a-half hours for the second show.' I said, 'Well shit, I have to squeeze the Stones show in afterwards, and I thought it might upset Keith, since that would be easing Stones time into Stevie Wonder's band. There was a little rift going on between Stevie Wonder's band and ours, mainly between the drummers—the percussionists, not Charlie, he was totally cool. The percussion sections. So here I am trying to do this job, without the proper tools, using a hammer and chisel. Everybody's looking, 'What's going on?' I got it on my lap creating a spectacle. I went ahead and did and got it all wired up, pickup ring, set in. This was at Madison Square Garden."
A quip from Jones' memoirs from the tour sums up the over-the-top affair it was: "It took place in Manhattan on the rooftop of the St Regis Hotel. It was Mick Jagger's birthday of 29 years with Andy Warhol, Lee Radziwill, Truman Capote, Terry Southern and the whole Stones touring party. I danced with Carolyn Kennedy while Keith and Dylan laughed at out shenanigans. Music was provided by Count Basie and Muddy Waters."
From this point on through 1981, Jones became an integral component within the Stones machine, hitting the road for every major tour (as Keith's guitar tech) and eventually setting up shop (sponsored by Keith) in Austin, Texas to develop and refine his Newman Guitars line, with his main concern being that of supplying Keith with customized five- and six-string Newman guitars. Jones' first ever Newman Guitar appeared in the public eye on January 18, 1973, when Keith played it at the benefit concert for the victims of the Nicaraguan earthquake on January 18 at the Forum in Inglewood, California. The guitar's body shape was quite unlike the shape that would typify the Newman Guitars of the future, similar to a smaller-sized non-reverse Firebird. The guitar was intended to be tuned to open G. Keith commented at the time in Hit Parader: "Ted's been making guitars for me with special kinds of tuning. I've had a five-string guitar made which is for a certain kind of playing … They're the kinds of things you can't get anywhere except from him, because he makes them all by hand, and it takes quite a while."
Keith used this guitar extensively throughout 1973. By the time the Stones did the '73-UK-Europe Tour, Jones installed an alternate bridge which gave way to rumors of a 'second model' of the guitar (the little 'swastika' stickers Keith added by that time also gave it a different appearance). There is one and only one model. Jeff Smith: "Ted and I talked about this guitar. I called it Franken-science and then we both laughed." Jones: "Yeah, that was the first guitar I made from scratch. It looks like it's pieced together from somebody's garage. It's totally barbaric, really. It was not, however, a refined Newman guitar. When it came out people were talking about it 'hhmmmm, hmmmm' when Keith was seen with it on the cover of magazines."
The guitar was on display at the Saatchi Gallery on King's Road in London, and at the time of this writing, is on the way to a gallery in New York City as a part of the Rolling Stones 'Exhibitionism' exhibit.
In between touring, Jones continued building and refining his Newman guitar line. His production escalated with a plethora of models continually appearing throughout the latter '70s and early '80s. Keith would be seen on magazine covers worldwide in the early part of 1978 holding a Newman six-string guitar, the body shape a step away from the definitive body shape. Jones remembered, "Before refining the body, I made a couple that had a really tight cutaway, which I didn't like; Keith ended up with a couple of them, because he was like 'Hey man, what's with these?' You know." The guitar in the photo was built prior to 1978, and after a number of altercations, the definitive Newman guitar body shape (with the 'Austin cutaway') arrived in 1978. Jones would recall that "the 'New Barbarians' guitar" he created for Keith shortly after this time "was PERFECT."
Keith was also involved with the John Phillips Zulu Warriors sessions in 1977; screening photos from said sessions, Keith can be seen using the aforementioned 'tight cutaway' Newman six-string. Keith stated in Guitar Player at the time: "He (Ted) has been making a fair amount of them. In fact, he brought two to me recently. One was supposed to be for Mick, but I got to him first and paid for it. Too bad, Mick. Every time he brings these guitars, they keep getting better and better."
Another famous guitar that he put together for Keith at this time was something that Jones once described as "a copy of a Fender Telecaster with Fender Telecaster electronics." Looking back, he recalled, "Yeah, it was a solid piece of mahogany. It was a beautiful copy. It had the pickup configuration we are all familiar with and it had a solid rosewood neck from Fender. Fender made solid rosewood guitars. George Harrison had one. This one, Keith and I were walking down the street where there were a lot of music stores and this neck was hanging in the window. I said, 'Keith, let's go in there' and I picked it up and said to Keith, 'Can I have it?' He had an account, no telling what they were charging for it. He said, 'What are you gonna do with it?' I said 'Build a guitar with it.' He said, 'It better be MINE!' [laughter]—you know, don't fuck it off to somebody else, that would suck!" Keith can be seen using it on the "Miss You" and "Far Away Eyes" videos as well as on the Muddy Waters at the Checkerboard Lounge Chicago footage from November 22, 1981 when the Stones jammed with Muddy and his band.
In the wake of Keith's notorious drug bust in Toronto, the Stones opted not to tour in 1979. Ron Wood's third solo effort, Gimme Some Neck, was released in April of that year, and because the Stones were not planning to tour at the time, he put together a band, the New Barbarians, to tour and promote his new album. Keith could not resist being a part of the Wood ensemble and immediately joined up. It was at this time that Keith unveiled what Jones deemed 'the PERFECT' Newman guitar. Jones remembered, "Yeah, it had a padouk body, bird's eye maple top. EMG pickups … I fashioned all the hardware myself. Yeah, that was the prototype for the 'Keith Richard' five-string model." He was optimistic enough about his 'Keith Richard' model to make detailed blueprints of it that were dated January 1980. His intent was to build it as a "limited production model, twenty-five quarterly—100 a year." He clearly never came close to his quota, however, because few have ever surfaced in the used guitar market.
In 1981 Jones decided to take a permanent break from touring with the Stones in order to concentrate on his guitar line in Austin, so he handed the reins over to guitar tech Alan Rogan. Several custom Newman guitars soon began surfacing and were seen in all the major music periodicals of the time, among them ones he created for Bob Dylan (with Christian cross inlays), Tom Petty (with broken heart inlays), and most notably the 'Woody Woodpecker' model he made for Ron Wood. The Newman 'Woodpecker' guitar was documented and photographed in the likes of Guitar World and Rock Scene, Jones pictured working on it in its various states, but the guitar never made it to Wood and mysteriously 'disappeared.' As to its whereabouts Jones related, "Nobody knows. Nobody will come forward. I had pictures taken, several layouts with Guitar World. When I finished it, I gave it to Woody's 'go to' man, Chuch Magee and that was the last we ever saw of it—but we did hear about a $2,000 cocaine deal and a limousine. Three factors I heard: Chuch, $2,000 cocaine deal and a limousine. That was it. The whole damn guitar was made out of padouk; it was absolutely stunning! The fingerboard was ebony and I cut all these parts for inlays, Walter Lanz's Woody the Woodpecker's transition from 1946 through 1951 (from headstock to the body). It was an interesting piece of art. There was an artist, a girl, that did all the drawings for the inlays but I can't remember her name. It may come to me."
With the 'Keith Richard' five-string guitar model going into full production and an endless list of high-profile clientele requesting custom guitars, the Newman guitar line, rooted in Austin, was seemingly taking flight—at least for the time being. As the '80s progressed into the '90s Jones slowly drifted out of the limelight, and at times more or less into obscurity. He would continue building guitars through the early '90s including a customized Newman guitar for Lucinda Williams in 1993 (a black Brazilian Rosewood acoustic with spade inlays, currently being restored by Newman Guitars 20 plus years later), but the flash & crash that once existed staggered and came to a halt when in the mid '90s he was forced to begin serving a lengthy prison sentence (literally no information on the matter exists other than that in the end he was exonerated of all charges).
He did again make a return of sorts, when in the late '90s he struck a deal with the California-based Chandler Guitars who were making a Newman-Jones designed "Austin Special" guitar. Production came to standstill when he had a falling out with the company.
Following his release from prison, in 2014 Jones moved back to Dyersburg, where it all began, and set up shop in his father Skipper's old workshop. He'd live in Dyersberg and would commence working with assistant Jeff Smith until the time of his passing in 2016. Smith: "That's where Ted and I got started. We went from building a company to Legacy transition. It was very important to Ted that I understood him and that we shared the same dream for Newman Guitars. I assured him I would be the caretaker of quality that would forever bear his name. When he got out [of prison], we got together right away and he was fired up to work again. His health changed his body but not his mind so we kept working all the way to the end." Within a year they had their first prototype guitar, which was painted a turquoise 'Joe Ely' color (Jones made a guitar for Texas legend Joe Ely in the '80s and it was this color).
Smith hopes to continue the Newman legacy by manufacturing the Newman five-string 'Keith Richard' model guitar among others. He stated, "Ted was such a pioneer that he left a body of work unfinished. The five-string open G guitar has merit to modern players and it needs to be re-introduced. He and I spent many hours working together to insure his vision and integrity would be preserved."
Though Jones had been ill for a quite a stretch of time (diagnosed with lung cancer in April of 2015), and at the time of this interview no doubt sensed that his time on earth was nearly over, he had a bright outlook for the future of the Newman guitar line. Jones: "Watch this transition; I've taken the Newman guitar to its fullest extent, five-string, six-string, neck-through, bolt-on neck. Then I met Jeff Smith and he enhanced everything that I had accomplished and created some stuff to go along with what I had done. These new models are like these beautiful statuettes. I always thought the guitars should be delectable. (Jones sang, "She's So Delectable" ala the Stones' "Respectable," laughing). Smith added, "The design is original, never done before or since; a distinctive Ted Newman Jones design. It took some refinement but arrived by 1978 and isn't going away." He vows to keep Newman Guitars on track infinitely. "Ted and I were working with a skilled luthier, Jacob Harper, who won Ted's respect. Newman Guitars continues with that relationship."
At the conclusion of what is probably the last interview Jones would ever do, he sounded very uplifted and pensive, drifting back in time and stated, "All these ideas … they came to me that summer of 'Brown Sugar'… Yeah, looking out at Overton Park. Yeah… I got my own thing …" His own thing being the Newman Guitar. He knew it was a Great American design. Real Texas.
From Ugly Things #43. Available for purchase here: http://webstore.ugly-things.com/ugly-things-43-p375.php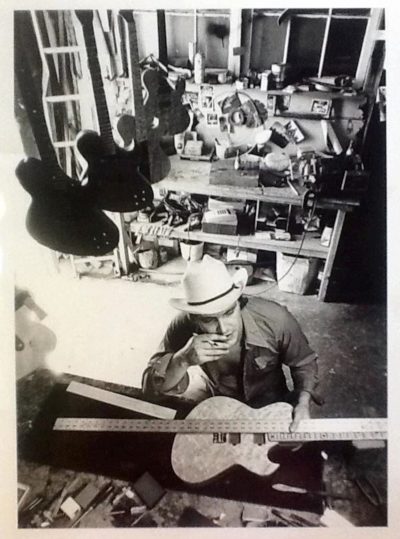 ---