Featured

News

By Jay Dobis     Erkin Koray, aka Erkin Baba, the father of Turkish Rock 'n Roll (he put together the first Turkish rock band (Erkin Koray ve Ritmcileri) in 1957 when he was a high school student

Featured

Articles

By Harvey Kubernik   On August 3, 1966, stand-up comedian, social critic, satirist, and philosopher Lenny Bruce was found dead at age 40 inside his Hollywood Hills home from an acute overdose of mor
Swim Through the Darkness: My Search for Craig Smith & the Mystery of Maitreya Kali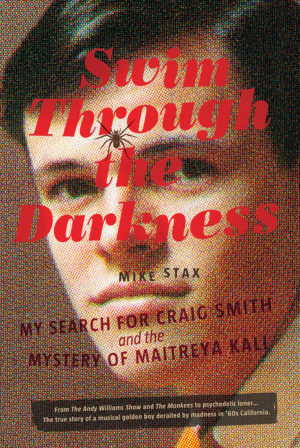 Craig Smith was a 1960s golden boy – good looking, charismatic, outgoing; a preternaturally gifted musician and songwriter whose songs were recorded by some of the biggest names in entertainment – Andy Williams, Glen Campbell, the Monkees. Starting out his career on the Andy Williams Show as a member of the Good Time Singers, Smith next teamed up with Chris Ducey in the duo Chris & Craig, then the Penny Arkade, a talented group mentored and produced by Mike Nesmith of the Monkees. Smith's future success seemed assured, until an unexpected turn of events plunged him into a terrifying darkness. Clean-cut Craig Smith became Maitreya Kali, the self-proclaimed psychedelic Messiah. He laid out his poignant, disturbing schizophrenic vision on a sprawling self-released double-album before disappearing completely. Author Mike Stax spent fifteen years piecing together the mystery of Maitreya Kali, uncovering one of the strangest and most tragic untold stories of the 1960s and '70s.
Published by Process Media in September 2016
Available at the Ugly Things webstore, Amazon, and all good booksellers.
Reviews
Craig Smith/ Maitreya Kali should be considered in league with eccentric 1960s greats such as Alexander "Skip" Spence, Judee Sill and Gene Clark.
Swim Through the Darkness by Mike Stax was easily the most moving and inspiring book I read in 2016. Stax's biography of Craig Smith — a promising musician and songwriter who took a wrong turn at the dawning of the Age of Aquarius, and fell forever through the cracks of society — is a deeply heartbreaking one. But the book also doubles as a fascinating detective story, and the author's suspenseful recounting of his nearly 15-year search for Smith makes Swim Through the Darkness read like the Citizen Kane of rock bios.
You don't know his name now, but there was a time when Craig Smith was on the path to becoming a star. In the early 60s, the singer-songwriter was in the house band on a popular variety show, wrote music that ended up being recorded by Glen Campbell, and eventually started a band called Penny Arkade that members of the Monkees helped produce in their home studio. Then, as quickly as his career took off, he disappeared … The musician had left Hollywood to travel along the famed Hippie Trail with a head full of acid and a guitar slung over his shoulder. At some point on the trip, though, something changed in Smith, and he came to believe he was the reincarnate of both Christ and the Buddha. He began calling himself Maitreya Kali, had a black widow spider tattooed on his forehead, and was convinced he'd be king of the world by the year 2000.
Swim Through the Darkness is a cautionary tale of sorts. It's like the stories of brilliant musicians like Pink Floyd's Syd Barrett, Jefferson Airplane and Moby Grape's Alexander "Skip" Spence and many others who burst onto the scene with sounds of brilliance, only to descend, unescorted and alone, into their own madness.
In his aureate prime, circa 1966-67, Craig Smith might as well have been sunshine pop rendered in flesh: the beaming, sweet-natured straight-shooter who co-fronted Chris & Craig (of Isha repute) and the Penny Arkade, and who did very well from the royalties of his compositions Salesman (covered by The Monkees) and Country Girl (tackled by Glen Campbell), to name but two.
Rock lore loves to romanticize the drug casualty. Of course it's wrong, but it's so hard to resist imagining the tantalizing might-have-beens that surround the likes of Syd Barrett, Roky Erickson, and Skip Spence, all of whom suffered from mental illnesses almost certainly exacerbated by their enthusiastic drug use. Pot and acid have inarguably inspired creativity by breaking down the artificial walls between categories that exist only in our minds, but there are people who can't handle that and lose it. And it's really not so romantic, especially when the artists who fall through that crack never got the chances that Spence, Barrett, and Erickson had at recognition. Ugly Things' Mike Stax has authored a new book, Swim Through the Darkness, published by Process Media, which tells the tale of Maitreya Kali, born Craig Smith in 1945. He should have been a really goddamn big deal
Before he lost himself completely to his illness and homelessness, Smith experienced a messiah trip and re-named himself 'Maitreya Kali,' believing he was Earth's savior. Friends distanced themselves from Smith's odd and often disturbing behavior. As Maitreya, Smith recorded and released two self-produced early '70s albums that combined unreleased Penny Arkade performances with newly-written songs. Pressed in small quantities, Smith sold copies of both Apache and Inca (the latter of which was combined with the former as a two-album set) to record stores in his native Los Angeles; both albums would later become red-hot collectors' items for fans of acid folk and psychedelic pop, their rarity resulting in stratospheric five-figure prices whenever a copy surfaced.
---