Featured

News

By Harvey Kubernik   April 2023 marks the 50th anniversary of the release of David Bowie's Aladdin Sane, which was released only ten months after his breakthrough album The Rise and Fall of Ziggy

Featured

Articles

By Harvey Kubernik   During 1969, Jimmy Cliff's "Wonderful World, Beautiful People," "The Israelites" from Desmond Dekker & the Aces, and a hit single from Johnny Nash, "Hold Me Ti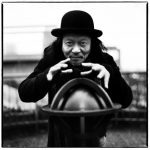 By Bill Furbee
WHEN I LAST SPOKE TO DAMO SUZUKI – the influential performer perhaps best known for his years spent as the singer of Krautrock godfathers Can – the world was in a different place.
"Energy is the most important substance for everybody's life, not only music-making," he told me in an interview for Chicago's Newcity just one month ago. "I like to have only positive energy, because this world is really dark enough, so, why should I make something dark? You can share this energy as well, in a good performance."
Anyway, coming back to the topic of Damo, that upcoming Chicago appearance, along with the rest of his tour, has now been postponed in the wake of government mandates to avoid crowds and shelter in place.
And so, like the rest of us, Damo has been staying at home. "I don't have a job at the moment," he says. "It's not possible to do anything. I cancelled my US tour, I cancelled my Italian tour … in May I might have some other concerts, but I don't know what's going to happen," he reports from his home in Cologne, Germany, while opening the stopper to pour himself a Kölsch beer.
"But it's okay," he tells me. "Maybe (this is) an opportunity to make something else." He reflects for a moment, then beams a wide smile. "Cheers!" he says, lifting a foamy glass of beer to the camera on his computer monitor.
I'M SO GREEN
At 70, Damo is considered an at-risk individual for illness from COVID-19. Those individuals — older adults, and those who have underlying health conditions — have been urged to take special precautions to minimize the likelihood they would fall ill. Fortunately, Damo already practices daily rituals for both mental and physical health.
"I was in a hospital for three years," he reminds me [Damo was diagnosed with colon cancer in 2014]. "After that, I'm taking much better care of myself. It's always important to have really good immunity. I'm keeping my body condition as good as possible."
He points out that the home he shares with his wife is outside Cologne's downtown core – and "only three steps from a huge park," where he exercises every morning. "I like to hear birds singing, I like to see a blue sky. I like to be there with just my body, being in nature."
As he told me during our last conversation, he begins each day with the same routine: "The first thing I do, I stand in front of a mirror and [look at] myself, 'I am Damo, I have a responsibility for this person. Keep a smile on, don't get angry; if it's possible, support people; so that I'll be happy at the end of the day.' If you have a good feeling to share … then you'll have a much better experience." He considers it "being good to Damo Suzuki."
He added, in a message leading up to this second call, "I think positive and often laugh."
DAMO SUZUKI'S NETWORK
Our modern world is one swimming in too much information – and, during times like these, managing your intake of that information is even more important. As news and misinformation spreads about our present-day global issues, Damo stresses the importance of not losing touch with oneself.
"If you know yourself," he advises, "and you're not so much influenced by information, you can live better." Too much information, he worries, can wear us down. And especially vulnerable are those desperate for an answer.
"Most people don't have anything to believe," he feels. "So they must [take in] every information, so they get so much fear, and so much panic, and so they are not free. It's a very difficult choice," he says, of "which information is correct."
Not to suggest it's wise to ignore the world around us.
"Don't put your head in the sand," Damo cautions. But, he continues, "you must do things which you actually like to do. Concentrate on these things, besides immunity, and make something."
He also believes in the importance of healthy eating and exercising, and confesses a fondness for oysters. "Positive thinking comes from good food as well. If you eat really good food, you'll be happy," he believes. "Train your soul, and train your body. That is all you can do. To take natural things is always good."

FUTURE DAYS
With tour dates around the world being postponed or cancelled, many modern-day musicians are finding themselves embracing the concept of virtual concerts, or revisiting the home recording process; not so much, in Damo's case. "I don't make anything about music, because I make music on the spot," he says. As an improvisational collaborative artist, his creations are rooted in the belief that fellow musicians – sound carriers, he calls them – limit the information they share before setting foot on stage.
But, he is a big film buff. "I watch a movie every night," he points out, and strongly prefers his DVD collection to turning on network programming – in consideration of controlling his own schedule, rather than being told when to tune in.
"I like to have my own time, that's why I like to watch DVDs more than [films on television]. I especially don't like to watch [television] news, because it's at 8 o'clock, exactly at 8 o'clock you must be controlled to move, everybody does that. [But] I can control my own time," he says.
Using that time wisely is paramount for Damo."People [are] searching things on the internet about this virus, using so much time, instead of making simple things, [like] cooking something, or baking cakes. You're doing [that] for yourself. Too much believing in information is quite dangerous. Because you're losing your time."
He reminds me that, regardless of age, time is in limited supply for all of us.
"Everybody has a short time, a life, [so] why must you spend so much time to get so much information, it doesn't help anything. It's better to get a good book." As a devout Christian, Damo reads the Bible daily and has even quoted passages in some of our communications.
"I'm quite … I can't say happy at the moment," he laughs. "After this pandemic is over, I think many people [will] change themselves. I hope many people find their own life, how to live. How to decide, and how to make actions. To find their own way, and not only influenced by information. Better information you can give to the people, but not always taken from mass media, mainstream, conspiracy source, [all] is quite dangerous because it's taking too much time. It's better to have your own time.
"How weak is our society, if things like this have happened?" he continues. "There is no answer. You can see it now. You're almost like in a jail. If you get the time again, then think different, more simple things. If you have your own way, it helps you quite a lot. It's a great essence, to health, body and soul; it's the most important thing. So everybody should think about this. Because it's the beginning of everything." •
Author Bill Furbee happily makes his home in the hills of Kentucky, where he collects antique organs and ventriloquist dolls. He's also a music heritage enthusiast, and has written for Ripley's Believe It or Not!, Cincinnati CityBeat, Chicago's Newcity, Detroit Metro Times, Ugly Things magazine, and many other fine publications.
---
By Harvey Kubernik
Paul Krassner, the writer, investigative satirist and free speech advocate, who published the groundbreaking counterculture periodical, The Realist, died at his home after a brief illness in Desert Hot Springs California on Sunday, July 21, 2019.
People magazine cited Krassner as "the father of the underground press." The activist and author replied, "I immediately demanded a paternity test."
Krassner was hailed by in the pages of Playboy: "Krassner lives in a world where Truth and Satire are swingers, changing partners so often you never know who belongs with whom."
George Carlin and Lenny Bruce admired Krassner's work and were inspired by him. Krassner interviewed Bruce for Playboy in 1959 and became a confident of Bruce and edited his autobiography, How To Talk Dirty and Influence People.
Krassner was born April 9, 1932 in Queens, New York. In the 1950s he studied at Baruch College in New York, before embarking on a stand-up comedy career booked as Paul Maul.  He started his self-published journal The Realist, in 1958. His literary career actually began at Mad magazine and writing for The Steve Allen Show. The Realist developed a forum for a satirical view of America, and Krassner provided an outlet for his group of friends that included Lenny Bruce, Groucho Marx, Norman Mailer, Phil Ochs, Timothy Leary, Terry Southern, Dick Gregory and Mae Brussel, Abbie Hoffman and Jerry Rubin with whom he founded the Yippies, (Youth International Party) in 1968. The Yippies protested America's involvement in the Vietnam War at the 1968 Democratic National Convention.
---
By Harvey Kubernik
Larry "The Mole" Taylor, known primarily for his bass playing in Canned Heat passed way from cancer on August 19, 2019 in the Lake Balboa area of California's San Fernando Valley after a decade-long battle with cancer. A graduate of Fairfax High School in West Hollywood, Larry's older brother was Mel Taylor, the longtime drummer of the Ventures.
As a teenager at Fairfax High School I first saw Larry in 1967 when Bob "Deacon" Kushner and I caught Canned Heat recording their live album at the Kaleidoscope club in Hollywood. I later ran into Larry and Canned Heat drummer Fito de la Parra in 1968 when Albert King headlined the Ash Grove.
(Photo: Larry Taylor onstage at Woodstock with Canned Heat. August 16, 2019. Photo by Henry Diltz/Courtesy Henry Diltz Archives)
I always felt there was a secret blues society 1966-1975 around Hollywood. The roots-based musicians and cool record producers like Denny Bruce and Chris Darrow would all be at the Muddy Waters, James Cotton, John Lee Hooker, Magic Sam, Paul Butterfield Blues Band and Albert Collins shows and sometimes share a table with you. I was a high school student and record geek. We would on occasion congregate after midnight at the Hollywood Ranch Market on Vine Street, just down the block from the Local 47 Musicians Union. Ever eat hot fried greasy chicken gizzards at 2:00 am and then have to go to high school for Home Room the next morning?
It was at the start of 1969 when I witnessed the epic New Year's Eve bill at the Shrine Exposition Hall in downtown Los Angeles where Lee Michaels and Sweetwater opened the show, followed by Canned H
Just before midnight Canned Heat lead singer Bob "The Bear" Hite, clad in a white diaper, rode an elephant across the floor of the venue and was deposited on stage. He then uttered the command, "Let's Boogie," and the band soared for nearly three hours. Guitarist Henry Vestine didn't show up at the gig and Jerry McGee sat in with them. Like Taylor, Jerry was on sessions on the debut Monkees LP. He was working with Delaney, Bonnie & Friends at the time.
After the crowd recovered from the event, at 3:00 am I was hitchhiking home with my friend Steve on Figueroa Street, it wasn't illegal then, when a blue VW stops, and the driver said, "Come on in." It was Larry Taylor with a very pretty blonde girl in the front seat.
Larry schlepped us back to the Fairfax area and touted blues music and specific LPs all the way down Olympic Blvd. "The Mole' insisted I devour Robert Johnson's King of the Delta Blues. He also touted a 1959 Wesley Reynolds' record "Shut Down" on the local Dollar label I learned was a subsidiary of 4 Star Records, and he cited guitarist Michael Bloomfield, who told him that he picked up a guitar because of Wesley Reynolds.
"Bloomfield had heard his records playing in Chicago in 1962, '63, and that's when he bought a guitar. Canned Heat played a gig with Paul Butterfield Blues Band at the Troubadour and I saw Michael there, maybe 1966. I knew him when he and the Butterfield Band were staying in Los Feliz. I went over there with Elliot Ingber one time. We both went to Fairfax High and were in the Gamblers."
During the ride, Larry was impressed when I informed him I had a copy of the 1959 instrumental surf music "Moon Dog" b/w "LSD-25" record by the Gamblers produced by Nik Venet on World Pacific Records he was on. Taylor laughed and enthused, "It got a lot of airplay and I actually made a royalty, my first royalty off a record."
What did he mean by this word royalty? I didn't know what he was talking about.
Larry deposited me at my parents' house by 4:00 am and we exchanged phone numbers. Welcome to Hollywood…
In 1999 we chatted again when he was on tour with Tom Waits playing upright bass.
Myself and Monkees' scholar Gary Strobl are truly saddened by Larry Taylor's death. Larry was enthusiastic when people like Gary and I would quiz him about the Monkees. Larry is all over their first LP, including "Last Train to Clarksville" and "I'm Not Your Steppin' Stone."
At Raybert Productions at the Columbia Studios my mother Hilda helped type the scripts of The Monkees TV series. Unlike so many session cats, Larry wasn't embarrassed of his hired hand pop music work around his blues mission. Canned Heat helped put blues on the AM radio dial with "Rollin' and Tumblin'," "Going Up the Country" and "Let's Work Together."
I interviewed Larry a few times this century. Once for my Canyon of Dreams: The Magic and the Music of Laurel Canyon, and then in 2012 for a book The Illustrated History of the Monterey International Pop Festival that I wrote with my brother Kenneth.
"You gotta realize that back then, even at Monterey, blues had been played before and was an influence on everybody," he explained in one of our dialogues. "Canned Heat's Al Wilson was more of the country then I was the city blues, the urban blues, like Henry, because Al was a record collector and would go down to the south and canvas for records. And drummer Frank Cook was sort of in between with jazz in the beginning. And then Bob (Hite) had the material and the ideas he brought into the band.
"Alan had a strong influence on the country blues part of it which it was in the beginning. In my case, I'm a jazz listener and jazz lover and a blues hard core style old rock & roller. That's where I'm comin' out of. And I'm still doing it today. I'm playing with all the best guys today. I played a lot of slide guitar and a lot of Alan's type stuff. I was influenced from him on the guitar."Canned Heat taught people roots music. One thing the band did was definitely get people hip to what American Country blues was all about. That was the music that the band loved.
"Canned Heat, Paul Butterfield Blues Band and Michael Bloomfield with Electric Flag played together at the 1967 Monterey International Pop Festival. Woodstock was the same but a lot more people. Same sort of vibe in a way. I did all the US music festivals with Canned Heat, Miami, and Atlanta. Monterey had more to do with FM radio.  "At Monterey I saw some new things and figured 'That's what it is. That's what it's gonna be.' You didn't think about things then. You just did it. (laughs). You showed up for the gig and you went on the road and you played all these festivals. We could translate well in the big places. Monterey and subsequently, Woodstock, had the big amps. Back then you never thought about the mix. You just got up there and played. None of this 'this guy is in my monitor.' You mixed it yourself playing, right then, like the old records.
"At Monterey I was on stage when Booker T was on backing Otis Redding and they sounded like the recordings. Hearing him was a special thing. It was music that I grew up listening too and wanted to play. Let's put it this way: It was amazing that it was live. I had never seen anything live like that," he emphasized. "I was at Monterey for two days. I saw Hendrix and was on stage. Laying right by Booker T's organ watching him. There I was. I had heard of Jimi before the festival. 'Foxy Lady' was on the radio. At Monterey I saw Brian Jones walk by. I also saw Peter Tork and Mickey Dolenz of the Monkees. I had played bass in sessions on a lot of their early records. So playing with Canned Heat at Monterey was new, whereas playing on the Monkees' records I had done other times. I had done stuff in the studio, played little clubs and now a festival.
"With Canned Heat we were stretching out. We were experimenting. In the studio even Canned Heat stretched out more than most. Live it even stretched out more and took solos. Expounding on a different level than you did in the studio. That was new."
©Harvey Kubernik, 2019
Harvey Kubernik is the author of 15 books. His literary music anthology Inside Cave Hollywood: The Harvey Kubernik Music InnerViews and InterViews Collection Vol. 1, was published in December 2017, by Cave Hollywood. Kubernik's The Doors Summer's Gone was published by Other World Cottage Industries in February 2018.  It has been nominated for the 2019 Association for Recorded Sound Collections Awards for Excellence in Historical Recorded Sound Research. During November 2018, Sterling/Barnes and Noble published Kubernik's The Story of The Band From Big Pink to the Last Waltz. Harvey's 1995 interview, Berry Gordy: A Conversation With Mr Motown, that initially was published in 1995 in Goldmine and HITS magazines is included in The Pop, Rock & Soul Reader edited by David Brackett to be published in 2019 by Oxford University Press.  This century Harvey penned the liner note booklets to the CD re-releases of Carole King's Tapestry, Allen Ginsberg's Kaddish, Elvis Presley The '68 Comeback Special and The Ramones' End of the Century. In November 2006, he was a featured speaker discussing audiotape preservation and archiving at special hearings called by rhe Library of Congress and held in Hollywood, California.
---