Featured

News

By Jay Dobis     Erkin Koray, aka Erkin Baba, the father of Turkish Rock 'n Roll (he put together the first Turkish rock band (Erkin Koray ve Ritmcileri) in 1957 when he was a high school student

Featured

Articles

By Harvey Kubernik   To celebrate the 50th anniversary of The Roxy and its enduring relevance, the Grammy Museum announced a new exhibit, The Roxy: 50 Years On The Sunset Strip, which explores the
New Box Set Celebrates 50th Anniversary of Elvis Presley's 1972 concert trek
By Harvey Kubernik
RCA/Legacy Recordings, the catalog division of Sony Music Entertainment released the Elvis On Tour box set, a newly-compiled 50th anniversary celebration of Presley's monumental 1972 concert trek (premiering unreleased live and studio material) digitally in December 2022 and physical issue in 2013 on January 27.
A seven-disc set, with the audio selections available in digital and physical configurations, the Elvis On Tour box set includes six audio discs (premiering previously unreleased Elvis concert performances and studio rehearsals) and Warner Bros. Home Entertainment's Blu-ray edition of the MGM Film, Elvis On Tour, winner of Best Documentary Film at the 30th Golden Globes Awards in 1973 and the last feature film starring Elvis Presley to be released during the artist's lifetime.
The box set is produced by Ernst Mikael Jørgensen and mixed by Grammy Award®-winning Memphis-based producer Matt Ross-Spang. The original recordings were made by Felton Jarvis and Al Pachucki.
Disc 1 was recorded live on April 9, 1972, at Hampton Roads Coliseum, Hampton, Virginia, and contains all previously unreleased material. Disc 2 was recorded live on April 10, 1972, at Richmond Coliseum, Richmond, Virginia, and contains all previously unreleased material. Disc 3 was recorded live on April 14, 1972, at Greensboro Coliseum, Greensboro, North Carolina, and contains all previously unreleased material. Disc 4 was recorded live on April 18, 1972, at Convention Center Arena, San Antonio, Texas, and includes previously released material (from 2003's Elvis: Close-Up box set), remixed for this release.
Disc 5 features the tour rehearsals, recorded live at RCA Recording Studios on Sunset Blvd. in Hollywood, California, on March 30 and 31, 1972. The disc is comprised primarily of previously unreleased tracks in addition to performances previously available on the official Elvis Presley collector's releases Elvis On Tour – The Rehearsals (Follow That Dream CD 2004) and 6363 Sunset Boulevard (Follow That Dream CD 2001) as well as The Great Performances (RCA 1990).
Disc 6 completes Elvis' rehearsals with his band at RCA Recordings Studios with performances recorded March 31, 1972. The disc includes previously unreleased takes on Kris Kristofferson's "For the Good Times" as well as performances previously available only on 6363 Sunset Boulevard, Elvis On Tour – The Rehearsals and Amazing Grace (RCA 2CD 1994).
Presley and band prepared for his 1972 personal appearances at the RCA studios in Hollywood. The facility had been home to Sam Cooke, Bobby Womack, Henry Mancini, Shorty Rogers, Gogi Grant, Jesse Belvin, Jack Nitzsche, Kim Fowley, Nik Venet, Harry Nilsson, Grateful Dead, Jefferson Airplane, Creedence Clearwater, Electric Prunes, the Monkees, Jose Feliciano, Merry Clayton, the Rolling Stones, Andrew Loog Oldham, and Elmer Bernstein.
"Studio A and B were both the same size," described the legendary RCA engineer/producer, Al Schmitt in an interview I conducted with him. "They were big rooms, and then there was also Studio C, a smaller room. You could mix in either room. The studios had very high ceilings and a nice parquet floor. One of the things that made them so unique was that we had all those great live echo chambers. I think there were seven of them. The nice thing about doing everything at one time was that you knew exactly what it was going to sound like.
"RCA had a great microphone collection. Just fabulous. Great Neumann and Telfunken microphones. Great RCA microphones. Plus, they had the great, original Neve console. And they were just spectacular. They were so punchy. There was a punch and a warmth and still one of the best consoles ever made. They were using a lot of Scotch tape then.
"There were no isolation booths. None whatsoever. But we had gobos, we would have around. Like a separator where you could isolate things. We did have some small rugs that we would put down sometimes under the drums and things."
As Elvis Presley's national tour played to sold-out secondary markets across the country in 1972, Elvis was enjoying himself on-stage and finding electrifying new ways of connecting to audiences at every show. Working with a band and set lists of his choosing, Elvis was channeling the music he loved most—from pop and gospel and traditional country to blues and rock and contemporary hits—while transforming his own greatest hits with fresh arrangements, turning nostalgia into an unforgettable concert experience packed with immediacy.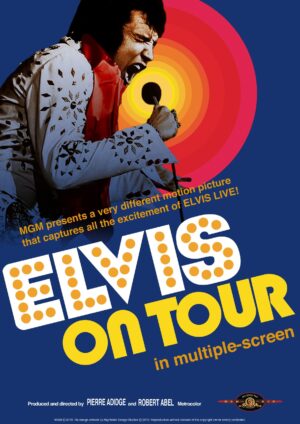 Award-winning filmmakers Pierre Adidge and Robert Abel (Mad Dogs & Englishmen) went on the road with Elvis Presley and his band with all-access passes, cameras and crew to chronicle the King of Rock & Roll at his on-stage peak in MGM's Elvis On Tour documentary film.
The film captures Elvis, the human being driving the myth, behind-the-scenes backstage with his eyes open and his defenses down. MGM's original press release described the Elvis On Tour film as "the first intimate look at the enigmatic country boy who became the world's most celebrated musician." Both documentary and concert film, Elvis On Tour features montage sequences supervised by Martin Scorsese. The film was released on November 1, 1972.
The Elvis On Tour box set includes behind-the-scenes liner notes by Jerry Schilling, a longtime personal friend and member of Elvis' inner circle. The package also features an illuminating essay by rock historian/musician Warren Zanes, founding member of the Del Fuegos and Professor at New York University.
According to Zanes: "The set lists and the performances of the Elvis On Tour period bring a rare thing: a fifties legend working in the early seventies who was still taking his audiences to new places….The core band, including Ronnie Tutt, James Burton, Glen D. Hardin, Jerry Scheff, John Wilkinson, Charlie Hodge, the Sweet Inspirations, J.D. Sumner and the Stamps Quartet, and an orchestra led by Joe Guercio, had gotten to a place at which Elvis could inject spontaneity, allowing the arena shows to have a measure of the unexpected….
"1972 was a year of one-hundred-sixty-five performances. In Jorgensen's words, it was a 'climax of his career.' While the '68 Comeback Special marked the significant point at which Presley returned to live performance, 1972 was the year in which the artist revealed most completely what he wanted to do with the creative energy such a return kicked off."
A definitive portrait of the artist in 1972, the Elvis On Tour box set arrives in the wake of the release of Warner Bros Pictures' epic big-screen drama, ELVIS, from filmmaker Baz Luhrmann, starring Austin Butler in the title role and Tom Hanks as Colonel Tom Parker, Elvis' longtime manager and technical advisor.
"Compiling this set was very easy – include everything RCA recorded," explained Ernst Mikael Jørgensen in a 2022 email. "So that's what we did. The surprise in here is just how well is Elvis singing and the tightness of his band. The shows are the climax of 'The Elvis Presley Show' as we know it, eventually reaching its commercial peak with Aloha from Hawaii."
After my family saw Elvis Presley the '68 Comeback Special, my parents Hilda and Marshall went to see one of his August 1969 shows at the International Hotel in Las Vegas and afterwards gave me an enthusiastic review.
On November 14, 1970 I took three buses from West Hollywood to Inglewood to see Elvis Presley's debut at the Forum, his first concert in Southern California in 13 years. In 1968 I saw the Doors at the Forum, the Rolling Stones twice in 1969 at the same venue and now Elvis. It was a devoted beehive hairdo crowd like a casting call from another era. Thousands of cameras clicked and flashed when Elvis emerged on stage. Presley's voice sounded terrific as I sat in the colonnade section.
Returning home later that evening, I discussed the one-hour Presley show with then GO! magazine reporter Rodney Bingenheimer at the Hollywood Ranch Market on Vine Street over hot tater tots.
"I worshiped The Elvis the '68 Comeback Special and he was back on the pop charts again," beamed Bingenheimer. "During 1969 when I was writing a column for GO! magazine. I went to the Elvis press conference in Las Vegas when he was making his debut at the International Hotel. I know he played Las Vegas in the fifties on a bill with Liberace, but this was Elvis' return to performing after eight years. Grelun Landon, who was the head PR guy at RCA in Hollywood, took care of me. Nick Naff the PR guy from the Las Vegas International wanted me to cover the opening night as well.
"As a fan and reporter, I had a weekly music column in a national paper distributed in record stores, as FM radio was only a year or two old at the time. Over the years I was at many Elvis' openings and closings. After the first show in August 1969, and around a couple of parties, Colonel Tom Parker told me that Elvis saw GO! and said, 'Get me a subscription to GO!'"
Grelun Landon who helmed the RCA Public Affairs office at the record label was the first advocate of my nascent music journalism efforts. In 1972, Grelun arranged two press tickets for Presley at the Long Beach Arena on November 15.
I sped over to the RCA 6363 Sunset Boulevard building to get the ducats. I encountered Col. Parker in the elevator, and magazine columnist/English Disco nightclub owner Rodney Bingenheimer, picking up his Elvis tickets. Parker handed us Presley Christmas calendar cards and we still have them.
Grelun played us an acetate of a dramatic Presley live version of Marty Robbins' "You Gave Me a Mountain" that sounded fantastic.
Man, I was ready for Elvis Presley in Long Beach.
I was aware of earlier well-received and heralded four Presley dates in New York in June of 1972 at Madison Square Garden. George Harrison, Paul Simon, Lenny Kaye, manager/record producer Mike Appel with his client, Bruce Springsteen, and David Bowie were in attendance. So was music archivist and rock historian Ron Furmanek.
"Went to all the shows, waited on line for 20 hours for tickets, had 2nd, 3rd, and 4th rows center," marveled Furmanek in a November 2022 email exchange. "Shot super 8 film too, saw Colonel Parker standing in front of the stage, and to have Elvis right in front of you like that was amazing! I took my eleven year old little brother. It was his first concert!"
After I left that awe-inspiring Elvis Presley Long Beach Arena show from mid-November '72, I felt, or recognized, the influence of music director William (Billy) Goldenberg on Presley's set list and his 1968-1972 recording career. Goldenberg had collaborated with director/producer Steve Binder and engineer/producer Bones Howe on the Elvis Presley the '68 Comeback Special
Goldenberg, a graduate of Columbia University and a protégé of the Broadway Legend, composer Frank Loesser (Guys and Dolls), brought a rich harmonic sensibility to his craft that remarkably suited the caterwauling punch of fifties rock 'n' roll.
"I met Billy Goldenberg, the musical director when I was directing [the pop music TV series] Hullabaloo," recalled Binder in a 2008 interview. "He was working with Peter Matz, who was the musical director on Hullabaloo and Billy was the dance arranger. Then I brought Billy along to do Elvis. And the fact that there is this Jewish New York Broadway kid who basically in 1968 re-shaped Elvis' entire musical career, the two of them hit it off so well. It really says something important about opposites attract."
Goldenberg subsequently was the musical director and scored Presley's 1969 movie A Change of Habit. In the very early seventies, he composed music for Steven Spielberg's television episode in the Rod Serling- hosted Night Gallery.
"From the very first meeting I liked Elvis," expressed Goldenberg in an interview we conducted in 2008. "We had a great rapport. He always looked after me and was supportive. There was a movie soundtrack by Quincy Jones, In Cold Blood, probably the most interesting score I had ever heard at that point. It was a fusion of that kind of country redneck sound but at the same time something very classical underneath it all. Evil, sexual, and spooky. Elvis personified all of those things. And the music had too as well.
"His voice invited you into the arrangements. I wanted it all to be seductive. Because Elvis was the ultimate seducer. It also touched on some of the Beatles' stuff. The darker Beatles' stuff. And I knew Elvis would get it because he was really a receiver," summarized Billy.
Steve Binder, the director of Elvis Presley The '68 Comeback Special in 2005 told the Elvis Australia fan club that Goldenberg had "truly changed" Presley's musical direction. "After that he loved big bands and full orchestras."
On September 1, 1957. Elvis Presley performed at Seattle's Sick's Stadium. James Marshall Hendrix is fourteen years old, as impressionable as a Little Leaguer on opening day. He made detailed notes on every song Presley did—'Hound Dog' in particular captured his ear. In 1969 Jimi Hendrix jammed on a version of 'Hound Dog' while he and his father Al were making up songs inside Jimi's apartment documented in film footage.
Last century I asked the songwriting and production team of Jerry Leiber and Mike Stoller about working with Presley. Their tunes are covered on Elvis on Tour, including "Hound Dog."
"Hound Dog" was initially written at the request of Johnny Otis, the bandleader and A&R man for Big Mama Thornton, who wanted Leiber and Stoller to listen to his acts and see if they could write some songs for them. Elvis knew the Big Mama 'Hound Dog' record, because he was a student," underlined Mike Stoller. "And it was a woman's song. Jerry wrote the lyrics for Big Mama and I think we recorded it in 1952, and it was released in early '53. It was a big R&B hit. In 1956 Elvis heard a lounge act doing it in Las Vegas."
"Jerry and I actually produced, without credit, the records, our songs in particular, that were in the M-G-M film Jailhouse Rock. He asked for us to be there. We had never met him before. He was a very good-looking young man, very energetic. I mean, he just kept going and going in the studio. He'd say, 'Let's do another one.' And it would go on and on until he felt he had it. The studio was booked for the day, and we were used to three-hour sessions."
"He loved doing it," reinforced Jerry Leiber. "He wasn't someone who was doing it and wanted to go home, like a lot of people. He had more fun in the studio than he did at home. He was very cooperative and a workhorse."
"I ended up spending a little more time with him than Jerry," added Stoller, "because I played the role of his piano player in Jailhouse Rock, which Jerry was supposed to play, but he had to go to the dentist that day," Mike volunteered.
"I thought he was the greatest ballad singer since Bing Crosby," emphasized Jerry. "I loved to hear him really do a ballad, because we were writing rhythm & blues, torch ballads. As far as I'm concerned, nobody cuts Little Richard on rhythm tunes. You have to go far and wide. But Presley was the ultimate in the ballad. It was just his singing. Pure talent."
In 1974, I covered the Beverly Hills press conference for Melody Maker when George Harrison announced his solo tour. He itemized charities he would be working with that year including, "a concert in Los Angeles for the Self Realization Fellowship. It was founded by Paramahansa Yogananda. He happened to be a big influence in my life. I'd like to repay his in a small way."
Paramahansa Yogananda, who was born Mukunda Lal Ghosh, (January 5, 1893-March 7, 1952), was an Indian Hindu monk, yogi and guru whose teachings of meditation and Kiya Yoga reached millions of people through his organization Self-Realization Fellowship. His teachings of yoga provided unity between Eastern and Western religions. During 1925 in Los Angeles, he established an international center for SRF.
Yogananda's life story, Autobiography of a Yogi, was initially published in 1946, and expanded by him in subsequent editions. It's been a perennial best seller having sold millions of copies, and translated into many languages. George Harrison would give the book to friends and musical associates.
In 1950, Yogananda held the first Self-Realization Fellowship World Convocation at the international headquarters in Los Angeles. He also dedicated the beautiful SRF Lake Shrine in Pacific Palisades that has since become one of California's most prominent spiritual landmarks.
Elvis Presley had visited Self-Realization Fellowship center on Sunset Blvd. near the Pacific Coast Highway in Southern California and devoured Autobiography of a Yogi from the movement's founder, Paramahansa Yogananda. Presley and his wife Priscilla also had a friendship with Daya Mata of the SRF retreat in the Mount Washington area in East Hollywood. Sir Daya Mata, born Rachel Faye Wright, was President and spiritual head of SRF from 1955 to 2010.
In Elvis and Me: The True Story of the Love Between Priscilla Presley and the King of Rock N' Roll, by Priscilla, with contributions from Sandra Harmon, Priscilla mentioned her husband's fascination with spirituality. Elvis made several trips to the Mount Washington retreat for sessions with Daya Mata hoping to attain the highest form of meditation.
"As Elvis' fascination with occult and metaphysical phenomena intensified, [his friend] Larry introduced him to the Self-Realization Fellowship Center on Mount Washington, where he met Daya Mata, the head of the center," Priscilla wrote. "She epitomized everything he was striving to be." According to Priscilla, "Mata resembled Elvis' mother, Gladys Presley." Elvis would call her "Ma."
Jerry Schilling is the author (with Chuck Crisafulli) of Me and a Guy Named Elvis. Jerry was a longtime insider/adviser and trusted Presley employee. Last decade I interviewed Schilling, one of the executive producers on HBO's Elvis Presley: The Searcher. He currently manages the Beach Boys.
"Elvis was a seeker," described Schilling. "He did go to the Bodhi Tree (spiritual book store in West Hollywood that opened in July, 1970). There was a part of our group that did not like that. I was in the minority with Larry Geller. Elvis was open to show a spiritual and vulnerable side. He was into that. What I loved about it was that through his spiritual quest I got to know the man even deeper. We would go to SRF in Pacific Palisades and Mt. Washington in East Hollywood many times."
In 2004 I asked record producer and author Andrew Loog Oldham about Elvis Presley for my book Hollywood Shack Job: Rock Music In Film and On Your Screen.
"Man of hope, dreams and glory," replied Oldham, who produced the Rolling Stones' 1964-1967 sessions at RCA studios in Hollywood.
"You must remember that Elvis only toured the UK on screen and vinyl, therefore he had the first and last word and the best audio and lighting. This was also the era when TV was a black and white affair afforded by the few that ran from 5PM to 10 PM and did not feature the likes of Elvis. I think King Creole, Jailhouse Rock and Flaming Star were best; loved the interplay with Katy Jurado; loved him with Carolyn Jones in King Creole …
"Elvis seemed to have these great confrontations with older ladies in his flicks, Lizabeth Scott in Loving You. The images that I remember best are Elvis singing 'Crawfish' on a balcony in New Orleans is just classic, singing 'Baby, I Don't Care' poolside in Jailhouse Rock in those great Zoot suit pants, cable knit sweater with the pure Armani neck and those black and white loafers to die for.
"Elvis gave us hope and attitude. The Beatles opened our minds and hearts but Elvis opened our legs, of course the pill helped."
© Harvey Kubernik, 2022
In 2008 Harvey Kubernik penned the liner notes to Elvis Presley the '68 Comeback Special box set 40th anniversary edition. He is also an interview subject on the 40th anniversary deluxe edition Jailhouse Rock DVD where he comments on Presley's singing, dancing and choreography for the "Jailhouse Rock" number captured on screen.
Kubernik is the author of 20 books, including Leonard Cohen: Everybody Knows published in 2014 and Neil Young Heart of Gold during 2015. Kubernik also authored 2009's Canyon Of Dreams: The Magic And The Music Of Laurel Canyon and 2014's Turn Up The Radio! Rock, Pop and Roll In Los Angeles 1956-1972. Sterling/Barnes and Noble in 2018 published Harvey and Kenneth Kubernik's The Story Of The Band: From Big Pink To The Last Waltz. In 2021 the duo wrote Jimi Hendrix: Voodoo Child for Sterling/Barnes and Noble. Otherworld Cottage Industries in 2020 published Harvey's book, Docs That Rock, Music That Matters. Kubernik's writings are in several book anthologies, including, The Rolling Stone Book Of The Beats and Drinking With Bukowski. Harvey wrote the liner note booklets to the CD re-releases of Carole King's Tapestry, The Essential Carole King, Allen Ginsberg's Kaddish, the Ramones' End of the Century and Big Brother & the Holding Company Captured Live at The Monterey International Pop Festival.
---