Featured

News

By Jay Dobis     Erkin Koray, aka Erkin Baba, the father of Turkish Rock 'n Roll (he put together the first Turkish rock band (Erkin Koray ve Ritmcileri) in 1957 when he was a high school student

Featured

Articles

By Harvey Kubernik   To celebrate the 50th anniversary of The Roxy and its enduring relevance, the Grammy Museum announced a new exhibit, The Roxy: 50 Years On The Sunset Strip, which explores the
Jon Is Lord (1941-2012)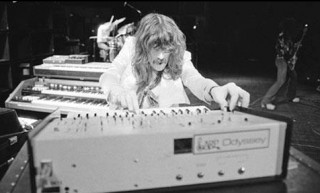 Born into a family who enjoyed makin' a migh-tee racket, Jonathan Douglas Lord (June 9, 1941), sprung from the Leicester well that flowed forth with his saxophone player father and musical siblings. The harnesser of the hellish Hammond—who rocked the same encrusted C3 since '73—and living godhead of Heavy Metal Thunder birthed a inimitable sound of power and nuance with the Purp, amidst some of the most beastly rock'n'roll ever put to tape, with classical flourishes serving as an underpinning but never being overplayed—separating himself from some of the more high-falutin' exponents of progressive rock. His ever-present organ first bubbled to the surface in ace R&B/Blues/Soul combo the Artwoods, who cut many fine records and served as backing for touring Americans such as Bo Diddley and Little Walter. So impressed with their skills, Bo hisself planned to have the boys record and tour as his band in the States, but unfortunately no American band availed themselves for the exchange program which was in place at the time. I've long thought they were one of the more legit Brit interpretations of American R&B and apparently I'm not alone in that thought, so sez Little Walter: "I thought white boys couldn't play the blues, but they were playing the hell out of the music. Them boys was as pure in the blues as many a negro back home, in fact there's many a player in the States couldn't keep up with them."
Sadly, earlier this month we lost the Lord in a London Clinic from the combination of pulmonary embolism and his battle with pancreatic cancer. Below Doug Sheppard spins his personal tale of decades-long Purp pleasure and Lord worship. Following that Hush for a minute and partake in some of the inspired madness in the YouTube playlist selected by Doug and myself. (jeremy nobody, esq.)
When a favorite musician dies, it's sad from a standpoint of losing their talents and the potential to ever enjoy those talents again—but it's not like losing a family member. You listened to their music and maybe even went to their shows, but you didn't share in any life experiences with them.
Some, however, transcend the anonymity of the average fan-musician relationship when their music ends up shaping your life in a significant way. Jon Lord, who passed away at age 71 on July 16, was such a musician to me. Had it not been for Jon Lord—or should I say Deep Purple—I probably would not even be writing this.
Deep Purple came into my life at age 10 (going on 11) in the summer of 1980, when the only music that meant anything to me was the Beatles. Just about everything I'd heard on FM radio—no need to recount how awful AOR, disco and that year's Top 40 were—left me cold. (Tellingly, I'd discovered the Beatles via reruns of their cartoons.) Until one June day when "the riff" came on…
Hearing "Smoke on the Water" was like seeing a new Ferrari drive out of a junkyard. Played to perfection by perfectionist Ritchie Blackmore on a Stratocaster, the riff was powerful, catchy and monolithic—a collusion of metallic megawatt ecstasy and an R&B base that no AOR ever had. With Ian Paice's hi-hat punctuating every verse and memorable chorus, Roger Glover's bass moving like a stealthy snake, Ian Gillan's restrained yet melodic vocals and Lord's brilliant Hammond C3, it was flawlessness all around.
From that moment forward, I was hooked. More importantly, I knew I had to dig deeper than the Top 40 to hear good music. Deep Purple may have sold millions in the early '70s, but by 1980, they were out of fashion. These were the days when major labels and their lame-ass radio accomplices were hyping new music as Something You Must Own simply because it was new; old music was out because it was old. So you barely heard "old music" like Deep Purple on the radio and were considered unhip if you liked it.
Or so I was told by a few of my fifth grade classmates in suburban Pittsburgh. But I didn't care. With Deep Purple seemingly always at the forefront of the "never heard of them" whine I've heard many times since, I began reading rock encyclopedias and accumulating records as best I could with my limited pre-teen funds—with my fanaticism ultimately leading to the music writing I've done for the past 22 years.
But Deep Purple wasn't just at the forefront because they happened to be on the right radio at the right time. They were a great band—as great as anyone during their initial 1968-1976 run and even in some of the post-reunion days of 1984 to the present. As veterans of Johnny Kidd & the Pirates, the Outlaws, Screaming Lord Sutch & the Savages, Joe Meek sessions and the Artwoods, they began as a hard-hitting take on Vanilla Fudge with classical overtones in Mark I, turned in to a pulverizing powerhouse with a tinge of Little Richard in Mark II, got more soulful in Mark III and went into funk with both feet in Mark IV—every lineup recording at least one classic album.
The only constants through all four Marks were Paice and Lord. Lord was the leader of the band in the early days and, while that would change in subsequent lineups, always a key player in their distinct sound. Lord brandished the Hammond C3 not as an instrument to fade into the background, but as much a primary element of the sound as the guitar. His tasteful, restrained side is what made the band's version of Donovan's "Lalena" (also featuring a brilliant Rod Evans vocal) and the classic intros to "Child in Time" and "Lazy" memorable. His solos on "Hush," "Fireball," "Highway Star," "Burn," " 'A' 200" and many others are pure magic—using flamboyance and virtuosity to push the heavy rock envelope while stopping just short of overindulgence. He could even lay back—as in way back—for the mystical intro to "This Time Around," a highlight of 1975's underrated Come Taste the Band.
Tellingly, it was Lord's loud Hammond that signaled the band's return as the intro to the title track of their 1984 comeback, Perfect Strangers—which for me was a godsend in the musical wasteland of the 1980s. Not only because that one did get airplay (payola's not all bad I guess)—but because the resulting tour meant I finally got to see Deep Purple. The records were powerful—but nothing compared to seeing them live at the Pittsburgh Civic Arena in February 1985 and again at Richfield Coliseum in May 1987. Yeah, they were arena rock shows with all the requisite pomp and indulgences. But I say that guys who actually cut their teeth in the early to mid-'60s UK rock'n'roll and R&B scenes—as opposed to merely worshipping it after the fact like their critics—have every right to indulgences. Especially when those indulgences include Lord's house-shaking Hammond solos, delivered almost like a dirty old man smashing a synthesizer (this was the '80s, after all) with a cricket bat: over the top but not overindulgent.
Jon Lord, of course, also had a distinguished pre-Purple history including the Artwoods, the Flowerpot Men and Santa Barbara Machine Head, plus post-Purple solo efforts and stints in bands like Paice, Ashton & Lord and Whitesnake. But you can read plenty about that somewhere else—not to mention the influence of Deep Purple on many bands that followed in their wake. His memorial will be tinted metallic purple figuratively and maybe even literally, and it's that color that's moved me the most.
Doug Sheppard
---