Featured

News

Come celebrate Ugly Things Magazine 40th birthday with us! Mark your calendars, take your vitamins, polish your boots and drag a comb across your head. We have a special event planned August 25-26

Featured

Articles

By Harvey Kubernik   There's a newly published book on the cult American band Spirit by Rev. Keith A Gordon, now available from SonicBond Publishing, SPIRIT On Track. It's a journey through ever
Jack Good 1937-2017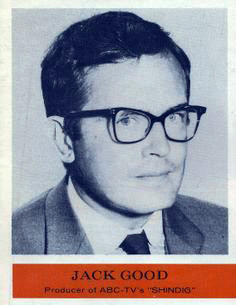 By Harvey Kubernik 
Jack Good, producer of the landmark Shindig! television series passed away on September 24, 2017.  I learned the news from deejay Rodney Bingenheimer. Good also produced a very early TV special Around the Beatles in 1964.
Shindig! was a seminal pop and rock music series that changed the music and frame game. It debuted September 1964 and ran through 1965 and was shot in L.A. at ABC Prospect Avenue Hollywood studios Initially it was a weekly half-hour spot that was extended to two weekly half hour episodes. No Jack Good, no MTV.
I went to live tapings as a teenager. I cited the program in my 2004 book Hollywood Shack Job: Rock Music in Film and On Your Screen. Rodney saw the Animals and the Stones. I have a fond memory of the Four Tops. Live vocal track from Levi and the group over a pre-recorded track by the Shindig! house band. The show might have aired nationally in black and white but what I saw was in living color. The Four Tops were clad in matching iridescent green suits, moving to "I Can't Help Myself (Sugar Pie Honey Bunch)."
Andrew Loog Oldham was the manager/record producer of the Rolling Stones 1963-1967 who booked the Stones on Shindig! in 1965. It's an episode that also featured Howlin' Wolf. In  Hollywood Shack Job, Oldham told me, "The British fashion business was the first pop business. At the same time poor British pop music had its moments, grand magical moments like Jack Good's TV shows, Oh, Boy! and Boy Meets Girl, but the music we had was hardly exportable. All that ever got out and onto the Ed Sullivan TV show and the American airwaves was the one-offs and the freaks—Acker Bilk, Jackie Dennis and Laurie London.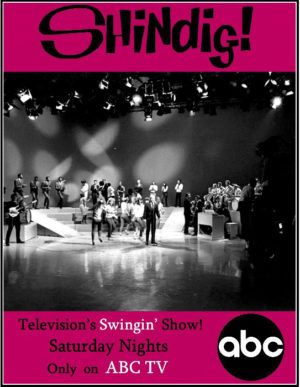 "How vaudeville and World War II begot a middle class trad-jazz which begot skiffle and imitative well-meaning pop and eventually this little cluster of about 300 white kids with a passion for rhythm 'n' blues. How before the Beatles there was a Jack Good, Eddie Cochran, Little Richard, Buddy Holly, Billy Fury, Marty Wilde and Cliff Richard and the Shadows that ran that first all-important mile."
In my book Turn Up the Radio! Rock, Pop, and Roll in Los Angeles 1956–1972, singer/pianist Ian Whitcomb reflected on Shindig! to me. "I had been a guest several times on producer Jack Good's TV series, Shindig!, that was filmed in Hollywood at ABC-TV. Jack had a background in drama at Oxford. When he did the earlier Oh Boy! television music series in England, he had everything organized and synchronized. So Jack saw the dramatic potential of rock 'n' roll. To that point, it hadn't been exploited or explored in this country. You simply had teenage kids dancing with each other on the Dick Clark shows. Jack had this dramatic view. The Shindig! shows were done live, and the backing tracks of the music were done on Melrose Avenue at Nashville West, next to Nickodell Restaurant near Paramount Studios. It took a week to make a Shindig!"
In a 2000 interview I talked about Shindig! with keyboardist/arranger/composer/and producer Jack Nitzsche. "I spent a day with Howlin' Wolf on the set of Shindig! I went down there with the Stones, and Sonny & Cher were there, too.  So Sonny introduced me to Howlin' Wolf and I was speechless.  He was imposing.  There was a sweetness in there you could see.  And anyway, we were sitting there for a long time and he was sitting next to me and he had a friend with him who was a little older, and strange.  He wore a cowboy hat, boots and a bolo tie.  Western attire.  We sat together and I was content just to sit and not even speak.  Just to be in the man's presence, ya know.
"So, after a while, we got to talking and he became more comfortable.  So did I.  He said, 'I didn't introduce you to my friend.  Jack, this is Son House. . .'  I'm sitting with Wolf and Son House.  I saw the Stones sitting around Howlin' Wolf when he performed.
"You should have seen the take they stopped. They made him stop in the midst of a take.  'Cause he was like 300 pounds.  Huge and he had a toy harmonica, a tiny harmonica that he would put in his mouth.  He could hold it between his lips.  Oh man. So, he got up there on stage to do his set and he put that little harmonica in his mouth.  That was the surprise.  The band was playing, and it came time for the instrumental and he was kinda dancin' around when he came up again for air, he was playing harmonica and holding the microphone.  It was theatrical and funny stuff for the fish fry.  I had to use a Wolf track on Blue Collar.
"I met Leon Russell with Jackie DeShannon; she introduced me. Leon at the time was playing piano in a bar in Covina. He was an innovative piano player. He was good. In those days it was real hard to find rock 'n' roll piano players who didn't play too much. Leon talked the same language. You could really hear Leon play in the Shindig! television band. I put him in the TAMI Show band, and he's all over the soundtrack. I knew Leon would emerge as a band leader."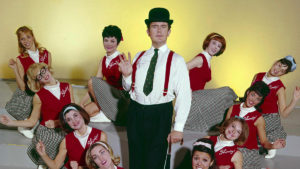 In 1985, I watched a Marvin Hagler and Thomas Hearns boxing match with Jack Nitzsche and Denny Bruce inside Bruce's Bel-Air home. That night Nitzsche touted and endorsed Good's telegenic musical vision but also lamented network executives who couldn't handle race mixed recording artists vocalizing together on camera in their early 1964 Shindig! TV pilot. Our current politically correct climate prohibits me from printing Jack's specific memory statement and exact racist wording of a cautionary remark he heard at the time uttered from a couple of former  ABC programmers and censors. In addition, brass also didn't want Jack's Caucasian wife, Gracia, a studio background singer and a regular member of the Blossoms, Shindig! regulars, to appear on the weekly series with them.
By January '66 Good had his final argument with ABC executives, splitting from Shindig! He went on to produce the locally shot TV special 33 1/3 Revolutions per Monkee that was broadcast on NBC-TV on April 14, 1969. Fats Domino, Little Richard, Jerry Lee Lewis, the Clara Ward Singers, the Buddy Miles Express and Brian Auger, Julie Driscoll and the Trinity were the guests.
Harvey Kubernik is the author of 12 books, including Leonard Cohen, Everybody Knows, and Neil Young, Heart of Gold.  In April 2017, Sterling published Kubernik's 1967 A Complete Rock Music History of the Summer of Love. Kubernik's literary anthology Inside Cave Hollywood: The Harvey Kubernik Music InnerViews and InterViews Collection, Vol 1 will be published during November 2017 by Cave Hollywood.    
---