Featured

News

By Jay Dobis     Erkin Koray, aka Erkin Baba, the father of Turkish Rock 'n Roll (he put together the first Turkish rock band (Erkin Koray ve Ritmcileri) in 1957 when he was a high school student

Featured

Articles

By Harvey Kubernik   To celebrate the 50th anniversary of The Roxy and its enduring relevance, the Grammy Museum announced a new exhibit, The Roxy: 50 Years On The Sunset Strip, which explores the
DEL SHANNON – Move It On Over
(Norton, LP)
Due to lucky circumstances one night back in the '80s, I found myself face to face with Del Shannon, my very first rock 'n' roll hero. I mentioned that when I was 10 years old, hearing "Runaway" for the first time had proved a life-changing experience. Although I knew he must have endured many variations of my story through the years, I found Del to be friendly, funny, enthusiastic, and genuinely down to earth. I saw him live a couple of times too, and he always tore the roof off the joint. The whole point of which is to give fair warning: this will not be a clear-headed, objective analysis of his rockingest Berlee and Amy sides. I love this stuff. It's an amazing compilation, the first to focus solely on what I consider the renegade rocker's peak period.
Once he freed himself from the clutches of the Big Top label, Del got to play rhythm guitar on all his records. Al Caiola had handled most of the guitar duties going all the way back to "Runaway," although Del did play rhythm on "Little Town Flirt" and a few subsequent Big Top sessions. Hooking up with Detroit's rockin' Royaltones proved a tailor-made match for Del. During this time, he chose some perfectly suited covers in "Handy Man" and "Do You Wanna Dance," whilst also penning some of his best originals.
His own "Keep Searchin'" tackled the British Invasion head on, hitting the Top 10 in late 1964. Its themes of persecution and paranoia were carried to even further extremes on "Stranger In Town," which reached the Top 30 early the next year. Both of these atmospheric, superbly produced records feature Del's piercing falsetto and rock like crazy. One follow up, "Break Up," has a tough chord progression and is quite strong, although it barely made the charts at the time. Another one, the frenetic "Move It On Over," features a scorching Dennis Coffey guitar solo but inexplicably failed to hit. There are so many other delights here, including the Link Wray-like instrumental "Torture," which makes its vinyl debut.
To repeat: I love this stuff. (Dave Gnerre)
Review originally published in UGLY THINGS #33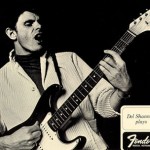 ---