Featured

News

By Jay Dobis     Erkin Koray, aka Erkin Baba, the father of Turkish Rock 'n Roll (he put together the first Turkish rock band (Erkin Koray ve Ritmcileri) in 1957 when he was a high school student

Featured

Articles

By Harvey Kubernik   To celebrate the 50th anniversary of The Roxy and its enduring relevance, the Grammy Museum announced a new exhibit, The Roxy: 50 Years On The Sunset Strip, which explores the
By David Holzer
Fifty years ago, Lou Reed released Transformer. In among "Walk on the Wild Side," "Make Up" and "Vicious," cuts that would launch a cartoon Rock N Roll Animal persona which would typecast Lou for years, was "I'm So Free." A weedy platform-hopping rocker, it's always sounded to me like filler with slapdash lyrics. But, not so long ago, I started to wonder about the "Saint Germaine" Lou references in the song. Up until that point, I'd always assumed he was just one of the real-life Warhol superstars or invented characters with whom Lou peopled the songs on the album:


Oh please, Saint Germaine
I have come this way
Do you remember the shape I was in
I had horns and fins
I'm so free
I'm so free
Do you remember the silver walks
You used to shiver and I used to talk
Then we went down to Times Square
And ever since I've been hangin' round there
It turns out that Saint Germain—as the name is commonly spelled—was an 18th century composer and musician revered by Theosophists as also an alchemist and great spiritual master. Theosophists follow Theosophy, the religious, occultist group co-founded by mystic, author, and trickster Madame Blavatsky in New York in 1875. So, what's Saint Germain doing on an album that has defined a certain kind of sexually fluid, narcotically informed and ham-fistedly decadent rock and roll for decades? And why does it read like Lou is sending up a prayer to him?
The answer, I believe, lies in the fact that, although, as it's commonly understood, alchemy refers to the transmutation of metals and the fabrication of gold, for Theosophists there's a spiritual dimension to the practice. Saint Germain was a spiritual alchemist. Spiritual Alchemy is the transmutation of man's animal nature into the Higher Self. In "I'm So Free," Lou, who had "horns and fins," animal attributes, sounds like he's begging to be transformed. To the accepted meanings of Transformer, spanning transforming underground cult hero Lou into a pop star and blurring sexual identity —"shaved her legs and then he was a she"—among others, I would say we can add spiritual transformation. But that still doesn't explain how Lou even knew about Saint Germain.
Before we go on, I should mention that, in an earlier version of the song recorded in 1970 in Lou's bedroom at his parents' house on Long Island after he'd left the Velvet Underground, he sings "Do you remember the shape I was in/I was covered in sin," making the lyric feel more about redemption. But by October 27, 1971, when the sessions gathered on I'm So Free: The 1971 RCA Demos were recorded, the line had become "I had horns and fins." Lou already had transformation on his mind.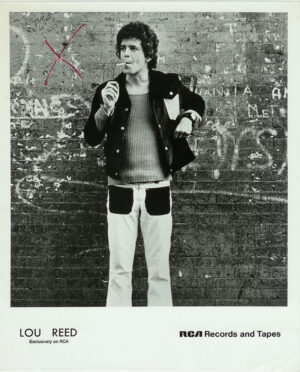 Billy was a good friend of mine
A clue to as to why Lou mentions Saint Germain is buried in the verse that begins "Do you remember the silver walks." My gut feeling is that this refers to Billy Linich AKA Billy Name. Name was part of the group of avant-garde musicians that gathered around drone-meister La Monte Young in the late 1950s—in Billy's own words, he was a "human drone"—before becoming court photographer to Andy Warhol's Factory. Lou and Name were great friends, occasional lovers, and, for a time, fellow methamphetamine devotees. Lou adored Name. Speaking on radio WBCN-FM in Boston in early March 1969, the month the Velvets' third album was released, he describes Name as "divinity in action on earth" and, as the photographer of the cover of the third album, taking pictures that are "unspeakably beautiful…pure space, for people who have one foot on earth and another foot on Venus." When Lou liked someone, he gushed.
Name was responsible for silverizing Warhol's Factory with the tinfoil he slapped on nearly every surface. Talking and shivering suggest speeding. More significantly for our quest to explain the appearance of Saint Germain in the song, Lou also claimed to have introduced Name to the work of Theosophical writer and teacher Alice Bailey:
"A friend of mine got so far into it he locked himself in a closet for two years and never came out and I know exactly what he was doing because I was one of the few people he let in, visited him periodically, checked he was alive and he explained to me what he was doing and I know what…because I was the one who started him on the books [of Alice Bailey] and he went through all fifteen volumes and when you follow that book, it teaches you, you know the seven centers of the body and moving the energy. It can be dangerous. Meditation can be dangerous if it's not done correctly…You can do things that aren't right, but he was literally going off his body cell by cell. It was really something to see."
According to an interview Name gave to UK newspaper The Guardian in 2015, he shut himself away for about a year, but the reason was rather more prosaic. "I didn't really relate to the Factory any more…I'd have visitors like Lou Reed, but I really wanted to get my negatives in order and that took a lot of time."
Name finally left the Factory in 1970 because, as he told author of the piece Sean O'Hagan, he was "saturated by silver." But, all those years later, looking back on his time in the New York avant-garde from a hospital bed in Poughkeepsie, Name said, "I miss the times when I was really free."
---
By Harvey Kubernik
RCA/Legacy Recordings, the catalog division of Sony Music Entertainment released the Elvis On Tour box set, a newly-compiled 50th anniversary celebration of Presley's monumental 1972 concert trek (premiering unreleased live and studio material) digitally in December 2022 and physical issue in 2013 on January 27.
A seven-disc set, with the audio selections available in digital and physical configurations, the Elvis On Tour box set includes six audio discs (premiering previously unreleased Elvis concert performances and studio rehearsals) and Warner Bros. Home Entertainment's Blu-ray edition of the MGM Film, Elvis On Tour, winner of Best Documentary Film at the 30th Golden Globes Awards in 1973 and the last feature film starring Elvis Presley to be released during the artist's lifetime.
The box set is produced by Ernst Mikael Jørgensen and mixed by Grammy Award®-winning Memphis-based producer Matt Ross-Spang. The original recordings were made by Felton Jarvis and Al Pachucki.
Disc 1 was recorded live on April 9, 1972, at Hampton Roads Coliseum, Hampton, Virginia, and contains all previously unreleased material. Disc 2 was recorded live on April 10, 1972, at Richmond Coliseum, Richmond, Virginia, and contains all previously unreleased material. Disc 3 was recorded live on April 14, 1972, at Greensboro Coliseum, Greensboro, North Carolina, and contains all previously unreleased material. Disc 4 was recorded live on April 18, 1972, at Convention Center Arena, San Antonio, Texas, and includes previously released material (from 2003's Elvis: Close-Up box set), remixed for this release.
Disc 5 features the tour rehearsals, recorded live at RCA Recording Studios on Sunset Blvd. in Hollywood, California, on March 30 and 31, 1972. The disc is comprised primarily of previously unreleased tracks in addition to performances previously available on the official Elvis Presley collector's releases Elvis On Tour – The Rehearsals (Follow That Dream CD 2004) and 6363 Sunset Boulevard (Follow That Dream CD 2001) as well as The Great Performances (RCA 1990).
Disc 6 completes Elvis' rehearsals with his band at RCA Recordings Studios with performances recorded March 31, 1972. The disc includes previously unreleased takes on Kris Kristofferson's "For the Good Times" as well as performances previously available only on 6363 Sunset Boulevard, Elvis On Tour – The Rehearsals and Amazing Grace (RCA 2CD 1994).
Presley and band prepared for his 1972 personal appearances at the RCA studios in Hollywood. The facility had been home to Sam Cooke, Bobby Womack, Henry Mancini, Shorty Rogers, Gogi Grant, Jesse Belvin, Jack Nitzsche, Kim Fowley, Nik Venet, Harry Nilsson, Grateful Dead, Jefferson Airplane, Creedence Clearwater, Electric Prunes, the Monkees, Jose Feliciano, Merry Clayton, the Rolling Stones, Andrew Loog Oldham, and Elmer Bernstein.
"Studio A and B were both the same size," described the legendary RCA engineer/producer, Al Schmitt in an interview I conducted with him. "They were big rooms, and then there was also Studio C, a smaller room. You could mix in either room. The studios had very high ceilings and a nice parquet floor. One of the things that made them so unique was that we had all those great live echo chambers. I think there were seven of them. The nice thing about doing everything at one time was that you knew exactly what it was going to sound like.
"RCA had a great microphone collection. Just fabulous. Great Neumann and Telfunken microphones. Great RCA microphones. Plus, they had the great, original Neve console. And they were just spectacular. They were so punchy. There was a punch and a warmth and still one of the best consoles ever made. They were using a lot of Scotch tape then.
"There were no isolation booths. None whatsoever. But we had gobos, we would have around. Like a separator where you could isolate things. We did have some small rugs that we would put down sometimes under the drums and things."
As Elvis Presley's national tour played to sold-out secondary markets across the country in 1972, Elvis was enjoying himself on-stage and finding electrifying new ways of connecting to audiences at every show. Working with a band and set lists of his choosing, Elvis was channeling the music he loved most—from pop and gospel and traditional country to blues and rock and contemporary hits—while transforming his own greatest hits with fresh arrangements, turning nostalgia into an unforgettable concert experience packed with immediacy.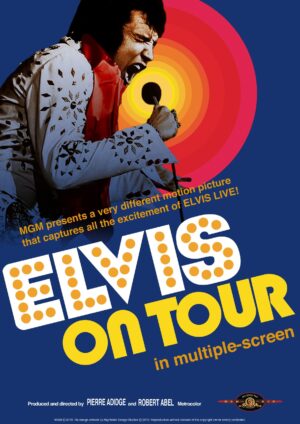 Award-winning filmmakers Pierre Adidge and Robert Abel (Mad Dogs & Englishmen) went on the road with Elvis Presley and his band with all-access passes, cameras and crew to chronicle the King of Rock & Roll at his on-stage peak in MGM's Elvis On Tour documentary film.
The film captures Elvis, the human being driving the myth, behind-the-scenes backstage with his eyes open and his defenses down. MGM's original press release described the Elvis On Tour film as "the first intimate look at the enigmatic country boy who became the world's most celebrated musician." Both documentary and concert film, Elvis On Tour features montage sequences supervised by Martin Scorsese. The film was released on November 1, 1972.
The Elvis On Tour box set includes behind-the-scenes liner notes by Jerry Schilling, a longtime personal friend and member of Elvis' inner circle. The package also features an illuminating essay by rock historian/musician Warren Zanes, founding member of the Del Fuegos and Professor at New York University.
According to Zanes: "The set lists and the performances of the Elvis On Tour period bring a rare thing: a fifties legend working in the early seventies who was still taking his audiences to new places….The core band, including Ronnie Tutt, James Burton, Glen D. Hardin, Jerry Scheff, John Wilkinson, Charlie Hodge, the Sweet Inspirations, J.D. Sumner and the Stamps Quartet, and an orchestra led by Joe Guercio, had gotten to a place at which Elvis could inject spontaneity, allowing the arena shows to have a measure of the unexpected….
"1972 was a year of one-hundred-sixty-five performances. In Jorgensen's words, it was a 'climax of his career.' While the '68 Comeback Special marked the significant point at which Presley returned to live performance, 1972 was the year in which the artist revealed most completely what he wanted to do with the creative energy such a return kicked off."
A definitive portrait of the artist in 1972, the Elvis On Tour box set arrives in the wake of the release of Warner Bros Pictures' epic big-screen drama, ELVIS, from filmmaker Baz Luhrmann, starring Austin Butler in the title role and Tom Hanks as Colonel Tom Parker, Elvis' longtime manager and technical advisor.
"Compiling this set was very easy – include everything RCA recorded," explained Ernst Mikael Jørgensen in a 2022 email. "So that's what we did. The surprise in here is just how well is Elvis singing and the tightness of his band. The shows are the climax of 'The Elvis Presley Show' as we know it, eventually reaching its commercial peak with Aloha from Hawaii."
After my family saw Elvis Presley the '68 Comeback Special, my parents Hilda and Marshall went to see one of his August 1969 shows at the International Hotel in Las Vegas and afterwards gave me an enthusiastic review.
On November 14, 1970 I took three buses from West Hollywood to Inglewood to see Elvis Presley's debut at the Forum, his first concert in Southern California in 13 years. In 1968 I saw the Doors at the Forum, the Rolling Stones twice in 1969 at the same venue and now Elvis. It was a devoted beehive hairdo crowd like a casting call from another era. Thousands of cameras clicked and flashed when Elvis emerged on stage. Presley's voice sounded terrific as I sat in the colonnade section.
Returning home later that evening, I discussed the one-hour Presley show with then GO! magazine reporter Rodney Bingenheimer at the Hollywood Ranch Market on Vine Street over hot tater tots.
"I worshiped The Elvis the '68 Comeback Special and he was back on the pop charts again," beamed Bingenheimer. "During 1969 when I was writing a column for GO! magazine. I went to the Elvis press conference in Las Vegas when he was making his debut at the International Hotel. I know he played Las Vegas in the fifties on a bill with Liberace, but this was Elvis' return to performing after eight years. Grelun Landon, who was the head PR guy at RCA in Hollywood, took care of me. Nick Naff the PR guy from the Las Vegas International wanted me to cover the opening night as well.
"As a fan and reporter, I had a weekly music column in a national paper distributed in record stores, as FM radio was only a year or two old at the time. Over the years I was at many Elvis' openings and closings. After the first show in August 1969, and around a couple of parties, Colonel Tom Parker told me that Elvis saw GO! and said, 'Get me a subscription to GO!'"
Grelun Landon who helmed the RCA Public Affairs office at the record label was the first advocate of my nascent music journalism efforts. In 1972, Grelun arranged two press tickets for Presley at the Long Beach Arena on November 15.
I sped over to the RCA 6363 Sunset Boulevard building to get the ducats. I encountered Col. Parker in the elevator, and magazine columnist/English Disco nightclub owner Rodney Bingenheimer, picking up his Elvis tickets. Parker handed us Presley Christmas calendar cards and we still have them.
Grelun played us an acetate of a dramatic Presley live version of Marty Robbins' "You Gave Me a Mountain" that sounded fantastic.
Man, I was ready for Elvis Presley in Long Beach.
I was aware of earlier well-received and heralded four Presley dates in New York in June of 1972 at Madison Square Garden. George Harrison, Paul Simon, Lenny Kaye, manager/record producer Mike Appel with his client, Bruce Springsteen, and David Bowie were in attendance. So was music archivist and rock historian Ron Furmanek.
"Went to all the shows, waited on line for 20 hours for tickets, had 2nd, 3rd, and 4th rows center," marveled Furmanek in a November 2022 email exchange. "Shot super 8 film too, saw Colonel Parker standing in front of the stage, and to have Elvis right in front of you like that was amazing! I took my eleven year old little brother. It was his first concert!"
After I left that awe-inspiring Elvis Presley Long Beach Arena show from mid-November '72, I felt, or recognized, the influence of music director William (Billy) Goldenberg on Presley's set list and his 1968-1972 recording career. Goldenberg had collaborated with director/producer Steve Binder and engineer/producer Bones Howe on the Elvis Presley the '68 Comeback Special
Goldenberg, a graduate of Columbia University and a protégé of the Broadway Legend, composer Frank Loesser (Guys and Dolls), brought a rich harmonic sensibility to his craft that remarkably suited the caterwauling punch of fifties rock 'n' roll.
"I met Billy Goldenberg, the musical director when I was directing [the pop music TV series] Hullabaloo," recalled Binder in a 2008 interview. "He was working with Peter Matz, who was the musical director on Hullabaloo and Billy was the dance arranger. Then I brought Billy along to do Elvis. And the fact that there is this Jewish New York Broadway kid who basically in 1968 re-shaped Elvis' entire musical career, the two of them hit it off so well. It really says something important about opposites attract."
Goldenberg subsequently was the musical director and scored Presley's 1969 movie A Change of Habit. In the very early seventies, he composed music for Steven Spielberg's television episode in the Rod Serling- hosted Night Gallery.
"From the very first meeting I liked Elvis," expressed Goldenberg in an interview we conducted in 2008. "We had a great rapport. He always looked after me and was supportive. There was a movie soundtrack by Quincy Jones, In Cold Blood, probably the most interesting score I had ever heard at that point. It was a fusion of that kind of country redneck sound but at the same time something very classical underneath it all. Evil, sexual, and spooky. Elvis personified all of those things. And the music had too as well.
"His voice invited you into the arrangements. I wanted it all to be seductive. Because Elvis was the ultimate seducer. It also touched on some of the Beatles' stuff. The darker Beatles' stuff. And I knew Elvis would get it because he was really a receiver," summarized Billy.
Steve Binder, the director of Elvis Presley The '68 Comeback Special in 2005 told the Elvis Australia fan club that Goldenberg had "truly changed" Presley's musical direction. "After that he loved big bands and full orchestras."
On September 1, 1957. Elvis Presley performed at Seattle's Sick's Stadium. James Marshall Hendrix is fourteen years old, as impressionable as a Little Leaguer on opening day. He made detailed notes on every song Presley did—'Hound Dog' in particular captured his ear. In 1969 Jimi Hendrix jammed on a version of 'Hound Dog' while he and his father Al were making up songs inside Jimi's apartment documented in film footage.
Last century I asked the songwriting and production team of Jerry Leiber and Mike Stoller about working with Presley. Their tunes are covered on Elvis on Tour, including "Hound Dog."
"Hound Dog" was initially written at the request of Johnny Otis, the bandleader and A&R man for Big Mama Thornton, who wanted Leiber and Stoller to listen to his acts and see if they could write some songs for them. Elvis knew the Big Mama 'Hound Dog' record, because he was a student," underlined Mike Stoller. "And it was a woman's song. Jerry wrote the lyrics for Big Mama and I think we recorded it in 1952, and it was released in early '53. It was a big R&B hit. In 1956 Elvis heard a lounge act doing it in Las Vegas."
"Jerry and I actually produced, without credit, the records, our songs in particular, that were in the M-G-M film Jailhouse Rock. He asked for us to be there. We had never met him before. He was a very good-looking young man, very energetic. I mean, he just kept going and going in the studio. He'd say, 'Let's do another one.' And it would go on and on until he felt he had it. The studio was booked for the day, and we were used to three-hour sessions."
"He loved doing it," reinforced Jerry Leiber. "He wasn't someone who was doing it and wanted to go home, like a lot of people. He had more fun in the studio than he did at home. He was very cooperative and a workhorse."
"I ended up spending a little more time with him than Jerry," added Stoller, "because I played the role of his piano player in Jailhouse Rock, which Jerry was supposed to play, but he had to go to the dentist that day," Mike volunteered.
"I thought he was the greatest ballad singer since Bing Crosby," emphasized Jerry. "I loved to hear him really do a ballad, because we were writing rhythm & blues, torch ballads. As far as I'm concerned, nobody cuts Little Richard on rhythm tunes. You have to go far and wide. But Presley was the ultimate in the ballad. It was just his singing. Pure talent."
In 1974, I covered the Beverly Hills press conference for Melody Maker when George Harrison announced his solo tour. He itemized charities he would be working with that year including, "a concert in Los Angeles for the Self Realization Fellowship. It was founded by Paramahansa Yogananda. He happened to be a big influence in my life. I'd like to repay his in a small way."
Paramahansa Yogananda, who was born Mukunda Lal Ghosh, (January 5, 1893-March 7, 1952), was an Indian Hindu monk, yogi and guru whose teachings of meditation and Kiya Yoga reached millions of people through his organization Self-Realization Fellowship. His teachings of yoga provided unity between Eastern and Western religions. During 1925 in Los Angeles, he established an international center for SRF.
Yogananda's life story, Autobiography of a Yogi, was initially published in 1946, and expanded by him in subsequent editions. It's been a perennial best seller having sold millions of copies, and translated into many languages. George Harrison would give the book to friends and musical associates.
In 1950, Yogananda held the first Self-Realization Fellowship World Convocation at the international headquarters in Los Angeles. He also dedicated the beautiful SRF Lake Shrine in Pacific Palisades that has since become one of California's most prominent spiritual landmarks.
Elvis Presley had visited Self-Realization Fellowship center on Sunset Blvd. near the Pacific Coast Highway in Southern California and devoured Autobiography of a Yogi from the movement's founder, Paramahansa Yogananda. Presley and his wife Priscilla also had a friendship with Daya Mata of the SRF retreat in the Mount Washington area in East Hollywood. Sir Daya Mata, born Rachel Faye Wright, was President and spiritual head of SRF from 1955 to 2010.
In Elvis and Me: The True Story of the Love Between Priscilla Presley and the King of Rock N' Roll, by Priscilla, with contributions from Sandra Harmon, Priscilla mentioned her husband's fascination with spirituality. Elvis made several trips to the Mount Washington retreat for sessions with Daya Mata hoping to attain the highest form of meditation.
"As Elvis' fascination with occult and metaphysical phenomena intensified, [his friend] Larry introduced him to the Self-Realization Fellowship Center on Mount Washington, where he met Daya Mata, the head of the center," Priscilla wrote. "She epitomized everything he was striving to be." According to Priscilla, "Mata resembled Elvis' mother, Gladys Presley." Elvis would call her "Ma."
Jerry Schilling is the author (with Chuck Crisafulli) of Me and a Guy Named Elvis. Jerry was a longtime insider/adviser and trusted Presley employee. Last decade I interviewed Schilling, one of the executive producers on HBO's Elvis Presley: The Searcher. He currently manages the Beach Boys.
"Elvis was a seeker," described Schilling. "He did go to the Bodhi Tree (spiritual book store in West Hollywood that opened in July, 1970). There was a part of our group that did not like that. I was in the minority with Larry Geller. Elvis was open to show a spiritual and vulnerable side. He was into that. What I loved about it was that through his spiritual quest I got to know the man even deeper. We would go to SRF in Pacific Palisades and Mt. Washington in East Hollywood many times."
In 2004 I asked record producer and author Andrew Loog Oldham about Elvis Presley for my book Hollywood Shack Job: Rock Music In Film and On Your Screen.
"Man of hope, dreams and glory," replied Oldham, who produced the Rolling Stones' 1964-1967 sessions at RCA studios in Hollywood.
"You must remember that Elvis only toured the UK on screen and vinyl, therefore he had the first and last word and the best audio and lighting. This was also the era when TV was a black and white affair afforded by the few that ran from 5PM to 10 PM and did not feature the likes of Elvis. I think King Creole, Jailhouse Rock and Flaming Star were best; loved the interplay with Katy Jurado; loved him with Carolyn Jones in King Creole …
"Elvis seemed to have these great confrontations with older ladies in his flicks, Lizabeth Scott in Loving You. The images that I remember best are Elvis singing 'Crawfish' on a balcony in New Orleans is just classic, singing 'Baby, I Don't Care' poolside in Jailhouse Rock in those great Zoot suit pants, cable knit sweater with the pure Armani neck and those black and white loafers to die for.
"Elvis gave us hope and attitude. The Beatles opened our minds and hearts but Elvis opened our legs, of course the pill helped."
© Harvey Kubernik, 2022
In 2008 Harvey Kubernik penned the liner notes to Elvis Presley the '68 Comeback Special box set 40th anniversary edition. He is also an interview subject on the 40th anniversary deluxe edition Jailhouse Rock DVD where he comments on Presley's singing, dancing and choreography for the "Jailhouse Rock" number captured on screen.
Kubernik is the author of 20 books, including Leonard Cohen: Everybody Knows published in 2014 and Neil Young Heart of Gold during 2015. Kubernik also authored 2009's Canyon Of Dreams: The Magic And The Music Of Laurel Canyon and 2014's Turn Up The Radio! Rock, Pop and Roll In Los Angeles 1956-1972. Sterling/Barnes and Noble in 2018 published Harvey and Kenneth Kubernik's The Story Of The Band: From Big Pink To The Last Waltz. In 2021 the duo wrote Jimi Hendrix: Voodoo Child for Sterling/Barnes and Noble. Otherworld Cottage Industries in 2020 published Harvey's book, Docs That Rock, Music That Matters. Kubernik's writings are in several book anthologies, including, The Rolling Stone Book Of The Beats and Drinking With Bukowski. Harvey wrote the liner note booklets to the CD re-releases of Carole King's Tapestry, The Essential Carole King, Allen Ginsberg's Kaddish, the Ramones' End of the Century and Big Brother & the Holding Company Captured Live at The Monterey International Pop Festival.
---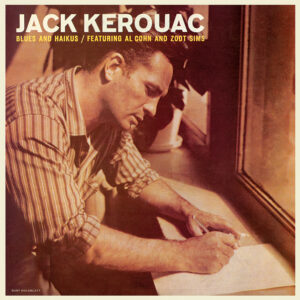 By Harvey Kubernik
Jack Kerouac was a leading prose stylist of the beat movement in literature, author of On the Road, The Dharma Bums, and many other celebrated works. On December 9, 2022, Real Gone Music will release 100th birthday vinyl editions of the author's first two spoken word albums. Poetry for the Beat Generation and Blues and Haikus.
Issued in 1959, Poetry for the Beat Generation was Kerouac's recording debut. As the Real Gone Music press release explains, "Kerouac had completely bombed in his first set during a 1957 engagement at the Village Vanguard when TV personality, comedian, and musician Steve Allen volunteered to accompany him on piano during the second. The results were so impressive that legendary engineer Bob Thiele then brought the duo into the studio to record an album for Dot Records. In true, stream-of consciousness, beat fashion, the entire album was cut in one session with one take for each track, Allen's piano weaving in and out and occasionally commenting on Kerouac's verbal riffs to great effect."
Dot President Randy Wood subsequently rejected the master due to its then-daring language and subject matter.
Only 100 now-very-valuable promo copies were made. Thiele then founded Hanover Records with Allen and released the record in 1959. The Real Gone title due in December will be pressed on milky clear vinyl.
Thiele also produced Kerouac's second album, Blues and Haikus, issued on Hanover later the same year. But this time, he was accompanied by two jazz legends, saxmen Al Cohn and Zoot Sims.
"Big-time post-bop saxophonists Al Cohn and Zoot Sims made their bones in Woody Herman's band, and here they provide effective counterpoint commentary to Kerouac's readings," explains the bio. "As for those who approach this release from a more literary angle, Blues and Haikus reflects Kerouac's interest in Eastern religion and meditative practices as expressed in his novel The Dharma Bums as opposed to the more On the Road-like exultations of Poetry for the Beat Generation.
"But whatever your interest, boppish or bookish, Blues and Haikus is an essential document from one of our most iconic American authors, and, after listening to this album, one thing is for sure: no one is having a better time at this recording session than Kerouac himself! On the occasion of Kerouac's 100th birthday year, this cult classic record comes in tobacco tan vinyl"
##
"When I had my record shop in the middle of Melbourne, Australia in the early 1970s next door to me was a book shop where an old Beat poet worked as the sales assistant," recalled writer and musician, David N. Pepperell. "I found out he actually had copies of the two Jack Kerouac spoken word LP's – impossibly rare and hard to get – and asked him to loan them to me for taping which he very kindly did.
"But this time I had read all of Jack's books and they had vindicated my long held and much-dismissed idea that it was not necessary to try to fit into the world, that the world needed to fit into us. Jack's wonderful novels extolled such a freedom and showed me that I was not alone in feeling an alien in this conservative world and that I had allies in my attempt to remain myself without having to compromise my beliefs to make my way forward. The marvelous writing of his books, the sensitivity to music and art and the love Jack had for all people moved me enormously and I decided if I did become a writer I would try and write like him or at least write words that he would approve of and agree with.
"Simply I became a Beat writer and have been so for the past 55 years. I dearly loved Jack's writing but I was unprepared for the thrill of hearing his voice reading his work with such alacrity and conviction. This gave me a whole new view of him, his writing and his philosophy of life.
"These recordings – with fine musicians like Steve Allen and Zoot Sims and Al Cohn – are precious artefacts in the culture of literature and it is wonderful that they are again available to a New Generation seeking the same truths that Jack always told and always lived. 
"Nice to have the records back on the format – plastic vinyl – that Jack originally recorded it on too!"
"Understanding Jack Kerouac and his writing begins with acknowledging his profound relationship with jazz," explained historian Dennis McNally, author of Desolate Angel: Jack Kerouac, The Beat Generation & America.
"His best writing springs from the same improvisational — 'composition on the fly' — roots as jazz. The deep form that he sought was in the same realm as the sound that Charlie Parker explored. To boot, Kerouac had a beautiful reading voice. Paired with a fine pianist like Steve Allen, he delivered the goods."
"Jack Kerouac's On the Road and October in the Railroad Earth are rhapsodies," offered actor/poet Harry E. Northup. "His prose is like the rolling hills & the open road America; you hear America in his singing, his search for a home. He wrote, that's what he did. The men in the car in On the Road lived outside society as they crisscrossed America. They wrote, that's what they lived for, not conformity.
"I read On the Road, when I was 16, in 1957, when it came out. I had begun hitchhiking when I was 11 and when I was 16, I hitchhiked from Sioux Ordnance Depot to Sidney, in western Nebraska many times. On the Road set my life ablaze with a yearning to burn, as Kerouac said, to blaze away. Did Kerouac blaze? He blazed! And gave us a taste of Romanticism."
"Back in the late '50s as I was completing my high school years, a too-hip classmate of mine tipped me to On the Road, enthused writer/author/reggae scholar, Roger Steffens.
"An avid reader, I devoured four or five books a week in my youth, but I had never encountered prose like Kerouac's. Raised in Brooklyn, and North Jersey, I had no geographic knowledge outside of that cramped terrain, and when the opportunity arose, I bought a '65 yellow Mustang and embarked on a speaking tour of the Midwest, reading Beat poetry to high school classes in a show called Poetry for People Who Hate Poetry. The Beats just felt good in my mouth, and it was thanks to Kerouac that I discovered them too."
##
When I first met and interviewed Ray Manzarek co-founder of the Doors in 1974, he exclaimed, "If Jack Kerouac had never written On the Road the Doors would never have existed."
Over the last five decades, Ray and I discussed Kerouac, the beat generation, and the impact on the Doors.
"My wife Dorothy and I went up to San Francisco in approximately 1963, during a spring break from UCLA. We tried to get up to San Francisco as much as possible. So, we went up to San Francisco and there was a poetry reading going on featuring Lew Welch, who had just come out of the forest after being a hermit for the last three or four years. He was just charged and wired out of his mind. Gary Snyder had just come back from Japan, wearing his Japanese schoolboy suit. He was mellow and tranquil. And Phillip Whalen read and was just a house of fire. Words were coming out of his mouth so fast you had to listen so closely.
"Somebody in the audience yelled, 'speak slower!' And Phillip Whalen stopped for a second after he heard that and said 'listen faster! There were 2,000 people in the audience, man."
We talked about the filmic influences on the Doors and their beatific recording, "L.A. Woman."
"The Doors were part of Raymond Chandler, John Fante, Dalton Trumbo. It was the dark streets and The Day Of The Locust, ya know. Miss Lonelyhearts. That's where the Doors come from. 'L.A. Woman' is just a fast L.A. kick ass freeway driving song in the key of A with barely any chord changes at all. And it just goes. It's like Neal Cassady, Jack Kerouac and Allen Ginsberg heading from Los Angeles up to Bakersfield on the 5 Freeway. Let's go, man."
In 2001, Manzarek reminisced about Jim Morrison and his poetry album An American Prayer.
"It was the first full-length rock 'n roll poetry record. Back in the '50s, we used to get spoken word records by everybody, Dylan Thomas, E.E. Cummings, Kenneth Patchen. This is entirely different. I saw Jim's words before he started writing songs. So, when you see his words on the page that's poetry. I always thought of Jim as a good poet. But when he started writing songs, then everything became verse, chorus, verse and chorus. Really tight, and it was a whole other ball game. He put his words into an entirely different context. A musical context. A hit single in a three-minute context. I thought 'Moonlight Drive' was brilliant when I heard him sing it on the beach in Venice, I thought he had it.
"Lyrics are poetry. The words were well edited. Jim was good that way when it came to songs. When you are doing this written poetry, you can really stretch out and you can really expand.
"With his poetry, he'd throw this out, take this line, or two lines, but when it comes to music you gotta be very choosy because you only have a short period of time. Songs in a way, outside of like 'The End,' and 'When the Music's Over' are sorta like haikus. The fit has to be very tight."
In 1972 I coordinated two accredited upper division English and music curriculum courses conducted by Dr. James L. Wheeler, assistant professor in the School of Literature at San Diego State University. A story in the April 14, 1973 issue of Billboard magazine, the music trade hailed the department's academic aim as "the world's first university level rock studies program."
I invited future authors publicist Sharon Lawrence and music journalist Danny Sugerman, along with singer/songwriter Carolyn Hester to speak to the class. I placed Jim Morrison's The Lords & New Creatures on the required book list and suggested other titles, most notably, On the Road, Lawrence Ferlinghetti's Coney Island of the Mind, and Anthony Scaduto's Dylan A Biography.
Around 1974 or 1975, I had two brief encounters in Hollywood with music journalist and writer, Lester Bangs, a student at SDSU during 1968-1970. It was Grelun Landon at RCA Records in Hollywood who introduced us. One was after a Mott the Hoople concert at the Hollywood Palladium. I praised Lester's review of a Mott the Hoople LP for Creem. He was from El Cajon. We both frequented Ratner's record shop in downtown San Diego and I already knew of his passion for Jack Kerouac. I mumbled something about appreciating his obituary on Kerouac in the November 29, 1969 Rolling Stone.
Lester immediately touted Kerouac's On the Road and Allen Ginsberg's Howl. In 1970, we both saw Ginsberg read his poetry at SDSU's Aztec Bowl. Larry King was there, who later managed the Tower Records stores in San Diego and Hollywood.
##
In the mid-seventies I met Allen Ginsberg. I went with Leonard Cohen, after conducting an interview for Melody Maker, to see him read at Doug Weston's Troubadour club in West Hollywood.
I interviewed Ginsberg at length three times in the eighties and nineties, and also co-promoted several of his Southern California readings in Los Angeles and Santa Monica. In 1982 I produced a live reading of Allen and Harold Norse at the Unitarian Church in Los Angeles.
In 1976 I provided handclaps on two tracks with deejay Rodney Bingenheimer on Cohen's album Death of a Ladies' Man, produced by Phil Spector at Gold Star Recording Studio. On one cut, Ginsberg and Bob Dylan join Cohen on "Don't Go Home With Your Hard-On."
My first Ginsberg interview initially appeared in 1996 in HITS Magazine and a very short edited version was published in The Los Angeles Times Calendar section on April 7, 1997 when the daily newspaper asked me to pen one of the tribute stories on Ginsberg when he died.
When Allen passed on April 5, 1997 in New York City at his East Village loft of liver cancer and hepatitis at age 70, that evening Dylan was playing a concert in the Midlands at the Moncton Coliseum in Moncton, New Brunswick, and dedicated "Desolation Row" to Allen Ginsberg. Dylan had not been including the song in recent gigs.
During 1999, a portion of one of my Ginsberg interviews was published in The Rolling Stone Book of the Beats. In 2007 I wrote the liner notes to the first-ever CD release of Ginsberg's Kaddish for Water Records.
"I learned a lot from William Carlos Williams, and the elders of my generation," underlined Allen. "People who were much older than me when I was young. And that inter-generational amity is really important because it spreads myths from one generation to another of what you know, and all the techniques and the history.
"And I get the same thing whenever I get to work with younger people. And I learn from them. I don't think I would have been singing if it wasn't for younger Dylan. I mean he turned me on to actually singing. I remember the moment it was. It was a concert with Happy Traum that I went to and saw in Greenwich Village. I suddenly started to write my own lyrics, instead of Blake.
"Dylan's words were so beautiful. The first time I heard them I wept. I had come back from India, and Charlie Plymell, a poet I liked a lot in Bolinas, at a 'Welcome Home Party', played me. Dylan singing 'Masters Of War' from Freewheelin' Bob Dylan, and I actually burst into tears. It was a sense that the torch had been passed to another generation. And somebody had the self-empowerment of saying, 'I'll Know My Song Well Before I Start Singing It.'
He spieled on the current interest in beat-inspired writers.
"The renewed interests stem from the fact that we were being more candid and truthful than most other public figures or writers at the time. We were switched over to writing a spoken idiomatic vernacular, actual American English, which turned on many generations later. Dylan said that Kerouac's Mexico City Blues had inspired him to be a poet. That was his poetic inspiration.
"So, I think what happened is that we followed an older tradition, a lineage, of the modernists of the turn of the century continued their work into idiomatic talk and musical cadences and returned poetry back to its original sources and actual communication between people. That was picked up generation after generation up to people like U2, who are very much influenced by Burroughs in their presentation of visual material. Patti Smith, and Thurston Moore and Lee Renaldo of Sonic Youth are interested in poetry.
"Earlier, there was the poetry and music. King Pleasure, and the people who were putting together be-bop, syllable by syllable, like Lambert Ross and Hendrix. I knew them in 1948. We used to smoke pot together in the '40s, when I knew Neal Cassidy, around Columbia when I was living on 92nd Street.
"Around 1944, '45, Kerouac and I were listening to Symphony Sid, and I heard the whole repertoire of Thelonious Monk, 'Round Midnight,' 'Ornithology' and all that. I actually saw Charlie Parker, weekend after weekend a few years later at The Open Door. Later on, I spent an evening with him, now the Charlie Parker Place.
"Also in San Francisco, in the mid-'50s, there was a music and poetry scene. Mingus was involved with Kenneth Rexroth and Kenneth Pachen. And Fantasy records documented some of that. The Cellar in San Francisco.
"By the time I got around to getting on the radio, it was actually an AM station in Chicago with Studs Turkel; recorded the complete reading of Howl in Chicago, later used for the Fantasy record. It was broadcast censored. '59. KPFA in the Bay Area then started broadcasting my stuff in San Francisco, a Pacifica station. Fantasy put out Howl and that got around. Then, Jerry Wexler at Atlantic, put out Kaddish. It was radio broadcast from Brandeis University.
"So, I think what happened is that we followed an older tradition, a lineage, of the modernists of the turn of the century continued their work into idiomatic talk and musical cadences and returned poetry back to its original sources and actual communication between people.
"I think you'll find in Howl, sympathy. In fact, I remember when Kerouac was asked on the television show William F. Buckley Firing Line in the sixties what 'Beat Generation' meant, Kerouac said, 'Sympathetic.'"
On Bob Dylan's 1975-1976 semi-improvised Rolling Thunder Revue tour, Dylan performed a concert at the University of Lowell in Lowell, Massachusetts.
The following day, Dylan, Ginsberg and some band members visited Kerouac's grave in Lowell on November 2, 1975. The trek was self-promoted, with revolving musicians making guest stops in clubs and small hall venues across the US. The road trip circus came to town, organized by Dylan's friend Louie Kemp, with Bob Dylan assuming a role akin to Kerouac's character Sal Paradise in On the Road.
I asked Ginsberg about Rolling Thunder and the film Renaldo & Clara culled from that expedition.
"Dylan delivers. Well, first of all, it's Dylan extending himself to the extreme, and including all his friends and all his inspirers, and all his workable companions in a big circus going through America. A musical circus. His mother was along at one point. His kids were along at one point. His wife [Sara] was along. Joan Baez's kid was along. So, it was this great family outing trying to hit all the small towns, originally, like in Kafka's America. The traveling circus in Kafka's America.
"For me it was great, and to hear Dylan so often, I was able to hear backstage, in the audience, from the side, in the wings, and go out to the furthest seats with a pass. He was at a peak of musicality and energy and inspiration. Like 'One More Cup Of Coffee' and 'Idiot Wind,' which is one of my favorite lyrics. A national lyric with its great 'Circles around your skull . . .' Really quite manic. It was great to see a band on a rock 'n' roll tour. Rolling Thunder Revue on a grand tour, and see all the work that went into it.
"Renaldo and Clara was a great artistic film that was mocked when it first came out, although it was a hit in Europe, or it was very much appreciated in Europe. Now, when people see it now, I think people will realize it was a great treasure. At first people were screaming 'Four Hours!' 'What a big egotist.' But actually it's four hours of Dylan exploring the nature of identity of self, and pointing out there is no fixed identity. It was making a huge movie in an interesting way."
##
Dylan, via tour manager Bob Neuwirth, asked guitarist/arranger Mick Ronson to join the Rolling Thunder Revue. Ronson had been David Bowie's lead guitarist in Bowie's former band, the Spiders from Mars.
The current David Bowie documentary, Moonage Daydream, illustrates his debt and influence of Jack Kerouac and William Burroughs.
A song by Bowie, "All the Madmen," first heard on The Man Who Sold the World, addresses Bowie's half-brother Terry Burns and his struggles with mental illness. Bowie acknowledges Terry as the first explorer and seeker in the family.
During Bowie's 1974 Diamond Dogs tour, I spent half an hour with David at the Beverly Wilshire Hotel. We talked about beat generation literature and R&B music. We then attended an Al Green concert at the Universal Ampitheater.
I handed Bowie a paperback copy of Ann Charters' Jack Kerouac: A Biography knowing his Spiders from Mars band name had a link to Kerouac's On the Road: "exploding like spiders across the stars." Charters' book is seen by David's hotel bedside in the Omnibus Cracked Actor 1975 UK documentary which aired on the BBC 1 channel.
Jack Kerouac also made an impression on teenage Janis Joplin, then living in Port Arthur, Texas. She attended Thomas Jefferson High School and later the University of Texas in Austin. Three of her favorite writers were Jack Kerouac, Allen Ginsberg and Michael McClure before she then fled to San Francisco.
"I grew up and got to see all the jazz cats in the clubs. Plus, I saw all the beatniks, and great writers and poets," beamed Marty Balin of Jefferson Airplane in a 2014 interview we did. "This is a world before 1967 and the Summer of Love. It started with the beatniks and poets.
"I think San Francisco was full of all these people who were talented and who were expressing themselves or their rights or playing music. And I think San Francisco has a lot to do with that. I don't know if it's the geomagnetic forces of the earth and the ocean but something went on there. It's a lot different than the rest of the world.
"In 1965 I helped open the Matrix Club and did some booking in 1966 and '67. People were coming in looking for places to play, the infamous Warlocks and Janis. I had an immediate influx of people."
In a 1976 interview I conducted with Jerry Garcia inside Bill Graham's Mill Valley residence for the now defunct Melody Maker, Jerry discussed the 1964-1976 sounds emanating from San Francisco. After the session was over, Jerry and I discussed Kerouac. I made a mental note, and had a feeling years later I'd reference Jerry and Jack's contributions in my own nascent literary efforts.
In 1990, I was the Project Coordinator on The Jack Kerouac Collection for the Rhino/WordBeat label. I arranged for Ray Manzarek, Michael C Ford, Jerry Garcia and Michael McClure to contribute to the package booklet liner notes.
In the mid-eighties I produced spoken word and music programs with Manzarek and McClure on bookings with Charlie Haden, Paul Motian, Alan Broadbent, and the Minutemen at McCabe's Guitar Shop in Santa Monica.
In our 1976 interview, Garcia said he first heard the word 'beat generation' in high school in San Francisco, and then a teacher at the San Francisco Art Institute told him about Kerouac's On the Road.
In his Jack Kerouac Collection liner note contribution Garcia stated, "His way of perceiving music-the way he wrote about music and America – and the road, the romance of the American highway, it struck me. It stuck a primal chord. It felt familiar, something I wanted to join in. It wasn't like a club, it was a way of seeing. It became so much a part of me that it's hard to measure; I can't separate who I am now from what I got from Kerouac. I don't know if I would ever have had the courage or the vision to do something outside with my life – or even suspected the possibilities existed – if it weren't for Kerouac opening those doors."
In the product text, I wrote, "Jack Kerouac's influence on my environment, then and now, is obvious. Kerouac's written/verbal work helped me walk around the block so I can still cross the street seeking."
"One of the things you could say about all the bands that came from San Francisco at that period of time was that none of them were very much alike," stressed Garcia. "I think that the world has changed. I think the United States has changed very visibly in the last ten years. A lot of it had to do with what happened in San Francisco.
"I can't say how or why, but I also think it's affected everything. Just all the interest in things like ecology. All the interest in the sense of personal freedom as expressed by all kinds of movements. All these things were designed to free the human. Social overtones. All that stuff. The communal spirit. I really think the scene out here created the possibility for Woodstock to happen. The Monterey International Pop Festival. The thing, the activity, music and people. The set-up was out here."
In Bob Dylan's The Philosophy of Modern Song, he cites the Grateful Dead's "Truckin'," and lyricist Robert Hunter, the "in-house writer-poet, Robert Hunter, with a wide range of influences-everyone from Jack Kerouac to Rilke-and steeped in the songs of Stephen Foster."
Kerouac's fingerprints can also be found in dozens of recordings the last half century, including Tom Waits' "Medley: Jack and Neal/California, Here I Come," King Crimson's "Neal and Jack and Me," and 10,000 Maniac's, "Hey Jack Kerouac." Dylan's "Desolation Row' title is a nod to Kerouac's Desolation Angels.
##
In 1978, I had a meal at Duke's, the coffee shop at the Tropicana Hotel on Santa Monica Boulevard with record freak and sound hound, Guy Stevens. He was an avid R&B music collector, who did talent scout work at Island Records and produced albums by Mott the Hoople and the Clash.
Guy readily confessed that a Mott the Hoople track from Brain Capers, "The Wheel of the Quivering Meat Conception" was a direct homage to Kerouac's own piece, "The Wheel of the Quivering Meat Conception." He mentioned Bob Dylan's "A Hard Rain's A-Gonna Fall," and that he and Ian Hunter, bandleader of Mott the Hoople, were Dylan devoted fans. In fact, at the Mott the Hoople demo audition for Island records, where he was judging talent, Hunter sang a fragment of Dylan's "Like A Rolling Stone," later housed in the Mott The Hoople box set.
"It's no secret that I've always acknowledged Bob Dylan as one of my heroes," expressed Hunter in a 1998 interview we did. "Michael (Mick Ronson) always liked to go to Reno Sweeney's (a club in New York). One night I said to Mick, 'why don't we go down to the Village?'
"I took him down to the Village. He'd never been there before. We went an all hell broke loose. Dylan was playing next door in a little café. Forty people in the room, and he performed what was to be the Desire album. It was great. There he was. What an electric night!
"Mick didn't know what was going on. Bobby Neuwirth then got him the gig with the Rolling Thunder Revue. Dylan recognized me when Neuwirth told him who I was. We were introduced, and Dylan started jumping up and down saying 'Mott The Hoople! Mott The Hoople!' Here I was talking to Dylan, and I thought he didn't like Mott The Hoople by the way he was acting. I didn't need this shit mocking me. But then he turned round and said, 'no. man, I dig Mott The Hoople! 'Half Moon Bay.' 'Laugh At Me.'
"I can't remember what I said to him that night…
"But the two artists I grew up with, Bob Dylan and the Stones (Mick Jagger) were both limited singers. But Jagger was the sexiest singer in the world, and Dylan would make your hair stand on the back of your head. Because his voice was so lousy. That's the truth" he emphasized.
"I've got a lousy voice, and so have Randy Newman and Leonard Cohen. But it doesn't really matter. I'm conscious of not being a good singer, but that's just in your throat. I think we all get the message across."
##
Patti Smith, has read and recorded a Kerouac poem "The Last Hotel" accompanied by music from Thurston Moore and Lenny Kaye. One of her favorite books is Kerouac's Big Sur. Smith appeared in the Rolling Thunder Revue.
Smith, in a 2019 interview with Steven Gaydos of Variety, commented about the Beat poetry world.
"These people I got to know as my friends and mentors — William Burroughs, Allen Ginsberg, Gregory Corso. They treated me really well when I was a girl working in a bookstore, writing poetry, and they became good friends as I got older and they were kind to my children. I never felt excluded. And in terms of rock and roll, I never genderized it — I just loved it, I was equally into Darlene Love and Jimi Hendrix.
"The Beats were all quite educated," she said. "They all had gone through the Romantic poets and European literature and Rimbaud, and they had all this information — and the influence of jazz, with Kerouac writing while listening to jazz. They were all so evolved and intelligent their work was not just revolutionary — it had substance that we're still plowing through. All these great teachers were his spiritual icons and they are all seeded in his work. And they all fought a lot of fights for us, censorship battles and [things like that]. They weren't just workers and revolutionaries; they were teachers, and because many of them lived for a long time, we were privy to their teaching."
In 2011, I interviewed Patti and asked about her improvisational skills and techniques in performing which I felt were akin to Kerouac's recording endeavors.
"They are different responsibilities. Doing a record, one is doing something that hopefully will endure. And one is doing it in a very intimate situation. Just with one's band members and a few technicians, and so it is very intimate, but one is mentally projecting toward the future and the people who'll listen to it. Playing live you are right there with the people. I don't think of live performance as enduring. It's for the moment, somebody might bootleg it or tape it for themselves, but basically, I think of performance for the moment and it's often more raucous, flawed, and you know, totally done for the people that are there."
Twenty years ago, I interviewed Marianne Faithfull. In the early '90s she was made a professor by Allen Ginsberg at the Naropa Poetry Institute in Colorado, where she taught lyric writing. Her certificate says: "Marianne Faithfull, Professor Of Poetics, Jack Kerouac School Of Disembodied Poets."
That afternoon at the Chateau Marmont on Sunset Boulevard, she hailed the books of Kerouac, Burroughs and Ginsberg and grouped Dylan in her literary lineup. Marianne is glimpsed in D.A. Pennebaker's 1965 UK tour portrait of Dylan, Dont Look Back.
"I find them very sexy all those guys. Wonderful. I adore Allen. The first time I went to Naropa, Allen was literally by my side like he is. There was a lot of criticism and 'Who is the woman?' 'Why do you (Allen) think she can do this?' And he didn't say anything. 'I just do.' And then I came back again. We are very good friends. He also represents a lot of things for me that aren't part of our friendship or our relationship. He is the greatest living American poet.
"I had never seen a rock person like Dylan or an American like him in 1965. Never. Never seen. Never in my wildest dreams could have imagined anyone like Bob in 1965. His brain, but I was frightened. I didn't know they were probably more scared of me. He played me the album Bringing It All Back Home himself on his own. It was just amazing. And I worshipped him anyway. That was where I got very close to Allen, 'cause Allen was the only sort of person I could recognize as being somewhat like me."
##
On December 9th comes the return of Jack Kerouac on vinyl with Poetry for the Beat Generation and Blues and Haikus.
"Kerouac is the ultimate WAM, a white American male from the 20th century, 75 years down the road from his creative peak," posed filmmaker Michael Hacker. "It's impossible to read Kerouac now in any kind of quiet, in the stillness that reading demands, too much noise about Elon and Ye and so many other important things and nothing that sounds even remotely like silence anymore. I'd no more suggest to a person today who's never read Kerouac to read him now than I'd suggest trying to find a decent hamburger in Los Angeles. What would be the point?
"But I would suggest listening to Kerouac, because in that space (with earbuds, natch) you can drown out the rest of the world and hear what he was trying to say and listen to his broken heart and see with him through his poetry what he was looking at. And that's worthwhile. If you want to feel what San Francisco was like once upon a time, listen to October In The Railroad Earth. And the Haikus are so wonderful and moving and funny, Ginsberg said Jack was the only American who knew how to write Haiku. My favorite: 'Useless! Useless!
Heavy rain driving into the sea.'"
"For us rock 'n' roll kids who came of age in the '70s and '80s, Kerouac was the portal into literature because he felt like rock and roll," observed author and novelist, Daniel Weizmann.
"His kamikaze crop duster prose, his refusal to play the structure game, his ability to capture tenderness in the middle of chaos, his willingness to be openly enthused, to be jazzed – all of it brought him just a little closer to a spieling boss jock than some arch grey belles lettres schmuck. And despite incredible flights into the ethereal, Kerouac was trustworthy – he kept it real. He was a portal for us, just like he was a portal for the whole culture that led to us. 
"And maybe it's no accident that his masterpiece is about driving westward because Kerouac is also, in some funny way, a California writer, an embracer of the blazing sunlight, a seeker of the untamed. Whether walking the streets of L.A. or S.F. or sleeping in the wild fields, he is never a tourist. 
"We claimed him for our own – a California rock 'n' roll hero — which is amazing when you realize what he also was – a poor French-Canadian kid from Massachusetts who couldn't even speak English before the age of six, a printer's son, a halfback who blew out his leg freshman season, a dishonorable discharge from the US Navy. But he made the journey, he beat down the path, and he was ours."
"Jack Kerouac, for me, belongs with J. D. Salinger, Thomas Wolfe, and E. E. Cummings in the category of writers one must read before turning 20," instructs poet/deejay and retired English and Literature Professor at Cal Poly San Luis Obispo, Dr. James Cushing.
"I read Kerouac's The Dharma Bums at 19 and was utterly captivated by the narrator's devil-may-care way of living and seeing and feeling, his free-flowing writing style, and, most of all, his sense of the freedom to be found on the road. I reread it (along with On the Road and Mexico City Blues) in my 50s and found myself feeling little or no sympathy for this sexist, egocentric jerk of a narrator, for whom the great end goal of the mythic road trip was to be home to spend Christmas with his mother. Christmas with his mother! For fuck's sake!
"Add to that his blotto, hate-spewing appearance on William Buckley's Firing Line and his support of the Vietnam War, and you have a larger picture: Kerouac as a 1950s bad-boy who work passed its sell-by date long ago." Beat literature as it pertains to Romanticism: It's time to ditch Kerouac in favor of Bob Kauffman, Diane Di Prima, Joanne Kyger, Gary Snyder, and don't forget Richard Farina…"
"For those of us who entertain a terminally whimsical view of the human condition," summarizes musician and author, Kenneth Kubernik, "'the road' is a mighty seductive metaphor. Infinite in all directions, literally and metaphysically, it's an irresistible portal through which countless storytellers have journeyed, some with courage, some with reckless abandon, some content to ride shotgun – taking the wheel being too much responsibility.
"Homer took the bait; what was The Odyssey if not a mythically misguided road trip. Quixote and Panza's canter through Andalusia in search of the impossible – another noble, if muddle-headed pursuit.
"America is no stranger to the beguiling indignities of heading out on lonesome highways, pedal down, no direction home, cat nip for romantics who struggle with the real thing.
"We read, enraptured, 'watching the long, long skies over New Jersey, and sense all that raw land that rolls in one unbelievable huge bulge over to the West Coast and all that road going, all the people dreaming in the immensity of it…' It's bred in our bones, Manifest Destiny, Turner's frontier thesis, the privilege of putting distance between yourself and your history. Lewis and Clark; Huck and Jim; Crosby and Hope (why not); Hunter Thompson and an assortment of Schedule 1 drugs. Springsteen would still be out there lost in his own tormented arcadia if Landau didn't tether him to service more quotidian pursuits.
"My touchstone is that imperishable moment in Animal House when our heroes survey the wreckage around them and then, with clarion resolve rally the troops for – all together – a 'Road Trip!' I nearly rushed the screen to heed their call to action.
"Kerouac is, of course, the north star around which so much of this gravitational yearning takes place. He wrote the user's manual for a generation (and a little beyond) eager to transform its' post-war triumphalism into a debauched celebration of self-discovery and self-deception. His prose often crackled with the pop of a Philly Joe Jones rim shot; Ginsburg called it 'bop prosody.' Jack was crazy mad for Charlie Parker and the rattle and hum of 52nd Street; I hear him as more closely attuned to the tragic beauty of Art Pepper, whose playing caught the orphaned sound of an artist at the edge.
"Decades removed from its deeply-rooted '50s setting, much of the writing has lost its narcotic kick. Like many a compelling if self-absorbed saxophone solos, the words tumble forth like a run-on sentence, that initial rush tempered by overstaying its welcome. The Beat movement itself now appears distant and, frankly diminished, even though their books, their posturing, their insouciant middle-finger to 'I Like Ike' conformity, remains consoling, even valiant to those who still consider the life of the mind valuable.
"In today's heedless rush to celebrate the dazzling surfaces of our digital age – delighting the eye, dead to the touch – the idea of the road has retreated to a desolate backwater, at best a virtual memory as the Sal's and Dean's of today grind away in the Metaverse, jazzed by the clickity sound of Python swallowing them whole."
"Alas, he never rocked my boat…I tried," admitted wordsmith, record producer and author, Andrew Loog Oldham, "but ended up putting him in the same bin as Francoise Sagan …"
© Harvey Kubernik 2022
Harvey Kubernik's interview with Allen was published in Conversations With Allen Ginsberg, edited by David Stephen Calonne for the University Press of Mississippi in their 2019 Literary Conversations Series. Harvey is a contributor to Beat Scene magazine, and head of editorial for Record Collector News.
In 2020 The National Recording Registry at the Library of Congress in Washington, D.C. exhibited a Harvey Kubernik essay on the landmark album The Band, which celebrated a 50th anniversary in 2019. Sterling/Barnes and Noble in 2018 published Harvey and Kenneth Kubernik's The Story Of The Band: From Big Pink To The Last Waltz.
Kubernik is the author of 20 books, including Canyon Of Dreams: The Magic And The Music Of Laurel Canyon and Turn Up The Radio! Rock, Pop and Roll in Los Angeles 1956-1972. For November 2021 the duo wrote Jimi Hendrix: Voodoo Child for Sterling/Barnes and Noble.
Otherworld Cottage Industries in 2020 published Harvey's book, Docs That Rock, Music That Matters, featuring interviews with D.A. Pennebaker, Chris Hegedus, Albert Maysles, Murray Lerner, Morgan Neville, Dr. James Cushing, Curtis Hanson, Michael Lindsay-Hogg, Andrew Loog Oldham, Dick Clark, Ray Manzarek, John Densmore, Robby Krieger, Travis Pike, Allan Arkush, and David Leaf, among others.
Kubernik's writings are in several book anthologies, including The Rolling Stone Book of the Beats and Drinking With Bukowski.
This century Harvey wrote the liner note booklets to the CD re-releases of Carole King's Tapestry, Allen Ginsberg's Kaddish, Elvis Presley's The '68 Comeback Special, the Ramones' End of the Century, and Live at the 1967 Monterey International Pop Festival, Big Brother & the Holding Company. Kubernik is the Project Coordinator of The Jack Kerouac Collection, a box set of recordings.
In November 2006, Harvey was a speaker discussing audiotape preservation and archiving at special hearings called by the Library of Congress and held in Hollywood, California. During 2020 Harvey Kubernik served as a Consultant on the two-part documentary Laurel Canyon: A Place in Time directed by Alison Ellwood.
---