Featured

News

By Harvey Kubernik   April 2023 marks the 50th anniversary of the release of David Bowie's Aladdin Sane, which was released only ten months after his breakthrough album The Rise and Fall of Ziggy

Featured

Articles

By Harvey Kubernik   During 1969, Jimmy Cliff's "Wonderful World, Beautiful People," "The Israelites" from Desmond Dekker & the Aces, and a hit single from Johnny Nash, "Hold Me Ti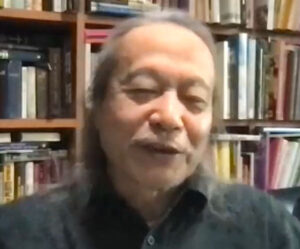 By Bill Furbee
Paintings and the outdoors have taken the place of a tour van and stages for improvisational icon Damo Suzuki. Spring is here and, today, Damo can probably be found in a nearby park, painting trees.
Damo and I first spoke in February of 2020-an interview to promote a scheduled performance at Chicago's Empty Bottle. Shortly after, however, venues around the world shuttered their doors in response to the spread of COVID-19. With his schedule suddenly silent, Damo happily agreed to a follow-up call just a month later. Thankfully, his amiable nature was still on tap.
"I don't have a job at the moment," he told me, then. "It's not possible to do anything. I canceled my US tour, I canceled my Italian tour … I don't know what's going to happen," he reported from his home in Cologne, Germany.
He paused to pour himself a Kölsch beer.
"But it's okay," he told me. "Maybe (this is) an opportunity to make something else." He reflected for a moment, then beamed a wide smile. "Cheers!" he said, lifting a frothy glass of beer to the camera on his computer monitor.
And now, we've spoken for the third time. Damo's still at home, and in no hurry to get back on the road. Vaccine requirements and contract tracing — measures that are helping to bring the virus under control, allowing concerts to take place again — aren't exactly conditions that Damo can get behind.
"At the moment, it's so much difficulty traveling," he says. "I don't like to make a test at the airport; I don't like to make anything that the system wants to have. Every country has its own directions-like if you eat or drink in a cafe, you sometimes have to have a vaccine passport, you must be vaccinated or you must have a test," he says.
"For me, it's a good time to have a break. So I treat it as my vacation, at the moment-for three years," Damo admits, with a chuckle.
"It's okay," he reasons. "I've traveled quite a lot already before."
Damo also has a lot of books at home-nearly 10,000, in fact. He's eager to share titles and authors that he's preoccupied with, while admitting, "fiction I can make with myself … my life is sometimes like fiction! Nonfiction is much more interesting at the moment."
Meanwhile, a number of his recorded performances are still being issued. While Damo would much rather perform than release recordings, he acknowledges that many of his collaborators are interested in releasing those performances. So, he mostly leaves that decision to them.
"I'm not so particular about making an LP or album," he stresses. "It's not (been my job) for a long time. I just like the live concert, and not always documenting. But some people who have performed with me, they like to release it. It's okay, they can make it. I don't say many things. Because they also have the right to make something as documentation. So I cannot say, 'oh it was not very good' or anything-it's not my task, it's not freedom. They just ask me, (and) 99% of the time I say 'okay.' But, if they have something like on the front cover I wouldn't like, if it's demonic or satanic, or something like that, then I really don't like to have it."
Worth noting that Damo's most celebrated band-psych-rock progenitors Can-has also been issuing a steady stream of reissues and rediscovered concert recordings of late. Damo, however, assures me that he's had no communication with management or any surviving members.
"No, no (input) at all, I don't have any contact with them," he says. "That was already a half century before, you know? So it's not that much things to talk about. I don't take too much time to think about things, past."
He adds: "I like to make music for the people who like this kind of music; I have never been interested in having a huge audience. It's not my thing."
Where does this leave Damo?
"I feel good!" Damo laughs, quick to point out that he now has time to exercise and observe nature. "If you're outside, you can get vitamin D, the sun," he says, "and it's not been so cold this winter."
As spring heralds in a season of new beginnings, Damo is happy to stay where he's at for the time being.
"I like to go outside with a sketchbook," he says, as our call wraps up. "And I like to paint trees. Spring," he says with a beaming smile, "is always good!"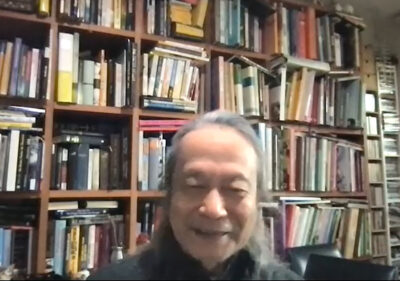 ---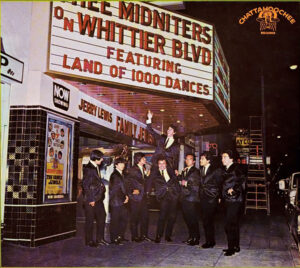 By Harvey Kubernik
On Wednesday, April 13, 2022 at 7:00 PM, the Grammy Museum in downtown Los Angeles will be presenting "The Sounds of East LA and the Chicano Movement" in conjunction with the UCLA Chicano Studies Research Center.
Musicians Mark Guerrero and Little Willie G of Thee Midniters, UCLA's Dr. Veronica Terriquez, and moderator Dr. Melissa Hidalgo will discuss the history of the Chicano Movement as it relates to the GRAMMY Museum's Songs of Conscience, Sounds of Freedom exhibition.
For over a half a century I have collected, touted and supported the hidden bio-regional sonic achievements birthed from East Los Angeles and the Boyle Heights area in numerous publications and examined at length in my 2014 book, Turn Up The Radio: Rock, Pop, and Roll in Los Angeles 1956-1972 as well as interviewing musician, archivist/scholar Mark Guerrero, and lead singer of Thee Midniters, Little Willie G (Garcia).
The East Los Angeles and the Boyle Heights community, east of downtown LA, has given the musical world Top 40 hitmakers, Verve Records' founder Norman Granz, Herb Alpert, Lou Adler, HB Barnum, Mike Stoller, musician/deejay Lionel "Chico" Sesma, author Gene Aguilera, along with actor and TV producer, Jack Webb, who was an active jazz collector.
During 2022 I've also been working on a music documentary, both Guerrero and Garcia were among the many subjects lensed for the cinematic endeavor.
---
by Harvey Kubernik
"I think people make the mistake of putting too much information on a CD because you can afford to, time-wise. But Exile was a slow, slow thing. It wasn't as immediate as albums characteristically were in those days, 'cause there were two albums. I think another thing with Exile—now that I think about it. Yeah… It was a very 'Keith-spirited-by-Keith' album." – Chrissie Hynde to Harvey Kubernik 2004 interview.
I remember in June 1972 receiving an advance test pressing long LP player of the Jimmy Miller-produced Exile on Main Street from an Atlantic Records publicist at their Sunset Boulevard office. The Los Angeles-centric Exile on Main Street album package artwork and design were created by John Van Hamersveld who collaborated with photographer Norman Seef on the product graphics.
Earlier in '72, the Rolling Stones, record producer Jimmy Miller and engineer Andy Johns relocated to Hollywood after cutting the basic tracks for Exile on Main Street in the 16-room Villa Nelcotte in the South of France. Overdubbing and mixing sessions were subsequently done in Hollywood at the landmark Sunset Sound studios and mastered at Artisian Sound Recorders on the same street.
Sunset Sound was built by Alan Emig, who had come from Columbia Records. He was a well-known mixer there and designed a custom built console for Sunset Sound. Salvador "Tutti" Camarata, a trumpet player originally and an arranger, and did big band stuff in the 1940s and '50s had a friendship with Disney Studios and decided to build a recording studio to produce the Disney/Buena Vista records by Hayley Mills and Annette Funicello.
"The Sunset Sound room was very unique," volunteered Bruce Botnick engineer and co-producer of the Doors during 1966-1971 in a 2009 interview we conducted. "Tuti Camarata did something that nobody had done in this country. He built an isolation booth for the vocals. And later on I convinced him to take the mono disc mastering system and move it into the back behind what became Studio 2. And we turned that into a very large isolation booth which we used to put stings in. With the stings being in the large isolation booth the drums didn't suffer so we were able to make tighter and punchier rhythm tracks than any of the other studios in town were able to do. 'Cause everybody did everything live in those days. You did your vocals live. You did your strings and your brass live. And the rhythm section. And this was a big deal.
And then add to it the amazing echo chamber that Alan Emig designed. There was a good selection of microphones at Sunset Sound. It was all tubes, except for some Ribbon, RCA's and a few Dynamics, they were all tube microphones. U-47's, Sony."
---