Featured

News

By Jay Dobis     Erkin Koray, aka Erkin Baba, the father of Turkish Rock 'n Roll (he put together the first Turkish rock band (Erkin Koray ve Ritmcileri) in 1957 when he was a high school student

Featured

Articles

By Harvey Kubernik   To celebrate the 50th anniversary of The Roxy and its enduring relevance, the Grammy Museum announced a new exhibit, The Roxy: 50 Years On The Sunset Strip, which explores the
By Harvey Kubernik
On August 3, 1966, stand-up comedian, social critic, satirist, and philosopher Lenny Bruce was found dead at age 40 inside his Hollywood Hills home from an acute overdose of morphine.
He died near where I sold newspapers and distributed admission tickets to The Preview House on Sunset Boulevard at the time. It was front page headlines in Los Angeles, and many folks in the neighborhood and around town were deeply saddened.
Fifty seven years ago over 500 mourners paid their last respects at Eden Memorial Park Cemetery in Mission Hills, California. Principal Eulogy was read by Phil Spector who paid for the funeral.
At least Lenny Bruce was not forgotten around Southern California after his 1966 burial. In August 1968, The Los Angeles Free Press presented a Murray Roman-hosted LennyBrucemas musical event at the Cheetah pier in Venice. Over 20,000 people attended.
Around Lenny Bruce's freedom of speech advocacy, the lingering obscenity busts, and numerous arrests, Lenny's bold stand-up comedy performances and public observations were not routines, but podium examples of unfiltered verbal reality coupled with reflections about race, religion and relationships. His rant on actor Bela Lugosi was always a Halloween favorite on many turntables.
During 1958-1976, my family and I would occasionally see Lenny Bruce, Sandy Baron, Mantan Moreland, Richard Pryor, Al Jarvis, Don Peake, Jan Alan Henderson, Rodney Bingenheimer, Sonny Bono, Don Randi, Nik Venet, Micky Dolenz, and many comics, actors, actresses, directors, screenwriters, movie studio heads, prostitutes, pimps, bands, and the Vine Street-based Musician Union 47 session musicians around town at the Hollywood Ranch Market and Canter's Delicatessen. These places were open 24 hours.
Bruce was a frequent guest on black and white television shows I watched on my parent's television set, In 1957 I saw the Teddy Bears, (Phil Spector, Marshall Lieb and Annette Kleinbard) on the local KTLA TV program Rocket to Stardom, sponsored by salesman Bob Yeakel, who used to hawk Oldsmobiles during the broadcast from his showroom. Lenny Bruce with Joe Maini, Jack Sheldon, Dennis Hopper and Jim Keltner also appeared on the show.
"In spring, 1964, I glimpsed Lenny as he was going into a theater at La Brea Avenue and Hollywood Boulevard," recalled author/musician Jan Alan Henderson in a July 2023 interview we did. "We were going to ABC Books to buy the first books on the Beatles on the way to Le Conte Junior High in East Hollywood. My mother knew Lenny's wife Honey as they were neighbors. My mom was a volunteer for the United Way and the Bruce household was in the district. Lenny was the one who fought for First Amendment rights."
---
By Harvey Kubernik
Dedicated to Mamie Van Doren Con Art Aragon
This spring and summer at select movie theaters and on cable television's Spectrum SportsNet, filmmaker Stephen DeBro in his sports and music documentary 18th & Grand: The Olympic Auditorium, tells the story of Los Angeles through the distinctive voices of boxers, wrestlers, roller derby skaters and rock musicians who performed at the Olympic Auditorium. The venue opened in 1925.
In 1951, rhythm & blues concerts were held on the premises. During the 1969-1970 period, Little Richard, Frank Zappa, Mountain, Jack Bruce and Ten Years After were on the marquee. In the eighties and nineties, Public Image Ltd debuted there, and soon afterwards, monthly concerts were promoted by Gary Tovar and Goldenvoice Productions headlining Dead Kennedys, the Dickies, the Circle Jerks, Bad Religion, Suicidal Tendencies, and X. Music videos for Bon Jovi, Kiss, Air Supply, Janet Jackson, and Rage Against the Machine were produced in the landmark location at the corner of 18th Street and Grand Avenue, just south of the Santa Monica Freeway in downtown L.A.
"From the beginning the Olympic was an extension of Hollywood's back lot," underscores DeBro. "So many great films were shot at the Olympic, starting with Buster Keaton's Battling Butler, The Three Stooges Punch Drunks, The Manchurian Candidate, Raging Bull, the Rocky series, Million Dollar Baby, The Turning Point, Requiem for a Heavyweight, The Sting II, and in 2003, Charlie's Angels: Full Throttle. There were hundreds of TV shows and commercials."
It's now the Korean-American Glory Church of Jesus Christ.
The 18th & Grand: The Olympic Auditorium soundtrack is by War, Shuggie Otis, Charles Wright & the Watts 103rd Street Band, Queens of the Stone Age, Dead Kennedys, the Weirdos, Cannibal & the Headhunters, Quetzal and Jungle Fire (Albert Lopez).
DeBro, author and music/culture historian, Gene Aguilera, along with LA Plaza de Cultura's Karen Crews Hendon and Esperanza Sanchez, are serving as curators of the museum's forthcoming August 11, 2023-May 12, 2024, 18th & Grand: The Olympic Auditorium exhibition recounts the 80-year history (1925-2005) of the Olympic Auditorium, the home for visceral entertainment in Los Angeles with artifacts from all facets of the venue's storied history. The exhibit will be held at La Plaza de Cultura Y Artes Museum, 501 N. Main Street, Los Angeles, California 90012.
18th & Grand: The Olympic Auditorium reminds us about nearby East Los Angeles and adjacent Boyle Heights, east of the Los Angeles River. These two Los Angeles' Chicano/Mexican-American communities gave us Top Forty music hitmakers, Verve Records' founder Norman Granz, record producers and songwriters Herb Alpert, Lou Adler, H.B. Barnum, Mike Stoller, as well as musician/deejay Lionel "Chico" Sesma, Black Eyed Peas' will.i.am, and Gene Aguilera.
---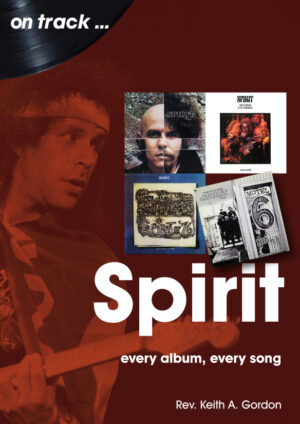 By Harvey Kubernik
There's a newly published book on the cult American band Spirit by Rev. Keith A Gordon, now available from SonicBond Publishing, SPIRIT On Track. It's a journey through every album and very song. The book is way more than a mere album guide. Gordon's book recounts 30 years of the trailblazing artistry of Spirit. They remain an influence on UK music groups. Spirit is the band seldom cited in classic rock discussions.
The original group members were drummer Ed Cassidy, guitarist Randy California, Jay Ferguson, vocals, Mark Andes on bass and keyboardist John Locke. Spirit was discovered by record producer Lou Adler, who saw them gig at the Ash Grove club on Melrose Avenue in Los Angeles, and had them audition for him on Sunset Boulevard at the Whisky A Go Go. He inked them to his Ode Records label, and produced their first three albums. Adler and Spirit would appear in the acclaimed film, Model Shop, directed by Jacques Demy.
Esteemed journalist Richard Williams hailed Spirit in the February 7, 1970 issue of the now defunct Melody Maker. "Spirit is one of those fine American groups which came to light following the Indian summer of 1967, and which have never really gained the attention their originality and musicianship deserve."
Spirit's chart hit single, "I Got a Line on You," is still programmed by terrestrial and satellite radio stations. On occasion, you can hear their Randy California-penned prophetic ecological lament to the planet, "Nature's Way," produced by David Briggs. The tune has been covered by Alice Cooper and Jeff Healey, among others. Mark Andes, the original bassist in Spirit, who subsequently founded the band Firefall, recorded it along with Timothy B. Schmit of the Eagles and John McFee from the Doobie Brothers on their 2010 album, Comet.
Daniel Weizmann (Novelist): It's amazing how many cats that made their mark on seventies hit radio got their start woodshedding on the Sunset Strip. From Gates to Zevon to California and beyond…these guys were tumbled by the psychedelic machine, they knew the meaning of a hook, and they had one foot in the counterculture, one arm reaching for the pot of gold. That's why we are still in awe of that whole era stretching through both decades—it was energized by so many contradictions.
In the July 26, 1975 issue of Melody Maker, I interviewed Ed Cassidy.
"The band was definitely ahead of the times in many areas. We were together while working towards a certain goal."
At 52, Ed Cassidy presents an antithesis from your regular rock and roll drummer/percussionist. His roots are in jazz and he first picked up the sticks in 1939. Over the last 30 years he's logged time with Gerry Mulligan, Thelonious Monk, Cannonball Adderley and Zoot Sims among others. He played around California in the 50's and surprisingly, offers a slightly different view of the jazz musician.
"I was always frustrated in jazz. The jazz musician was not for the most part what he was billed as: great liberal entertainer who was into integration, understanding and being fair. Most of the jazz musicians I was exposed to were prejudiced and into the big bucks."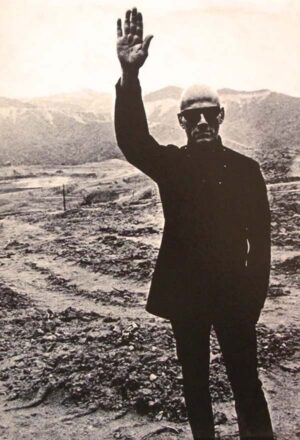 In 1965 the Ash Grove, a local coffee house, featured a group, the Rising Sons, featuring Taj Mahal, Ry Cooder and Cassidy, who displayed their wares rather cheaply.
"I didn't mind playing for hamburgers. There was an incredible vibe happening and all the groups in the area loved playing there."
Then Ed met Bernice Wolfe and her son Randy, who was gigging in a group with keyboardist John Locke called the Red Roosters. Subsequent marriage to Bernice and a move to New York followed. Ed inherited a son who was a pretty incredible guitar player. "Randy did a lot of jamming with Hendrix and I was into a jazz trio," reflects the Topanga Canyon-based musician.
It was Hendrix who gave Randy Wolfe his new name, Randy California.
In 1967 Spirits Rebellious was born.
"We got the name from a Kahlil Gibran book. We then shortened it to Spirit. The concept was mine; a group trying to blend all types of music together. There was no problem with age, I was pretty bizarre in my own way," Ed laughs. "There wasn't a generation gap and it was pretty cool. I even played differently than most of the rock drummers; a bastardized version of rock, incorporating my own trip."
So, the family that played together stayed together – for a while. Their first album Spirit, was a unique blend of jazz, rock, and the avant-garde. Commercially, the first LP had some near misses and it wasn't until The Family That Plays Together, their second disc, that the group started to get heard on the radio.
"In the first album," suggests Ed, "there was a lot of jazz. We were exploring new ways of improvisation. Randy and I were keen on that. The thing that was successful about Spirit then, and now, was that we didn't try to contrive any of the elements that appeared in the music. We weren't rock and rollers and we weren't jazz. It just happened. Oh…The band had to be seen to be believed. Our LP's were pale by comparison."
Spirit, on stage and on records, also helped circumvent their cultist following and bring in a few more curious lookers and listeners.
"Yeah…It was unique in a way, soft on record and our stage thing was so concrete that more people got into us for that reason. It developed that way as opposed to proper promotion."
In 1969 I witnessed Spirit blow the Jimi Hendrix Experience off the stage at the Newport '69 pop festival in Northridge, California. During 1971 I caught their set opening for the Moody Blues at the Fabulous Forum in Inglewood. They were terrific.
Around 1976 I went to a Spirit reunion show at the Santa Monica Civic Auditorium. A dazed Neil Young came out to jam on the encore of Bob Dylan's "Like a Rolling Stone." However, his erratic behavior confused Randy, who didn't recognize Neil, spoiling the event, which really upset John Locke.
Los Angeles native Locke was very kind to me when I first started producing recording sessions and complimented my nascent journalism efforts.
Dr James Cushing: (poet/deejay): I never saw Spirit in concert, so my assessment of them is based 100% on the recorded evidence. But I think that these five guys came up with a convincing musical eclecticism highly characteristic of LA rock in that 1967-70 period, a quality I find lacking in today's niche-marketed pop. And while I put Twelve Dreams on top, I get real enjoyment from five of their albums.
Spirit: their first album spotlights their hard-to-describe, super-eclectic sound. Elements of jazz (the electric piano solo on "Fresh Garbage"), psychedelia, Latin rhythms, Beatle-esque pop, sitars, Zappa, Hendrix, the through-composed "Taurus" all mix to the point that the debut almost resembles an imaginary Ode Records compilation-sampler album. In this band, the music is the lead feature, not the guitar or the drummer or the charismatic singer. Dig the distorted guitar playing a jazz solo on "Straight Arrow"! 
The Family That Plays Together: this is the one that opens with "I Got a Line on You," a big radio hit in late 1968. No sophomore slump here! Note that the lead vocal is down in the mix. Note also that no other cut sounds remotely like that one. The second cut, for example, swerves toward a soft jazz sound with flute… As with Pepper, the songs segue together, so you get the sense of each LP side being a single statement, and you can't predict what the next part of any cut will sound like. Their group sound "contains multitudes." Dig the mysterious ending of "Drunkard." We like their joyful disregard of genre boundaries!
Clear Spirit: A bit of a simpler blues-rock sound on this one, recorded 1969. "Apple Orchard" has a little bit of Sly's "Don't Call Me N*****, Whitey" in the main riff. Then they give us the bouncy pop of "So Little Time to Fly." One surprise follows another! The category-resistant eclecticism of this band emerges here as their main feature. I suppose helpful comparisons could be with early Traffic, or the Beatles' white album… "Policeman's Ball" anticipates rap.
The Twelve Dreams of Dr. Sardonicus: The group's acknowledged high point, and one of 1970's most memorable releases, it opens with acoustic flourishes that recall Love's Forever Changes and has interesting similarities with that album. Producer David Briggs gave The Twelve Dreams of Dr. Sardonicus a fuller, crisper sound than the earlier LPs, with more prominent vocals, and the songs have legs, esp. "Nature's Way," the band's strongest melody since "I Got a Line on You." And the arrangements… dig the vibes on top of the backwards cymbals on "Love Has Found a Way"! And why haven't more bands done covers of "Mr. Skin"? (Who plays sax on that track?) 
Kapt. Kopter and the (Fabulous) Twirly Birds: Randy California's 1972 solo album is a loud rock power-trio session ripe for rediscovery. Randy was Hendrix's second guitarist in Jimmy James and the Blue Flames for three months in 1966, and "Downer," which starts like a Jimi outtake, gives a hint of what that mad magic might have sounded like. Jimi's Flames played mostly covers, and Kapt Kopter takes on tunes by James Brown, Lennon-McCartney, and Paul Simon while remaining very lead-guitar oriented."
Further kudos and homage to Spirit can be heard today from Morley Bartnoff and the Randy Californians, who just released their very first single "Dog Georgee," available on all streaming formats.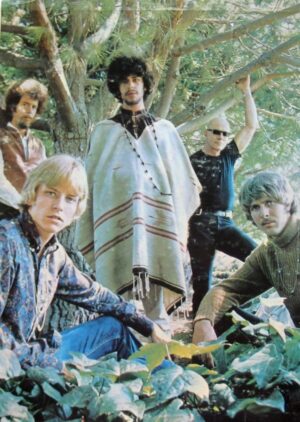 Morley Bartnoff (Keyboardist): Just how significant were/are the first two albums by the band Spirit? Not just to my musical trajectory but to the progressive psychedelic jazz rock expansion of rock and roll music everywhere for everyone all at once?
While the rest of the world seemed to be obsessing about the Haight Ashbury and the Sunset Strip, Topanga Canyon made a massive contribution by formulating the gestation and cosmic birthing of the first two Spirit albums. Randy Wolf California's Wes Montgomery meets Jimi Hendrix, combined with the pure jazzed dynamics of Randy's stepfather Ed Cassidy provided the perfect freeform acid-tinged, jazz-rock, inspiring the continuously creative Comping explorations, with real and electric pianos that were parlayed by my favorite all time heart full of jazzy soul keyboardist, John Locke.
The very first time I heard "Mechanical World" coming out of my Las Vegas KENO AM radio station in 1967. I knew that along with Dorothy and Toto we were not in Kansas anymore. That black and white had somehow magically and deliciously turned into an eternally, unique, technicolor mind movie that was hauntingly spooky and evolving into a permanent relationship with multiple musical shapes and textures that were completely unknown until now. Sprinkled with the spice of those creative orchestral arrangements the entire enchilada gave a brand-new meaning to let me turn you on to this absolutely exciting new band that lives in Topanga Canyon!
Once you ponder the variety of styles and the musicality of the first two albums by Spirit which seamlessly interspersed jazzed-up jams with well-rehearsed song cycles, you'll begin to understand how appealing the first two LPs by the original five members of Spirit was to me and the rest of our psychedelically enhanced community
"I Got a Line on You" was on the FM radio stations which is a song I still cover all the time today but Spirit's, sophomore, song cycle also had intriguing melodies like "Jewish" as Randy sang in Hebrew. Truly telegraphing that progressive music was being intentionally co-created by these five diversely inventive amazing art jazz rock indie visuals.
I greatly appreciate Clear Spirit and The 12 Dreams of Dr. Sardonicus, however, the monumental impact of their self-titled first album and their equally intriguing follow up, The Family That Plays Together, will forever formulate shape and inspire my continuing focus to play progressive music."
© Harvey Kubernik, 2023.
HARVEY KUBERNIK is the author of 20 books, including 2009's Canyon Of Dreams: The Magic And The Music Of Laurel Canyon and 2014's Turn Up The Radio! Rock, Pop and Roll In Los Angeles 1956-1972. Sterling/Barnes and Noble in 2018 published Harvey and Kenneth Kubernik's The Story Of The Band: From Big Pink To The Last Waltz. In 2021 they wrote Jimi Hendrix: Voodoo Child for Sterling/Barnes and Noble. Otherworld Cottage Industries in 2020 published Harvey's Docs That Rock, Music That Matters.
Kubernik's writings are in several book anthologies, most notably, The Rolling Stone Book Of The Beats and Drinking With Bukowski. Harvey wrote the liner notes to the CD re-releases of Carole King's Tapestry, The Essential Carole King, Allen Ginsberg's Kaddish, Elvis Presley The '68 Comeback Special, The Ramones' End of the Century and Big Brother & the Holding Company Captured Live at The Monterey International Pop Festival).
---