Featured

News

By Harvey Kubernik Keith Moon, the drummer of the Who and I in 1975 did an interview for the now defunct Melody Maker at the Laurel Canyon home of his manager, Skip Taylor, the record pro

Featured

Articles

By Harvey Kubernik Keith Moon, the drummer of the Who and I in 1975 did an interview for the now defunct Melody Maker at the Laurel Canyon home of his manager, Skip Taylor, the record pro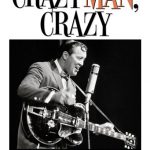 Book review by Bill Shute
CRAZY MAN CRAZY: THE BILL HALEY STORY by Bill Haley Jr & Peter Benjaminson (Omnibus Press UK/Backbeat Books US; 2019; 299 pages)
In 1990, Bill Haley's son John co-wrote a now-rare book, Sound And Glory, which many consider the go-to source for Haley's work up through the early '60s and his move to Mexico. Now, another of Haley's sons, Bill Jr, has co-written a new biography, Crazy Man Crazy, which balances Haley's music and his personal life. It has the benefit of the detailed insights from Haley's first two wives, Dorothy (who was there for the years of struggle, when Bill was a regional artist and working on his fusion of country boogie/R&B in local bars and on local Philly labels), and Cuppy (who was there during Bill's breakthrough in the founding days of rock & roll through his biggest fame until things crashed circa 1959 and he left the country), and Haley fans will thrill at the wealth of detail and specifics about the early tours and television appearances and band dynamics and business problems and the like. It's as if you are there as "Crazy Man Crazy" flies up the charts in 1953, and audiences and radio programmers are trying to figure out what this curious musical hybrid Haley calls rock'n'roll is about—and as "Rock Around The Clock" is featured in the film Blackboard Jungle, months after its original release and modest reception (it wasn't even the A-side of the single!), and Haley and his Comets become superstars, for a time at least.
Bill Haley had a passion to become a famous music personality and an equal passion to create a new form of music, combining the elements of the many American musical forms he loved, from gospel to polka (the early Comets had an accordion)  to jazz to honky tonk (the Comets had a steel guitar), though especially country boogie and R&B. Haley tried various approaches, but hit the right combination in 1951 with his cover of "Rocket 88" and mastered the newly created form with his 1953 hit "Crazy Man Crazy." This book puts you alongside Bill during those agonizing early days as things are coming together.
Unfortunately, you are also right beside Bill as things fall apart in the late '50s, mostly due to mismanagement and Bill's loyalty to friends from the neighborhood who were in way over their heads in business affairs. Also, Bill was not a model father or model husband with his first two marriages, and the picture emerges of a solitary man with a pleasant and friendly public image who lived for music, but found life and family more difficult to master. Fortunately, his third marriage, to Martha, whom he met in Mexico, proved more successful, but by the late '60s, when he'd moved to South Texas and began working in the US again (his tax problems resolved), his drinking problem had taken its toll.
Crazy Man Crazy is not a happy read (with Haley's inconsiderate behavior toward family members and the man's own sad run of bad luck), but it's inspiring in a way to see Haley soldier on decade after decade, often in reduced form, excitedly representing pure '50s rock and roll during periods where few cared. The book is a compelling read and will surely become the standard biography of one of the key architects of rock & roll. (Bill Shute)
---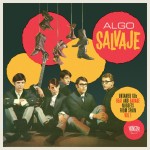 As the year drew to its close, we asked our writers to submit a list of their personal favorite reissues and such for 2014. Against all odds, some of them managed to fight through the fog and fug of the holidays and complete the assignment. Here's what they came up with…
Mike Stax (Editor)
Favorite single artist reissues:
The Bonniwell Music Machine – S/T (Big Beat) 2-CD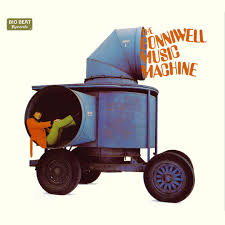 The definitive collection of the second-phase Music Machine. The Bonniwell Music Machine album expanded to include all of the contemporaneous non-LP singles, along with a trove of demos, outtakes and alternate mixes. Expertly compiled and annotated by Alec Palao, who also was responsible for…
The Seeds – Singles A's & B's 1965-1970 (Big Beat/GNP-Crescendo) CD
Big Beat's comprehensive reissue series of the Seeds' catalog concludes with this great collection of all of the band's singles, from 1965's plaintive "Can't See to Make You Mine" to 1970's gut-wrenching "Did He Die." Alec Palao's detailed liner notes spanning this entire series also serve as the ultimate Seeds biography, shining light on every facet of their story, including special attention to all of their recording sessions.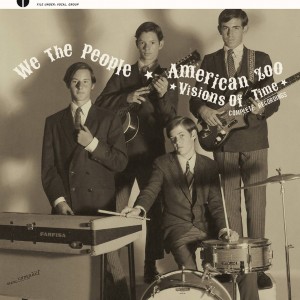 We the People/American Zoo – Visions of Time (Guerssen, Spain) LP/CD/DL
Not to be confused with the well-known Florida band, this edition of We the People were based in LA and released a handful of singles under that name and as American Zoo. We the People/American Zoo resided in that shadow-shrouded corner of the '60s garage band universe where brooding teenagers spent long, solitary hours listening to Byrds and Bob Dylan records and were duly moved to write somber, soul-searching minor key songs with titles like "Feelings of My Emptiness," "Back Street Thoughts" and "Who Am I?" It's an intoxicating recipe when it's done right, and American Zoo did it right. A class package from the Guerssen label including informative liners by Gray Newell.
---
FLYING SAUCERS ROCK'N'ROLL: Conversations with Unjustly Obscure Rock'n'Soul Eccentrics edited by Jake Austen (Duke University Press, US; 2011; 282 pages)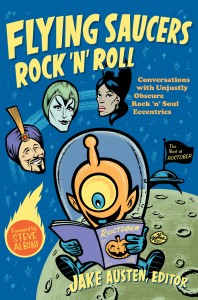 For the past couple of decades, Jake Austen and his ragtag team at Roctober have been engaged in some truly outstanding work in the field of rock'n'roll writing and research. If for some reason you've missed one—or any—of the almost 50 issues they've put out in that time, you could do a lot worse than pick up this book which compiles some of their most memorable interviews.
Roctober's coverage has always been all over the map, taking in '50s rockabilly, country, vintage soul, R&B, blues and funk, '60s garage rock, '70s and '80s punk rock and new wave, heavy metal, and a range of unclassifiable species that might be loosely defined as novelty acts. A cross section of those styles are represented in the ten meaty interviews selected here, which include career-spanning conversations with Sam the Sham, David Allan Coe, Sugar Pie DeSanto, Oscar Brown Jr, the Fast, and the Good Rats.
Among the highlights are Ken Burke's lengthy and absorbing chat with Sun rockabilly giant Billy Lee Riley, Jonathan Polettia's disturbing voyage into the dark world of Hollywood glam weirdoes Zolar X, and a wonderful chat with the late, great Claude Trenier by a team of Roctoberists headed up by John Battles.
Each chapter is headed up by artwork by King Merinuk, illustrated with rare photos, and features a brief update on each artist. In several cases, the update turns out to be an obituary, a stark, poignant reminder of just how important it is to document the personal stories of these rock'n'soul innovators and eccentrics. (Mike Stax)
From UGLY THINGS #32 (Fall/Winter 2011)
---