Featured

News

By Bill Furbee WHEN I LAST SPOKE TO DAMO SUZUKI – the influential performer perhaps best known for his years spent as the singer of Krautrock godfathers Can – the world was in a diffe

Featured

Articles

By Doug Sheppard FIVE MONTHS BEFORE there were four dead in O-Hi-O, four were dead at a forlorn, neglected racetrack roughly 50 miles east of Oakland, California: one drowned, one stabbed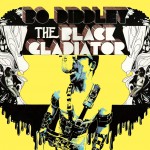 (Future Days) CD
Recorded and released in 1970, The Black Gladiator was Bo Diddley's first album of all new material since 1965's 500% More Man. In the intervening half-decade the music scene had been through some pretty radical changes, and the astute and forward-thinking Diddley wasn't about to be left behind. "I just decided to do somethin' different," he told biographer George R White. "Everybody was wearin' funny lookin' crap—Isaac Hayes had come out with chains an' stuff on, an' it was kinda flowin' in that area at that particular time—so I got me some belts an' stuff, an' said I was The Black Gladiator."
The resultant album is one of the overlooked gems in the Diddley catalog, showcasing a freakier, funkier sound that was in step with the times, while retaining the raunch and swagger that defined his earlier work. Bo goes balls-out on the very first track, "Elephant Man," whipping up a torrid, wall-shaking guitar riff over which he hollers some of his craziest rhymes yet, about how he constructed this bizarre animal, called the elephant (maybe you've heard of it?), piece by piece, naming its various body parts, then letting out a blood-curdling scream every time he gets around to not quite mentioning its ass. Such profundity was in short supply at the time.
The album never quite scales the elephantine heights of its monster opening number, but there's still much to enjoy. The backing band cooks throughout—plenty of wailing organ, rattling tambourines and crisp, funky drumming—and Bo is clearly having a ball with this new, different sound. "Black Soul," "I've Got a Feeling" and "Funky Fly" all boast tough, memorable grooves as well as plenty of muscular guitar work. "You, Bo Diddley" is one of Bo's archetypal self-tributes, as is "Power House," a virile boast built around his trusty "I'm a Man" riff, while the strange but wonderful "I Don't Like You" is one of Bo's trademark signifying pieces in the tradition of "Say Man," with Bo trading insults with backing singer Cornelia Redmond (a.k.a. Cookie Vee) and also showing off his abilities as an opera singer—was there no end to this man's talents?
There's been a vinyl boot doing the rounds, but this digipak CD with liners by Scott Schindler is a legit, from the masters, reissue on Light in the Attic's new Future Days imprint. (MS)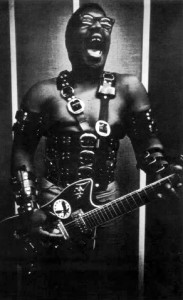 (Originally published in Ugly Things #33, Spring/Summer 2012)
---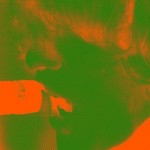 (Jegrfa Productions/Moiras, Hungary) LP
Omega was one of Hungary's most successful groups in the '60s and '70s. In fact, they're still together, celebrating their 50th anniversary this year. This limited edition LP rounds up some of the very best obscure tracks from what is now considered Omega's 'classic' period, 1968-70. Their progressive beat sound has a dark, epic feel, characterized by dramatic vocals, keyboard-dominated arrangements, and the type of cerebral, poetic lyrics that could only derive from living in an oppressed Eastern European country. "One day the sun / too tired to shine / Slept in the deep, green somber lake / And in the darkness the world did ail"—that sort of thing.
Several of the tracks here are superior English language versions of songs from their second (and best) album, 10,000 Lepes, including the superb "Petroleum Lantern" with its bouncy, upbeat groove and bluesy harmonica fills, the powerfully-charged ballad "Pearls in Her Hair," and the title track, "Ten Thousand Paces," a tense, drama-laden epic full of moaning Gregorian voices, and some manic, panicked guitar scribbling. Even better is "The Prodigal Son" (not the Beggars Banquet song), a thumping rocker with a killer fuzz guitar riff, blaring gladiator trumpets, and an uber-anguished banshee vocal.
The 1970 single "Dead Are the Flowers" has an attractive pop-psych arrangement, while the previously unreleased "Varakozni Jo" (one of the few Hungarian-sung numbers) is highlighted by some lovely, bendy guitar work. Meanwhile, "Vigyazz, Vigyazz ram" is a previously unreleased vocal version of a song from their '68 debut album, Omega Red Star, its wailing Hammond and slightly hysterical vocal bringing to mind the Crazy World of Arthur Brown.
The set comes in a colorful psychedelic gatefold sleeve and includes a large foldout poster with photos, liner notes and all the lyrics (in English). It's a splendid way to make the acquaintance of one of Eastern Europe's most inventive and fascinating bands. (MS)
More info: http://moiras.somoskiado.hu/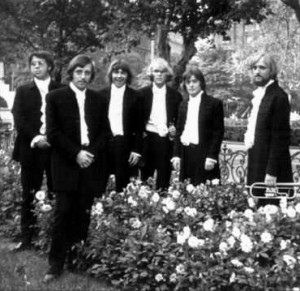 ---