Featured

News

By Harvey Kubernik Keith Moon, the drummer of the Who and I in 1975 did an interview for the now defunct Melody Maker at the Laurel Canyon home of his manager, Skip Taylor, the record pro

Featured

Articles

By Harvey Kubernik Keith Moon, the drummer of the Who and I in 1975 did an interview for the now defunct Melody Maker at the Laurel Canyon home of his manager, Skip Taylor, the record pro
By Collin Makamson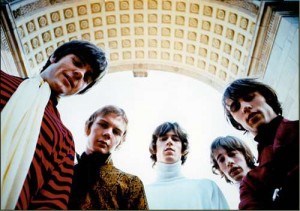 By the general populace the Bee Gees are known as little more than disco fadsters, but all good boys know the brothers Gibb carried much more weight than all that. In mid-'60s Australia they racked up hits as an Everly Brothers-styled singing group and made the leap to England in the midst of all its technicolor glory, there creating some of the most monumental album-sized statements of the period. As group member and solo artist Robin made grand moves in his late teens many grown men never aspire to, with a catalogue of pathos-drenched, near-strained, soulful vocals that laced hits and deep album cuts alike. He was the wit, dry humor and heart of the Bee Gees; akin to the Monkees' Nesmith or Beatles' Lennon. Recently cancer that was long-battled shuffled him off to join his two passed brothers (fraternal twin Maurice and younger brother Andy), aged 62, but like the man said himself:
"Art is about forever, beauty and immortality. I don't think of death. That's for other people."
Below Collin Makamson ruminates on the importance of Robin and sermonizes on the mathematics of artistic repeat-returns…
(jeremy nobody, esq.)
In my opinion, the success of any work of art is not measured by the amount of pretty words and blue ribbons which one can neatly hang upon it, but rather upon the number of return trips it inspires 'to the sources.' That's what good art does: that's its function. That's what good music does as well. It inspires a missionary zeal compounded with a cartographer's hate of blank spaces on a map. It invites obsession inside as a guest and sets an empty plate, sustaining itself solely on the deep resonance of the initial aesthetic shockwave. That's what Robin Gibb's music does and continues to do in me and thousands of others and, as such, this is not an obituary, a eulogy, a bike or a pipebomb. It's a signpost and a sermon.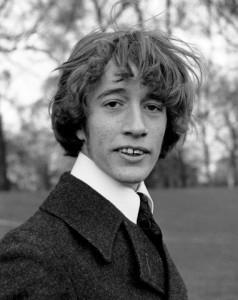 Other things this is not. NOT an ephemeral by-the-numbers bio-piece. NOT a condescending blow-by-blow discographical romp or even an anatomical celebration of Robin's heartbreaking voice: the most benign throat-lump inducer this side of Roy Orbison.
Rather, it is a sticking to my original thesis and guns. Fine if you forgot it already. The best art and the best music compels one to track down and follow its influences, wind its tributaries, know its hidden places, swallow its bread-crumbs, know its markings. Like Lewis & Clarke or Columbus in reverse. However, the Beaux-arts also teach one to remain mindful of similar ripples, dispersions and fellow traveling waves dominoeing outward that, in turn, may carry new influences and sediment to add to the original.
Perhaps the best piece of news of all for pilgrims set out upon these trails is that despite rumors of the frontier's closure or hints that the promontory-peak of the sublime melting glacier of humanity's divine input might already have been summited, take comfort in the fact that there always remains more to digest and explore.
And don't take my word for it; take the words of another great artist whose works are still moving.
"It is not down in any map. True places never are."
Robin Gibb will be missed. Here are some places that his music took me, both new and old.
Roots, fruits and CM's self-designated finest vocal by Robin follow. Use the arrow button on the lower-right portion of the YouTube box to scroll through the selections, or listen to them continuously by pressing play.
Also find below an Ugly Things exclusive of Skooshny covering Robin's "Saved by the Bell" which at this time goes unreleased.
---
By Domenic Priore
Born to a musical family March 6, 1937 in the Ozark Mountains of Salem, MO, Doug Dillard counted Earl Scruggs as an early supporter. After initial encouragement via postal service the bluegrass legend later installed the tuners to Doug's very first banjo with his own two hands, after a 500 mile trek by Dillard to the legend's home with heckled parents in tow. Dillard, a forefather in his own right, was one of the early alchemists—with his group the Dillards—to fuse the soul of rock'n'roll to bluegrass and country music, bringing that peculiar hill-folk music to a '60s youth generation. He brought down electricity on high from the sky and few have harnessed that instrument before or since with such power, dexterity and skill. Doug left this square world on May 16, 2012, aged 75, in Nashville, TN, of lung infection brought on from a collapsed lung a few months prior. Below our pal Domenic Priore issues the raw facts on the legend. (jeremy nobody esq)
Banjo picker Doug Dillard came out to Los Angeles from his native Missouri with his brother Rodney, Dean Webb and Mitchell Jayne as the Dillards, and quickly helped to popularize bluegrass music as part of the LA Folk scene during the early '60s at clubs like The Ash Grove, The Troubadour, The Ice House, The Mecca, The Golden Bear and others that made the city a freeway spread-out Greenwich Village of the West Coast. The Dillards were surrounded by a lot of great local bluegrass talent that would evolve into The Byrds ever-growing family tree: the Country Boys/Kentucky Colonels (with Clarence White), the Scottsville Squirrel Barkers and the Golden State Boys (both featured Chris Hillman, the latter featured Chris with Vern and Rex Gosdin). The Dillards were managed by Jim Dickson who would also come to manage the Byrds. When the Dillards made the attempt to electrify in 1965, Jim hired Dewey Martin prior to his taking the drummer spot in Buffalo Springfield. This kind of interaction would play an incredible part in the growth of early Country Rock from its most core hill-bound element.
---
By James Porter
"We had a band powerful enuff to turn goat piss into gasoline."
That was one of Duck Dunn's speaking roles in the movie The Blues Brothers. He was talking about the latter-day band that he played in with Steve Cropper, the Bar-Kays' Willie Hall, Memphis Slim's guitarist Matt "Guitar" Murphy, and, among others, singing actors John Belushi and Dan Aykroyd. But he could have been talking about the band that made him famous—Booker T & the MGs—and made twice as much sense.
Donald "Duck" Dunn, the lynchpin of numerous sessions during the first decade of Stax Records, died May 13, 2012 in his sleep in a hotel in Tokyo, aged 70.
Dunn wasn't with Booker T & the MGs from the beginning—that's Lewie Steinberg's bass you hear on 1962's "Green Onions"—but, with all due respect to Steinberg, Dunn was in the classic lineup from 1964-71 (and all reunions thereafter). During this period, not only did you hear Dunn providing serious bottom for "Hip-Hug-Her," "Time Is Tight," "Hang 'Em High" and "Melting Pot," but when the Stax hit machine really started to take off, you could hear him in full force on hits by Otis Redding, Carla Thomas, Eddie Floyd, Sam & Dave, Albert King, and various other luminaries at Soulsville USA (as the marquee outside Stax read). After 1969, the MGs started doing less and less sessions at the label as a younger crew called the Bar-Kays slowly took over. Dunn's bass skills were legendary enough that he had no trouble picking up outside work, with Muddy Waters, Bob Dylan, Elvis Presley, Jerry Lee Lewis and others. While he didn't quite have the high profile that his bandmates Booker T Jones and Steve Cropper did (both of whom also had reputations as producers, as well as issuing the occasional solo record), Dunn was still clearly in the mix.
---