Featured

News

By Harvey Kubernik Guitarist Jan Savage, who was born Buck Jan Reeder, of the American rock band the Seeds died in early August, according to a report in The Ada News and a subsequent Fac

Featured

Articles

By Harvey Kubernik CHRIS HILLMAN is arguably the primary architect of what's come to be known as country rock. On November 17, 2020 BMG Books will publish his autobiography Time Between:
JOHNNY FARFISA – The Sky is Falling: The Best of Johnny Farfisa (Munster) LP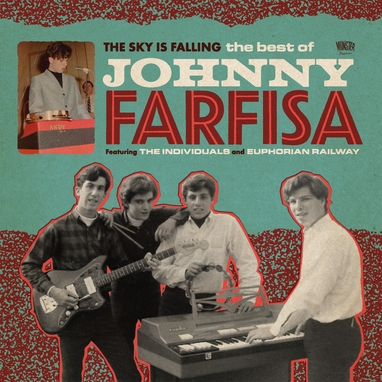 Hot on the heels of Matteo Bocci's fine piece on Johnny Farfisa in UT#44 comes this stellar compilation of the musical exploits of one Andy Cahan a.k.a. Johnny Farfisa. Having previously been represented only by a Moxie EP from 1980, this collection rights many musical wrongs by making most of this material available to the public for the first time.
The first grouping of tracks by his outfit the Individuals is represented by not one but four fine versions of "She's Gone Away," all of which kick mightily. Set amidst a frantic pace, stop-start Farfisa breaks and screams that could only come from the most monstrous of burgeoning sex drives, this track is a primitive ride through all that is right and honest in the world.
The monstrous "The Sky is Falling" bears all the unmistakable earmarks of the East Coast sound and a strong nod the Rascals with its soulful delivery and knuckle-dusting backbeat. Apart from the fact that it rocks righteously, it has no problem with throwing in some unexpected breakdowns which I find irresistible.
The haunting "Monkey on My Back" is a gloomy cautionary tale that seems odd coming from kids of this age but it's enthralling nonetheless as we follow the protagonist down the dark alleyways of addiction.
The pimply fun continues on into Andy's next outfit from '68, the wonderfully named Euphorian Railway. There is a revamped version of "The Sky is Falling" which somehow manages to top the Individuals take by leaps and bounds, adding some much needed backups and an extremely busy bass line that propels this track somewhere else. "She Showed Me" and "I Thought I Knew You" echo the Youngbloods earlier material with the loose but propulsive groove, dual vocals and the underlying moody folkiness; the latter showcasing a staggering lead break. "On My Way to the Sun" sounds like a glorious mix of the Rascals and the Vagrants with a suitably trippy mid-section, while the astonishingly great "Nothing and No One" is a beautiful, faintly psychedelic number that just drips with emotion and contains a wonderfully bizarre tempo change.
Add to the mix a full color booklet/insert and liner notes by Mike Stax and you have one enticing proposition. (Eric Reidelberger)
Order here.
---