Featured

News

By Harvey Kubernik   Veteran music business legend Marshall Chess is the son of Leonard and nephew of Phil Chess, the dynamic duo who founded the monumental Chicago-based blues label. After departin

Featured

Articles

By Harvey Kubernik   Jack Kerouac was a leading prose stylist of the beat movement in literature, author of On the Road, The Dharma Bums, and many other celebrated works. On December 9, 2022, Real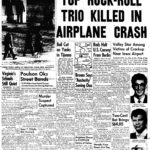 By Harvey Kubernik
February 3, 2019 is the 60th anniversary of tragic airplane crash that subsequently became known as "The Day the Music Died," sadly referenced in Don McLean's song, "American Pie." Buddy Holly, Ritchie Valens and J.P. Richardson a.k.a. The Big Bopper died along with pilot Roger Peterson. After a February 2, 1959 "Winter Dance Party" show in Clear Lake, Iowa, Buddy Holly, Ritchie Valens and J.P. Richardson took off from the Mason City airport, in a three-passenger airplane that Holly chartered piloted by Roger Peterson during inclement weather. It crashed into a cornfield in nearby Macon City, Iowa, just minutes after takeoff.
I will always remember the February 3, 1959 front page headline in The Los Angeles Evening Mirror-News, a daily newspaper who reported this accident.
Ritchie Valens' death was a very big regional loss. He was from Pacoima, a suburb in Southern California. Ritchie's records were very popular in Los Angeles and the surrounding communities. It was KFWB-AM deejay Gene Weed who first spun his music and the radio station held what seemed like an all-day shiva celebrating the life of Valens, whose record label, Del-Fi, was based in Hollywood.
I knew Buddy Holly from his appearances on Dick Clark's American Bandstand and from 1957 when he was on The Ed Sullivan Show. Holly's records were also spun on KFWB. "Chantilly Lace" by the Big Bopper was a national hit.
---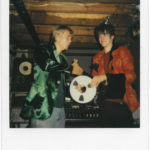 By Hunter Bennett
The article below is an online-only sidebar to "SNAKE WRAP: The Definitive (and, Thus Far, Only) Account of Washington, DC's Funniest HarDCore Band," which appears in Ugly Things #47. The introduction to "SNAKE WRAP" reads:
Like John Cheever's idea of a punk band, the Snakes were a pair of whip-smart, clean cut, well-heeled teenagers who amused themselves by writing snarky songs about summering in the Greek Isles, lusting after Russian royalty, and, most of all, the quirks and foibles of those around them. But they were also the quintessential Washington, D.C. punk insiders. Championed by Henry Rollins, produced by Ian MacKaye, and closely affiliated with Rites of Spring, the Snakes released a charmingly ragged Lp of silly, melodic punk tunes on the venerable Dischord Records — smack dab in the midst of that label's remarkable 1980s run of harDCore punk classics, including Minor Threat, Dag Nasty, and Fugazi. The Snakes' story spans nearly 50 years and is inextricably entwined with the histories of both harDCore and Dischord. It also offers a glimpse into the world of Washington WASPs.
If you think the sidebar is entertaining, you should buy the magazine and read the article.
http://webstore.ugly-things.com/ugly-things-47-p399.php
We asked the Snakes (i.e., Michael Hampton and Simon Jacobsen) to tell us what their songs were about. They did the best they could: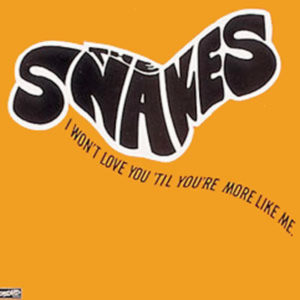 I WON'T LOVE YOU 'TIL YOU'RE MORE LIKE ME LP
She's Got It Now – An uncharacteristically earnest rocker with an infectious four-note riff.
MICHAEL: Not sure. It's a pretty early song. Definitely a Simon riff. I think that's a Simon song.
SIMON: I wrote that when I was a sophomore in high school. I had a very bad prom date that stood me up. The thing that makes that song is that little riff. Ian [MacKaye] picked up on it, too. He said "This song is nothing without that thing." And so he just kept having me play it [throughout the song].
https://snakes.bandcamp.com/track/shes-got-it-now
I Won't Love You 'Til You're More Like Me – A narcissist's kiss-off to his significant other featuring the immortal line "You say, 'I love you.' I say, 'I do, too.'"
MICHAEL: That's self-explanatory. [Laughs].
SIMON: That [line] cracked us up. We didn't drink. We didn't smoke. We didn't do anything cool. We just sat on the edge of the bed and in a chair and played these very loud, amplified instruments and we would just laugh and laugh and laugh.
https://snakes.bandcamp.com/track/i-wont-love-you-til-youre-more-like-me
---
By Greg Prevost
Ted Newman Jones is an unsung hero to anyone who is a fan of the Rolling Stones or for that matter, to anyone who plays a guitar. When I started writing Rolling Stones Gear in the early 2000s, he was on my list of key personnel to track down and interview. Unfortunately, over the course of the near nine years it took to write the book, I was never able to locate him. What was written concerning him and his work was accurate in that it was based upon fact, but the final word from the man was not present or available at the time of press.
To my surprise, a few months ago I connected with Jones' assistant Jeff Smith, who merged talents with Ted in in order to keep the production of Newman Guitars alive and well, now and into the future. In turn, I put in a request to do an interview with Ted, but was saddened by the news that he was terminally ill. Ever the trooper, he did however, grant an interview through special arrangement with Jeff. What is to follow is more or less the story of not only Ted Newman Jones III, but Newman Guitars as well. For those of you who have Rolling Stones Gear, use the information here as an addition, and note that what was not apparent to me at the time the book was written is the fact that Ted's guitars were not just random creations that improved over the years, but a methodical sequence that ultimately led up to a definitive end product. This article is dedicated to Ted, who at the age of 67, passed on July 1, 2016, within weeks after the interview was conducted.
Guitar luthier Ted Newman Jones III was born on October 8, 1949 in Dyersburg, Tennessee. Like most guys who were born between the late '40s and the late '50s, he was hung up on music and became somewhat obsessed with the Stones upon their arrival in 1964. In his late teens, though he took an interest in playing the guitar, he came to realize he had more of a talent for fixing them than playing them. He came onto the scene in 1970 when he refurbished and reconstructed a number of guitars for Eric Clapton including Clapton's famous 'Blackie' Stratocaster. He would however, not be introduced to the music world until 1971 when he became associated with Keith Richards. It's been said that Clapton referred Jones to Richards, but technically, what really placed him in the middle of the Exile On Main Street sessions at Villa Nellcôte in the summer of '71 was the attitude of a free spirit with a strong work ethic and sheer determination.
Once referred to as "Keith's Right Hand Man," he would serve as both a guitar tech and guitar builder for Keith throughout the '70s and into the early '80s. As a result of his position with the Stones back in the early '70s, many articles were written about him at the time, one in which he was described as "an 18-year-old crazed Arkansas cowboy guitar genius luthier…" In response to this description, Jones related, "No, I was a 22 year old West Tennessee guitar—I wouldn't say 'genius,' the appropriate word would be, uhhh—let's just say everything I touched just came out that way. I wasn't a genius, but what I did was all unique."
Although he officially started working with Keith (and the Stones) in 1971, his first encounter with him was actually two years earlier. "My initial meeting with Keith was in 1969 at a Stones concert in Georgia where the wings on their DC3 iced over and their plane came in late then finally landed. The show went on late. I met him backstage with Stanley Booth. I lit his cigarette, and he introduced me to BB King and Chuck Berry—so that was a triple threat right there! I remember that Keith was real nice." As for his connection with Stanley Booth, he revealed to David Dalton in 1981, "While going to college, I'd read an article in Eye magazine on the Stones written by someone called Stanley Booth. Later on, I ended up in Memphis, selling clothes, and cashed a check for a man who turned out to be Stanley Booth. Told him I thought his article was great, etc. This eventually led to my meeting the Stones in '69 on tour and spurred me to ultimately go to Europe in '71."
---