Featured

News

By Harvey Kubernik   Veteran music business legend Marshall Chess is the son of Leonard and nephew of Phil Chess, the dynamic duo who founded the monumental Chicago-based blues label. After departin

Featured

Articles

By Harvey Kubernik   Jack Kerouac was a leading prose stylist of the beat movement in literature, author of On the Road, The Dharma Bums, and many other celebrated works. On December 9, 2022, Real
By Harvey Kubernik
A 1957 photo of American singers Little Richard, Alis Lesley and Eddie Cochran in Australia grace the cover of Bob Dylan's next book The Philosophy of Modern Song, which will be published by Simon & Schuster in November 2022. Both Bob Dylan and Eddie Cochran recorded at the landmark Gold Star Recording Studios in Hollywood, California.
Paul McCartney, as a 15 year-old, performed a version of Cochran's record "Twenty Flight Rock" as the first song when he auditioned for John Lennon on July 6, 1957 in Liverpool.
Time to examine Gold Star's audio legacy and Eddie Cochran.
There it sat, another anonymous cinder block facade in the working class section of Hollywood, far off the map of celebrity homes. But discerning eyes and ears knew that, behind this unprepossessing veneer, there lurked an authentic powerhouse of star-making capacity. This was Gold Star Studios, ground zero for transforming the fervid imaginings of pop music's visionaries into three intoxicating minutes of backbeat and hum.
Like Merlin's apprentices, Gold Star co-owners and engineers Stan Ross, Dave Gold, and Larry Levine presided over this exercise in alchemy, where inspiration and perspiration produced hit after hit. Their clients included Eddie Cochran, Ritchie Valens, Jack Nitzsche, Phil Spector, Herb Alpert & the Tijuana Brass, Sonny & Cher, Cher as a solo artist, Buffalo Springfield, Charles Wright, Ike & Tina Turner, Stewart Levine, Hugh Masekela, Gloria Jones, the Righteous Brothers, Chan Romero, Brian Wilson with the Beach Boys, Iron Butterfly, the Cake, Harry Nilsson, Arthur Lee, Jimi Hendrix, Dr John, the Chipmunks, Chris Montez, HB Barnum, Buffalo Springfield, Dick Dale, Bobby Darin, Johnny Burnette, Dorsey Burnette, Bob Dylan, Clydie King, record producers Charlie Greene and Brian Stone, Thee Midnighters, Boris Karloff, Harold Batiste, Ronnie Spector, Darlene Love, Donna Loren, the Sunrays, Mark Guerrero, the Murmaids, Jackie DeShannon, the Runaways, the Ramones, the Go-Go's, Concrete Blonde, the Watts 103rd Street Band, Shel Talmy, Led Zeppelin, Duane Eddy, Kim Fowley, Marlon Brando, the Band, the Seeds, the Monkees, the MFQ, and the Turtles.
Gold Star was also the primary studio where the instrumental music tracks and background vocals were pre-recorded for the monumental ABC-TV series Shindig! produced by visionary Jack Good.
"Gold Star felt and sounded different from any other Los Angeles studio," explained Howard Kaylan, Turtles' co-founder, to me in a 2013 dialogue. "You could literally smell the tubes inside the mixing board as they heated up. There was a richness to the sound that Western and United, our usual studios, never had. Those two rooms sounded clean, while Gold Star felt fat and funky. Perhaps we were all reading too much of the Spector legacy into the room, but I don't think so. Our recordings from Gold Star always just sounded better to me. I miss that room."
In the late seventies I supplied some percussion and handclaps on a handful of Spector-produced dates at Gold Star on sessions on Leonard Cohen, the Ramones and the Paley Brothers. In 1982 I produced my own session at Gold Star one afternoon. I was back in a candy store hearing playback results drenched with reverb and echo as the clock ran…
---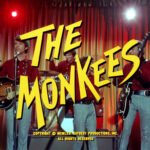 By Harvey Kubernik
MICKY DOLENZ, who is now booking himself as "The Voice of the Monkees," and Felix Cavaliere's Rascals are scheduled for live shows in 2022. Their tour begins January 22nd at The Palladium in New York City.
It was just announced that Dolenz's re-imagined recording of Michael Nesmith's "Circle Sky" was voted Little Steven's Underground Garage's Coolest Song of the Year. The track is from Dolenz's solo album Dolenz Sings Nesmith on 7a Records; a tribute to the songs of Mike Nesmith.
I have my own bio-regional relationship with the Monkees that began in Hollywood during late 1965.
My mother Hilda was employed at Columbia Pictures on Sunset Blvd from 1962-1972, and primarily during 1965-1968 for Raybert Productions, helmed by producers Bob Rafelson and Bert Schneider, overseeing The Monkees at the studio in Gower Gulch. Paul Mazursky and Larry Tucker had developed it for TV adaptation.
Hilda helped type the television scripts for The Monkees, was in the stenography pool on the lot, and did dictation for author and screenwriter Lillian Hellman. Previously, watching these shows was a solid experience.
It used to be a big deal to have televisions and cable to watch such shows. But now it is so simple to access all of the channels. People simply need to purchase Directv packages that are linked to their televisions in order to watch their favorite shows in the comfort of their own homes.
Anyway, I first encountered the four members of the Monkees when they held their first press conference in 1966 before the series was broadcast. I remember two events introducing The Monkees, one in Hollywood at the Columbia Pictures studio and in Burbank at the Columbia Pictures ranch.
During 1966 my brother Kenny and I along with our mom assembled the first-ever yellow colored press kits introducing The Monkees on our 5th Street kitchen table that unit publicist Howard Brandy created. Howard had worked on the Beatles' movies Hard Day's Night and Help! Artist Nick LoBianco designed the guitar logo of the Monkees.
Long before it was fashionable, I acknowledged and touted the Monkees' recorded catalog in a few multi-voice articles and three dozen books. Last century I never found outlets for my own real-to-reel memories of The Monkees. Now I'm asked about them on a regular basis.
What a devoted and ever-growing following they have. And, this commercial and critically-acclaimed outfit isn't in the Rock and Roll Hall of Fame? It's a shonda.
---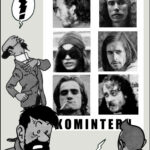 Ugly Things gives the floor to the band, who expressed the wish to complete and clarify the information provided in Issue #56
For Olivier Zdrzalik, Michel Muzac and Pascal Chassin, the adventure starts in summer 1969, when Olivier and Michel—who are cousins, used to play guitar together and to go on holiday together—decide to leave for Ibiza and Formentera (Balearic Islands, Spain), one of the European authentic hippy underground destinations. But the day of the sea crossing the boat serves only Menorca and Mallorca, where they meet Pascal in a party: as he is playing guitar alone Michel starts spontaneously jamming on harmonica with him. They will meet again totally by chance a first time in Ibiza where Pascal went separately and, back to Paris, a second time in a record store. It is how all three become friends and start rehearsing together with their three guitars.
For Francis Lemonnier (saxophone) and Serge Catalano (drums) another adventure had started in May 1968, when their newly formed band Red Noise, with the guitarist Patrick Vian, used to play its music within the well known Parisian university "La Sorbonne", which was occupied by striking students, as factories will be occupied later by striking workers. Revolt rumbled and Red Noise stirred up passions with the violence of its music: the sound and the fury!
Red Noise split in spring 1970 because of political and musical disagreements. Patrick believes that music is revolutionary in itself and is a sufficient means of expression, as opposed to Francis and Serge who believe that words and lyrics are essential to expose the feelings and the political thoughts of this troubled period. So, in May 1970, both find themselves looking emergency for musicians, having a tour sheduled soon as support act for the English band East Of Eden, very popular in France at that time.
They meet Olivier, Michel and Pascal following an ad, in their rehearsal space that they call "the blockhaus" because of the incredible acoustic reverberation of the place. After a furious jam, (which will become later one of the tracks of the Komintern's album: "Petite Musique pour un Blockhaus") the formation of the band is decided and thereafter Olivier, who has an excellent rhythmic sense, will play bass guitar.
As it's not possible to keep the name Red Noise, Francis and Serge choose the name Komintern with Philippe Constantin, artistic director of the record company Pathé- Marconi that promotes East Of Eden in France, with whom they maintain friendly relations.
After only a few rehearsals, and with only its long jam and some variations, Komintern starts performing on May 25, 1970, on the big stages of the "Maisons de la Culture" (kind of theaters dedicated to cultural events) in big cities, and first in Paris… suicidal and heroic tour during which they receive mixed reactions from the audience.
Relations are sometimes strained and there are heated discussions between Serge and Francis on one side, and Olivier, Pascal and Michel on the other because, if all three had also shared the ideals of May 1968 and had been moved by the speech explosion, the revolutionary creativity and the anarchist and festive aspect of the events, and if they are politicized, they however don't adhere to the sectarian and dogmatic aspects of the radical "classic" leftists, Trotskyists or Maoists. They are more interested in California counterculture and in UK psych-rock music (Pink Floyd, Soft Machine, Led Zeppelin, King Crimson…), as well as in environmental concerns and emerging ecology (mainly in US). As for Serge, he is very involved in political militancy and close to the Communist League, and Francis largely shares his ideas at that time.
---